Did you know that 80% of learning is visual? Yet one out of four children in the U.S. has an undiagnosed visual problem that impacts his or her learning? Many of these kids are diagnosed or misdiagnosed as having learning disabilities, Attention Deficit Disorder, dyslexia, or poor motivation. In addition, 70% of patients who have suffered concussions have visual problems, and typically, they are never treated. Can you imagine how those undiagnosed, untreated, and mistreated situations can alter young lives?
I am tired of hearing the stories of frustration, anger, and poor self-esteem that so many children struggle with—and unnecessarily so. My own experience of having vision/reading problems inspired me to learn more about vision therapy. I knew how to read, could read for about ten minutes and then I quickly fell asleep. I avoided reading, despite going to college and graduate school.
And after vision therapy, I discovered a passion for reading and have been trying to make up for all the years of avoidance.
Meet Joey … A Frustrated 7-Year-Old
"My writer was crammed in me and squished."
Joey was a bright second-grade student who struggled inschool. He had vision/visual motor problems,  and had three eye muscle surgeries for crossed eyes known as strabismus. He wore bifocal lenses for farsightedness and focusing problems. Joey's ophthalmologist said that he did not need more eye surgery and that his eyes were "fine" … in other words, his eyes looked straight.
For a kid who wanted and tried to do better, all he felt was frustration. Joey had great difficulty completing his written work and he dreaded handwriting tasks. His handwriting was sloppy and not well spaced, as seen in the first copying sample below, which was obtained as part of my initial assessment. Below is a Pre-Vision Therapy writing sample that was discontinued after four minutes: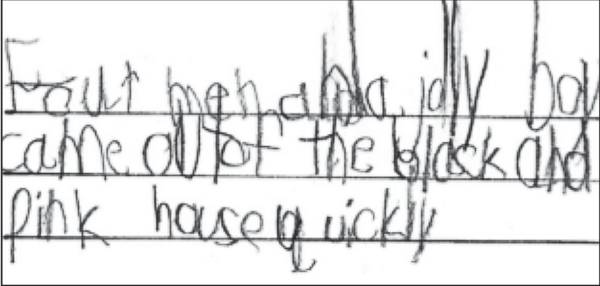 After an extensive vision/visual information processing evaluation was given at my office, a vision therapy program was initiated. The therapy emphasized improving his visual efficiency (tracking, focusing, eye teaming skills) and visual information processing (VIP) skills.
He practiced his home vision therapy activities diligently. After six months of vision therapy, Joey's school experience shifted dramatically. All visual skills had improved, which improved his ability to read and write. At the end of his therapy, Joey was a happier child who no longer avoided writing.
Post-Vision Therapy sample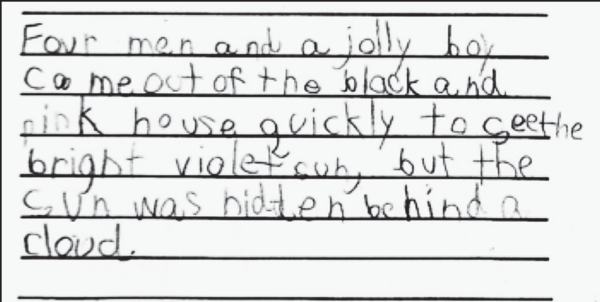 Note the vast improvement in his letter formation, spacing, legibility, and speed of completion. It took him less than two minutes to complete the sentence. It did not seem to be at all the torturous task it had been just six months earlier.
Joey's perception of his writing dramatically changed as well. In his words, My writer was crammed in me and squished. Now it's gotten much bigger and I can write better.
Joey transformed his vision, even though he had a complicated vision problem and three surgeries on his eyes. Vision therapy is a treatment process used to improve vision function. It is prescribed and supervised by a developmental or behavioral optometrist. Vision therapy can involve the use of lenses, prisms, filters, patching, computer programs, and specialized 3D stereo equipment. Most vision therapy programs are provided through optometrists who are Fellows of the College of Optometrists in Vision Development (FCOVD) and Certified in Vision Development and Vision Therapy.6
The American Optometric Association recommends that your child have his first vision examination by an optometrist by age one, then again by age three, before starting kindergarten and then every year thereafter.
For decades, I have had the privilege of watching my patients move beyond their "limiting eyesight" and expand their vision, resulting in increased success, performance, and confidence. For a checklist to see if your child has vision problems, and to discover more stories like these, check out my new book Expand Your Vision: How to Gain Clarity, Courage & Confidence. 
Dr. Hellerstein is available for lectures, trainings, workshops and interviews. If you are interested in reaching Dr. Hellerstein or booking an engagement click HERE
Lynn Fishman Hellerstein, O.D., FCOVD, FAAO
303-850-9499

Latest posts by Lynn Hellerstein
(see all)