Just Keep Breathing… Reduce Your Stress & Anxiety. There are a number of strategies that can enhance the power of visualization, including breathing exercises.
Other techniques include:
Relaxing
Meditation
Building Awareness
Moving (like walking)
Having fun
These strategies may be helpful in your visualization practice.  Let's look at the relaxing strategy.  For more information and techniques, please check out See It. Say It. Do It!
Try our featured activity of the week:  Belly Breathing.
Belly breathing techniques are great for stress reduction.  Practice regularly until you become comfortable with the strategy and it becomes automatic.  Then when stressful situations occur, Belly Breathing techniques can be easily called on to reduce the nerves.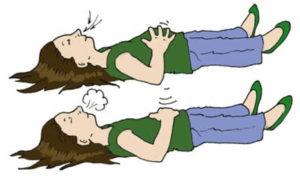 Belly Breathing to Reduce Stress and Anxiety
Purpose: Learn how to breathe from the belly (tummy).
Instructions: Find a quiet place where you can lie down.
Instructions: Shake out all your wiggles and just let all the tightness in your body fall away.
When you are ready, lie down, and make yourself comfortable.
(Pause)
Close your eyes.
Find your belly button and put one hand on it and the other hand on the center of your chest.
Simply notice how you are breathing. Which hand raises the most as you breathe in?
(Pause)
Slowly, make one or two full breaths out.
Just notice how you are breathing.
(Pause)
Now place both hands on your belly.
(Pause)
Continue to simply be aware of your breathing.
Notice your belly rise when you breathe in (inhale), and fall when you let air out (exhale).
Continue breathing through your nose, in and out.
If you are having difficulty with this activity, try the following:
Place a lightweight such as a book on your belly so that you can see and feel it rise and fall.
Place a support such as a pillow under your head.
Bend your knees until they point up towards the ceiling and place the soles of your feet flat on the floor, hip-width apart.
Turn over and lie on your stomach. It may be easier for you to notice your belly rising and falling because of the pressure from the floor on your belly.
I invite you to relax and breathe.  There is no "right way" to visualize, so just enjoy your personal process.
Feel free to send questions, comments and insights or experiences on your journey of transformation.

Latest posts by Lynn Hellerstein
(see all)