In the last several blogs, we discussed the power of visualization.  There are a number of strategies that may assist you in visualizing.
Relaxing
Breathing
Building Awareness
Moving (like walking)
Having fun
These strategies may be helpful in your visualization practice.  Let's look at the relaxing strategy.  For more information and techniques, please check out See It. Say It. Do It!
Try our featured activity of the week:  Relaxing
Did you know that when your body and mind are deeply relaxed, your brain-wave patterns actually become slower and more receptive to imagery?  This means that a relaxed body and mind can potentially make far more effective changes in your life than all the thinking, worrying, and planning that you do.
I love being outdoors in nature…enjoying the freshness of the air, sunlight, warmth, beauty, peacefulness.  Yes, this is where I go to relax…some where in nature.  Could be the mountains, rivers, ocean or just in my backyard.  Especially during this pandemic in 2020-2021, spending time outdoors is where I found my peace and calm.
Here in Colorado, it appears that Spring has Sprung … sort of.  Take a look at these pictures and video taken within several days of each other:
Pictures from April 30, 2021- Spring has sprung!
May 1, 2021
https://www.facebook.com/watch/?v=3842755395851524
Spring storm sprinkles the Rockies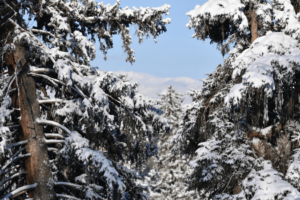 Picture from Denver Post 5/3/21

Latest posts by Lynn Hellerstein
(see all)