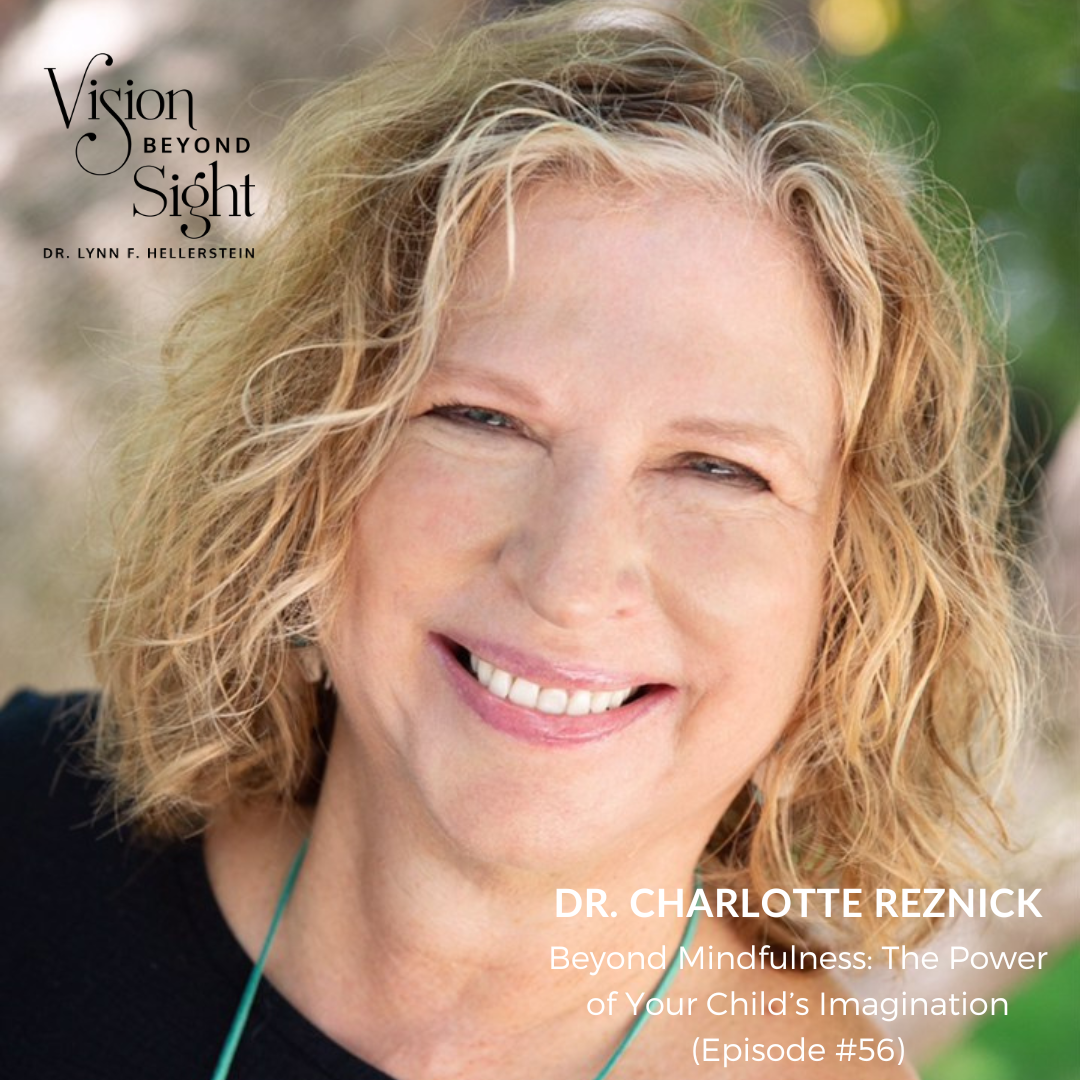 Dr. Lynn Hellerstein of Vision Beyond Sight speaks with Dr. Charlotte Reznick, child educational psychologist, author, and pioneer in therapeutic interventions with children. Dr. Reznick talks about the power of children's imagination, and how children can use meditation, mindfulness and simple imagination tools to gain wisdom and help themselves through pain, stress and even sleep.
Click here and tune in to the show now to explore:
How children and teens can use imagination and intuition to manage, heal, and thrive in today's world
How the words meditation and mindfulness evolved through time
Imagination tools for children like balloon breathing, special place, connecting with a guide and feelings portrait
How imagination techniques help kids who often complain of chronic stomachaches or other stress-related symptoms
Lingering effects of Covid to children today
How parents can use imagination for kids to sleep easily and quickly
About Dr. Charlotte Reznick:
"The challenges of growing up in today's rapidly changing society are enormous. Children need to be equipped with skills for survival and growth that were never before imagined. I focus on teaching children and adolescents mindful self-healing, self-regulation, and self-compassion techniques that will empower them to realize their potential throughout their lifetime." – Dr. Charlotte Reznick
Charlotte Reznick, PhD has dedicated her life to helping children, adolescents, parents, and professionals. She is a foremost authority on how to engage with and develop mindfulness, meditation, and imagination in children and teens. Dr. Reznick is author of the Los Angeles Times bestselling book, The Power of Your Child's Imagination: How to Transform Stress and Anxiety into Joy and Success published by Penguin Random House and contributing author of the chapter "Imagery As a Therapeutic Tool with Children" in Transformative Imagery: Cultivating Imagination for Healing, Change and Growth (Jessica Kingsley). She is currently working on a new Activity Book for kids based on her Nine Tools.
Dr. Reznick is a child educational psychologist, received her PhD from USC, is a former UCLA Associate Clinical Professor of Psychology, and was named Imagery International's Person of the Year in 2012 for the global impact of her work with children. Known as a pioneer in therapeutic interventions with children, Dr. Reznick has a 30-year-plus meditation practice and is the creator of Imagery For Kids: Breakthrough for Learning, Creativity, and Empowerment, a mindful, positive coping skills program. In addition to her private practice in Los Angeles, California, she creates therapeutic mediations (CDs/mp3s) for children, teens, and parents, blogs for Psychology Today and Huffington Post, is a frequent media consultant, and teaches workshops internationally on the healing power of children's imagination.
Connect with Dr. Charlotte Reznick, Child and Adolescent Psychologist:
Website | Facebook | Twitter | LinkedIn | Instagram | YouTube
There are so many audios and videos to support families be the best they can be. Go to the Shop page on my website https://www.imageryforkids.com/imagery-for-kids-shop/ and you will find a variety of items that may resonate with what your family needs now. Whether it be short specific topic, meditations to download such as "Blanket of Sleep" and "Loving Yourself From Day One," or video interviews with me for professionals and parents to help such as "Transforming Kids Covid-19 Stress," "Unleashing Your Child's Genius," and "Empower Your Teen's Intuition for Future Success," there is likely some tool to make a positive difference with what's happening now in your family or client's life.
And anyone can have a free 15-minute phone consultation with me. Just call (310)889-7859 or DrCharlotteReznick@gmail.com.
"One girl that I was thinking of, she was really scared to go to sleep at night. She's about 11. We worked together and she kind of connected with some inner guides like animal friends. Having conversation with them and receiving information, pretty soon she was feeling good. In fact she imagined a giant dragon around her bed protecting her from any bad stuff and a tiger by her door. Just like a month or so later, she was mentioning to a friend that she's sleeping through the night now and she's using her imagination. Her friend said, 'That's stupid. How could that help?' She said, 'My fears come from my imagination so I had to go into that realm to help myself.'" – Dr. Charlotte Reznick
Click here to play this show now!
---
Dr. Lynn Hellerstein, Developmental Optometrist, co-owner of Hellerstein & Brenner Vision Center, P.C., award-winning author and international speaker, holds powerful and inspiring conversations with her guests in the areas of health, wellness, education, sports and psychology. They share their inspirational stories of healing and transformation through their vision expansion. Vision Beyond Sight Podcast will help you see with clarity, gain courage and confidence. Welcome to Vision Beyond Sight!
Dr. Lynn's books are available at Amazon.com and www.lynnhellerstein.com/shop.
Dr. Lynn is available for speaking engagements and consulting. For more information, visit www.lynnhellerstein.com.
To learn more about vision therapy or to find a doctor providing vision therapy in your area, visit: COVD.org.
To learn more about vision and the impact in concussion/brain injury, visit: Neuro-Optometric Rehabilitation Association.
Listen and subscribe wherever you get your podcasts!
New episodes every Wednesday at 9 am MT/10 am CT.
Latest posts by Vision Beyond Sight
(see all)