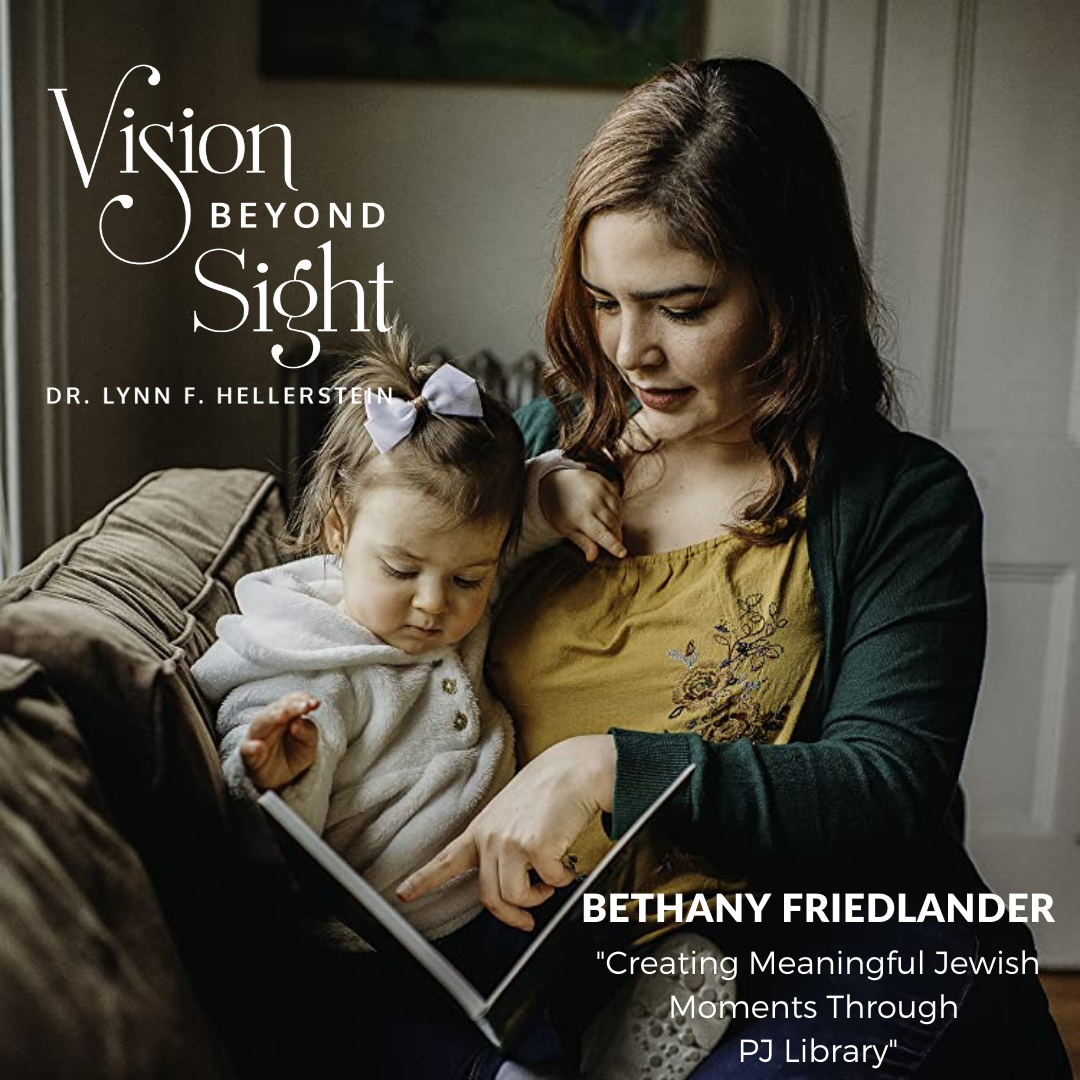 Dr. Lynn Hellerstein of Vision Beyond Sight speaks with
Bethany Friedlander
, manager of PJ Library and a long-time Jewish educator. Bethany talks about her work in 
PJ Library at JEWISHcolorado
. Its mission is connecting families, raising Jewish children with Jewish content books, and creating opportunities to allow parents to connect with each other to
create meaningful Jewish experiences.
Click here and tune in to the show now to explore:
How to create meaningful moments for families to connect with themselves and other families

Creating accessible Jewish content for diverse families

The importance of community and shared experiences
PJ Library is a worldwide program that sends free Jewish children's books to families every month. An initiative of the Harold Grinspoon Foundation, the program is made possible through partnerships with local Jewish organizations and philanthropists. As the local PJ Library partner, JEWISHcolorado helps connect Jewish families—children, parents, and grandparents—across the state to PJ Library and its programs. In Colorado, nearly 5,000 families take part in one of the PJ Library book programs each month.
Along with her family, Bethany Friedlander has gotten to live, work, and volunteer from coast to coast as a classroom teacher, education director, assistant principal, program coordinator, and curriculum designer in public, religious, private Jewish day schools, and synagogues. In addition to her work as a professional educator, she has a teacher certification in both elementary classroom and virtual experiential education and facilitation, a Master's of Education from Arizona State University, and a Bachelor of Arts from Brandeis University in Near Easter and Judaic studies. She also had the opportunity to study at Hebrew University, Mount Scopus in Israel.
Bethany is passionate about Jewish education for young people, about literacy, and about the role that families can play when they take an active role in their children's Jewish learning and lives.
Connect with Bethany Friedlander and PJ Library at JEWISHcolorado:
Get free books for children aged 0-12 through www.pjlibrary.org!
"Anyone is always welcome to come to our makeshift library that has tons of books. And you are welcome to borrow them… You are welcome to keep them if we have more than one. It is definitely an open space for families to come and enjoy the books that we have." — Bethany Friedlander
Click here to play this show now!
---
Dr. Lynn Hellerstein, Developmental Optometrist, co-owner of Hellerstein & Brenner Vision Center, P.C., award-winning author and international speaker, holds powerful and inspiring conversations with her guests in the areas of health, wellness, education, sports and psychology. They share their inspirational stories of healing and transformation through their vision expansion. Vision Beyond Sight Podcast will help you see with clarity, gain courage and confidence. Welcome to Vision Beyond Sight!
Dr. Lynn's books are available at Amazon.com and www.lynnhellerstein.com/shop.
Dr. Lynn is available for speaking engagements and consulting. For more information, visit www.lynnhellerstein.com.
To learn more about vision therapy or to find a doctor providing vision therapy in your area, visit: COVD.org.
To learn more about vision and the impact in concussion/brain injury, visit: Neuro-Optometric Rehabilitation Association.
Listen and subscribe wherever you get your podcasts!
New episodes every Wednesday at 9 am MT/10 am CT
Latest posts by Vision Beyond Sight
(see all)