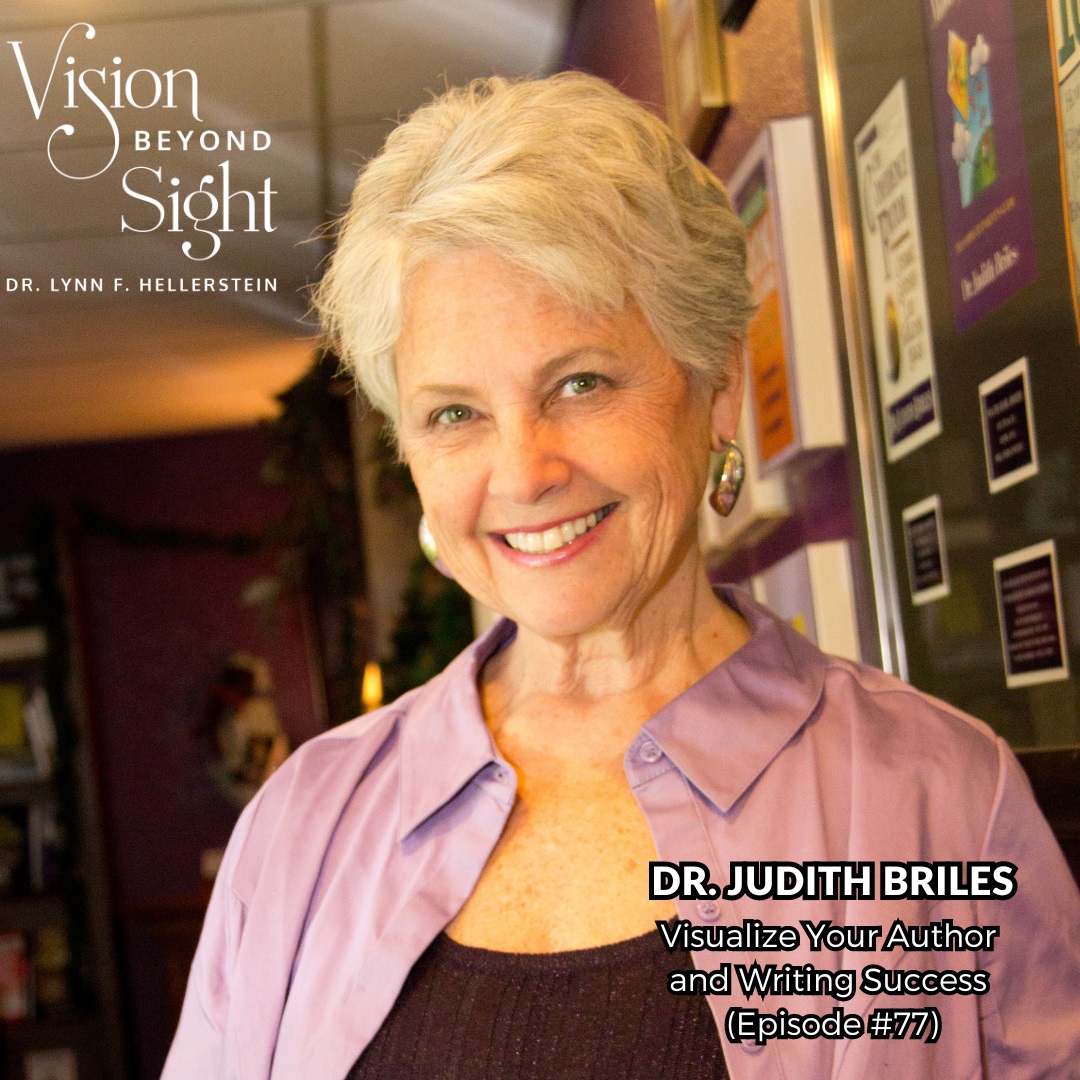 Dr. Lynn Hellerstein of Vision Beyond Sight speaks with Dr. Judith Briles, Colorado Hall of Fame author, publisher, and founder and Chief Visionary Officer of AuthorU.org. This show is a simulcast with Judith's podcast Author YOU where Dr. Lynn talks about visualization for writers, envisioning author success, being perfectly imperfect and visualizing what's next. Dr. Lynn even provided tips for authors, and a visualization exercise to empower yourself!
🔊 Click here and tune in to the show now to explore:
Envisioning author success – visualize, declare and take action
Different ways of thinking and writing, and finding what works for you
Let it flow; perfection is the kiss of death; the goal is to be perfectly imperfect
Dr. Lynn's first signing where she sold 900 books
The importance of speaking to sell your book
Visualize what's next
Visualization process and exercise to empower yourself
Tips for authors
About Dr. Judith Briles:
Dr. Judith Briles is The Book Shepherd™ and an advocate for authors, knows publishing inside and out from both the traditional and independent/self sides.  She delivers snappy, sassy, and savvy programs about book publishing and book marketing. Judith is a best-selling and award-winning author who has authored 42 books that have been translated to 17 languages; earned more than 45 national and international book awards; sold a combined 1,000,000 copies; generated in excess of $5,000,000 in revenues from combined book sales and speaking fees; and been featured in 1500+ radio, TV, print media, and podcasts.
Her podcast, AuthorU-Your Guide to Book Publishing has achieved in excess of 9 million downloads since debuting in 2016. Get her must-have book: How to Avoid Book Publishing Blunders Judith's website is www.TheBookShepherd.
Connect with Dr. Judith Briles and Author YOU Podcast:
Website: Author YOU | The Book Shepherd
Facebook | Instagram | LinkedIn | Twitter | Youtube | Pinterest
"I had a bigger picture than the number (of book sales). I have a picture of it being out to thousands of people. When you create a big picture like that, you don't always know the steps. And that's okay. But I created the picture, I had a declaration that it was an award-winning bestseller, then I started the actual plan of the steps." – Dr. Lynn Hellerstein
🔊 Click here to play this show now!
---
Dr. Lynn Hellerstein, Developmental Optometrist, co-owner of Hellerstein & Brenner Vision Center, P.C., award-winning author and international speaker, holds powerful and inspiring conversations with her guests in the areas of health, wellness, education, sports and psychology. They share their inspirational stories of healing and transformation through their vision expansion. Vision Beyond Sight Podcast will help you see with clarity, gain courage and confidence. Welcome to Vision Beyond Sight!
Dr. Lynn's books are available at Amazon.com and www.lynnhellerstein.com/shop.
Dr. Lynn is available for speaking engagements and consulting. For more information, visit www.lynnhellerstein.com.
To learn more about vision therapy or to find a doctor providing vision therapy in your area, visit: COVD.org.
To learn more about vision and the impact in concussion/brain injury, visit: Neuro-Optometric Rehabilitation Association.
Listen and subscribe wherever you get your podcasts!
New episodes every Wednesday at 9 am MT/10 am CT.
Latest posts by Vision Beyond Sight
(see all)