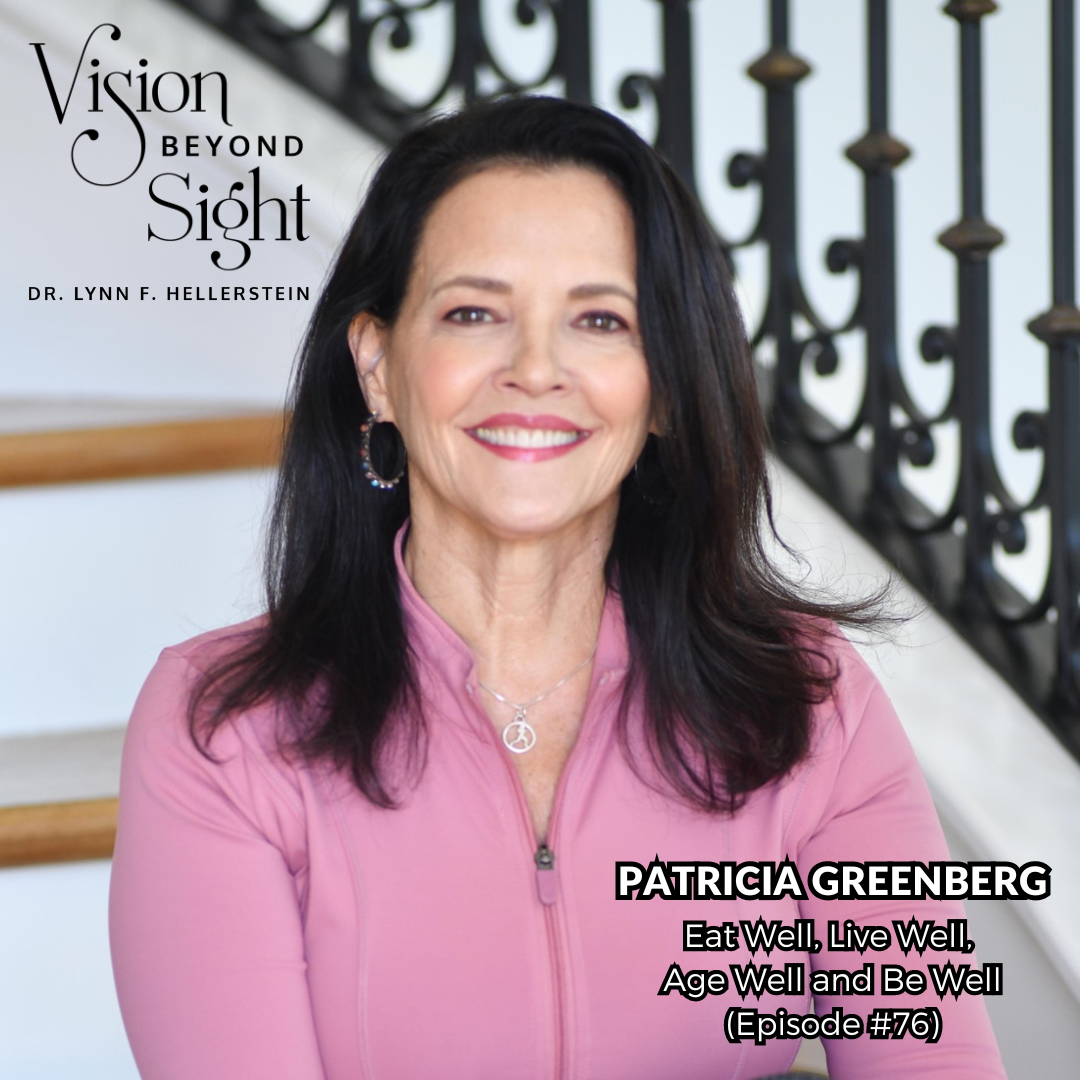 Dr. Lynn Hellerstein of Vision Beyond Sight speaks with Patricia Greenberg, the Fitness Gourmet, speaker, host, wellness educator and author, to talk about how to eat well, live well and age well, a comprehensive approach to being well at any age and it's never too late to start. Instead of focusing on anti-aging, find out what it means to age more peacefully, and how to do it with Patricia's simple and practical tips and advice that are even applicable to all ages.
🔊 Click here and tune in to the show now to explore:
How Patricia got into wellness and writing books of healthy food recipes
Preparing healthy food with what's available in your kitchen
Aging well vs. anti-aging
What can we do to make aging more peaceful?
Letting go for your health
Nurturing yourself with foods you love that are the best and finest version of them
The importance of walking, being active and proprioception
Being alone could age you faster
What would Patricia do differently if given the chance?
Embracing your age
How sitting upright is the #1 habit to embrace when you're over 50
Stop being stuck by reaching up and moving about
Patricia's books on healthy food and recipes
"So the movement was anti-aging or shunning aging. We're all aware of that. And now there's a shift. That there's enough people in that age group just fight back and say, 'Hey, I'm not gonna be invisible. I count. I want to be recognized.' There's a whole wide world out there for people over this age. Retirement is not a death sentence." – Patricia Greenberg
About Patricia Greenberg, The Fitness Gourmet:
Ushering in a new era of bite sized livable health, nutrition and fitness solutions, Patricia Greenberg is a role model in all aspects of living life to the fullest at any age. As the creator of Eat Well, Live Well, Age Well she consults, teaches, hosts a weekly YouTube show, and speaks at seminars nationwide. As the author of four books with a fifth on the way, she has a special interest in enhancing the education of the general public, and providing accurate health information to today's consumer.
Passionate about wellness for life, Patricia completed 20 marathons and 115 half marathons, and loves the sport of tower climbing, having conquered buildings and stadiums all over the country. Married with a grown daughter, in her downtime she is an avid reader and knitter.
Education and Credentials:
BA in Nutrition and Food Science from Queens College, NYC
Degree in Culinary Arts, from Le Cordon Bleu
IACP Certified Culinary Professional
ISSA Certified Nutritionist and Age Well Health Coach,
ACE Certified in Personal Training, Group Fitness, Weight Management, Sports Nutrition and Senior Fitness.
YOGA RENEW – Yin Yoga Certification
Certified Anxiety and Stress Management Coach
Medfit Educational Foundation – Supporting member
Books:
The Whole Soy Cookbook, Random House 1998
Soy Desserts, ReganBooks, Harper Collins 2001
Scrumptious Sandwiches, Salads, and Snacks, 2017
Eat Well, Live Well, Age Well, The Fitness Gourmet, 2021
It's Okay to be Old!, October 2023
Connect with Patricia Greenberg, The Fitness Gourmet:
Website | Facebook | Twitter | LinkedIn | Instagram | YouTube
Patricia's current book, Eat Well, Live Well, Age Well available on Amazon
"Our perception of a healthy, older adult is someone who can run a marathon, climb Mt. Everest or jump out of an airplane. Nothing can be further from the truth. A healthy adult is someone who is at peace with the way they're aging and the way they're living." – Patricia Greenberg
🔊 Click here to play this show now!
---
Dr. Lynn Hellerstein, Developmental Optometrist, co-owner of Hellerstein & Brenner Vision Center, P.C., award-winning author and international speaker, holds powerful and inspiring conversations with her guests in the areas of health, wellness, education, sports and psychology. They share their inspirational stories of healing and transformation through their vision expansion. Vision Beyond Sight Podcast will help you see with clarity, gain courage and confidence. Welcome to Vision Beyond Sight!
Dr. Lynn's books are available at Amazon.com and www.lynnhellerstein.com/shop.
Dr. Lynn is available for speaking engagements and consulting. For more information, visit www.lynnhellerstein.com.
To learn more about vision therapy or to find a doctor providing vision therapy in your area, visit: COVD.org.
To learn more about vision and the impact in concussion/brain injury, visit: Neuro-Optometric Rehabilitation Association.
Listen and subscribe wherever you get your podcasts!
New episodes every Wednesday at 9 am MT/10 am CT.
Latest posts by Vision Beyond Sight
(see all)