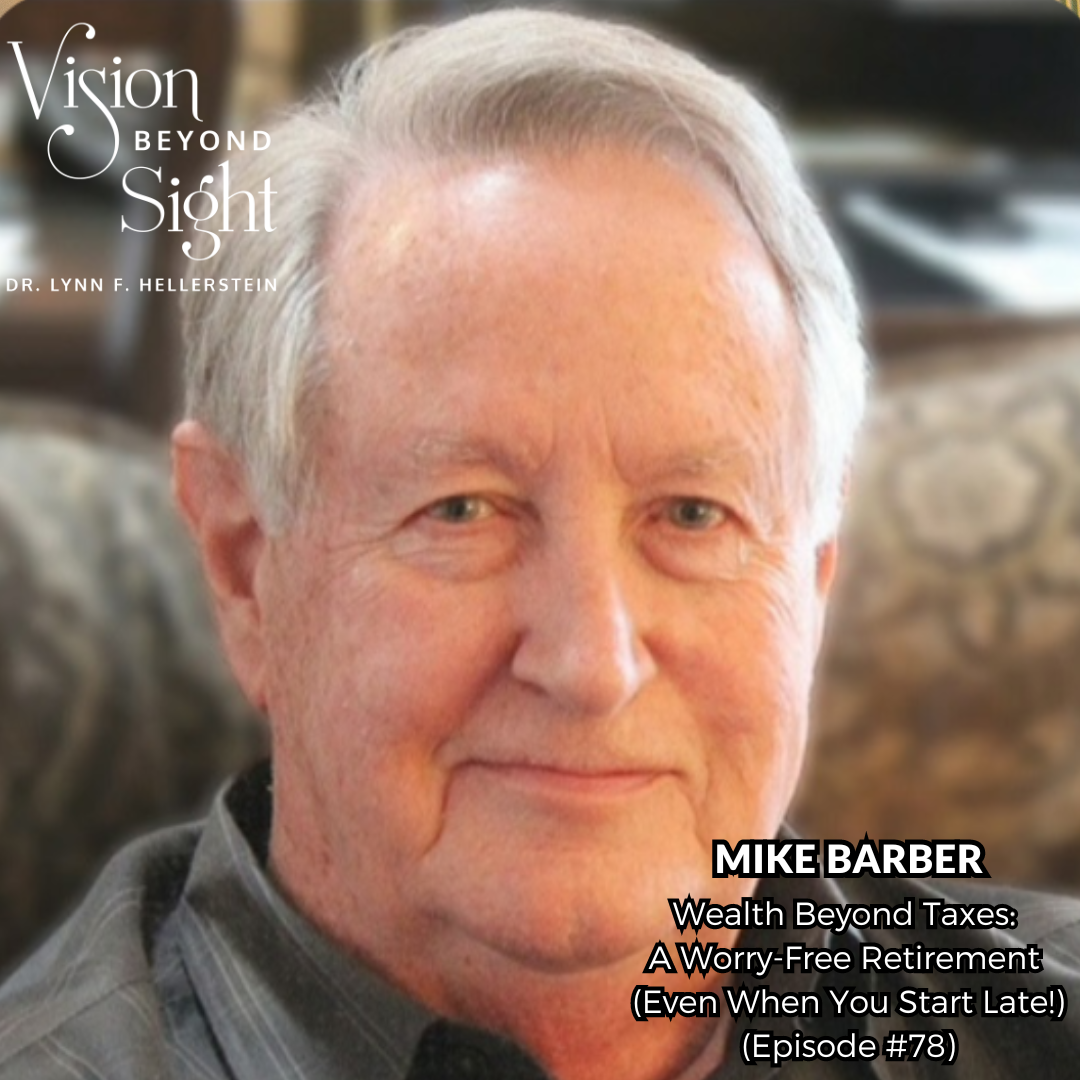 Dr. Lynn Hellerstein of Vision Beyond Sight speaks with Mike Barber, a chartered financial consultant and author who specializes in working with the eyecare industry, to talk about helping professionals and business owners find a way towards a worry-free retirement through financial education. Mike talks about insurance, retirement plans, student loans and taxes, and suggests a way to leverage your retirement especially for people who are starting late.
🔊 Click here and tune in to the show now to explore:
How the insurance industry inspired Mike
The importance of mentors
Financial education to the younger generation
Mike's passion for the eyecare industry
Advising about making the right financial decisions
Common areas that professionals overlook in preparing for their retirement
Student loans, retirement plan and taxes
How to leverage your retirement even when you're starting late
About Mike Barber:
Mike Barber, a Chartered Financial Consultant with almost 50 years of expertise, is highly experienced in increasing retirement income for his clients. His objective is to provide a worry-free retirement with a focus on reducing risks, minimizing taxes, and planning for long-term medical needs.
When Mike made a commitment to a career in financial services, he also made a commitment to become a "student of the business". Over a 15-year period, Mike earned a Chartered Life Underwriter Designation, a Chartered Financial Consultant Designation, and a Master's Degree in Financial Services. More recently, Mike undertook the study for a Retirement Income Certified Professional Designation. Mike owns Barber and Associates Financial Group, LLC, a Registered Investment Advisor firm.
Over his career, Mike has worked with a wide diversity of people. He currently serves as the in-house financial advisor for a large missionary sending agency. He meets online with US school teachers serving all over the world. Mike's passion is bringing financial peace of mind to people from all walks of life.
Mike's special expertise and focus is working with high income professionals who feel they are behind in saving enough for retirement. He specifically enjoys working with eye care professionals because of his experience with his son, an Ophthalmologist. His book "Wealth Beyond Taxes" was written for this reason.
Mike and his wife Mary met in Vienna 20 years ago while doing mission's work. Today, they both volunteer as mentors with incarcerated men and women, helping them get a fresh start and a new life. They enjoy a wonderful life living in Florida and have nine grandchildren.
Connect with Mike Barber and Barber & Associates Financial Group:
Mike's book: Wealth Beyond Taxes: How Ophthalmology and Optometry Professionals Are Using the Tax Code to Their Advantage to Generate More Income and Wealth
"A good financial advisor knows how to crunch the numbers. If we know how old you are, how much you saved and when you want to retire, it's a fairly easy calculation how much do you need to be saving to retire and keep in the same lifestyle. 35%. More than a third of your income if you're starting late is what you need to commit in order to have that retirement." – Mike Barber
🔊 Click here to play this show now!
---
Dr. Lynn Hellerstein, Developmental Optometrist, co-owner of Hellerstein & Brenner Vision Center, P.C., award-winning author and international speaker, holds powerful and inspiring conversations with her guests in the areas of health, wellness, education, sports and psychology. They share their inspirational stories of healing and transformation through their vision expansion. Vision Beyond Sight Podcast will help you see with clarity, gain courage and confidence. Welcome to Vision Beyond Sight!
Dr. Lynn's books are available at Amazon.com and www.lynnhellerstein.com/shop.
Dr. Lynn is available for speaking engagements and consulting. For more information, visit www.lynnhellerstein.com.
To learn more about vision therapy or to find a doctor providing vision therapy in your area, visit: COVD.org.
To learn more about vision and the impact in concussion/brain injury, visit: Neuro-Optometric Rehabilitation Association.
Latest posts by Vision Beyond Sight
(see all)