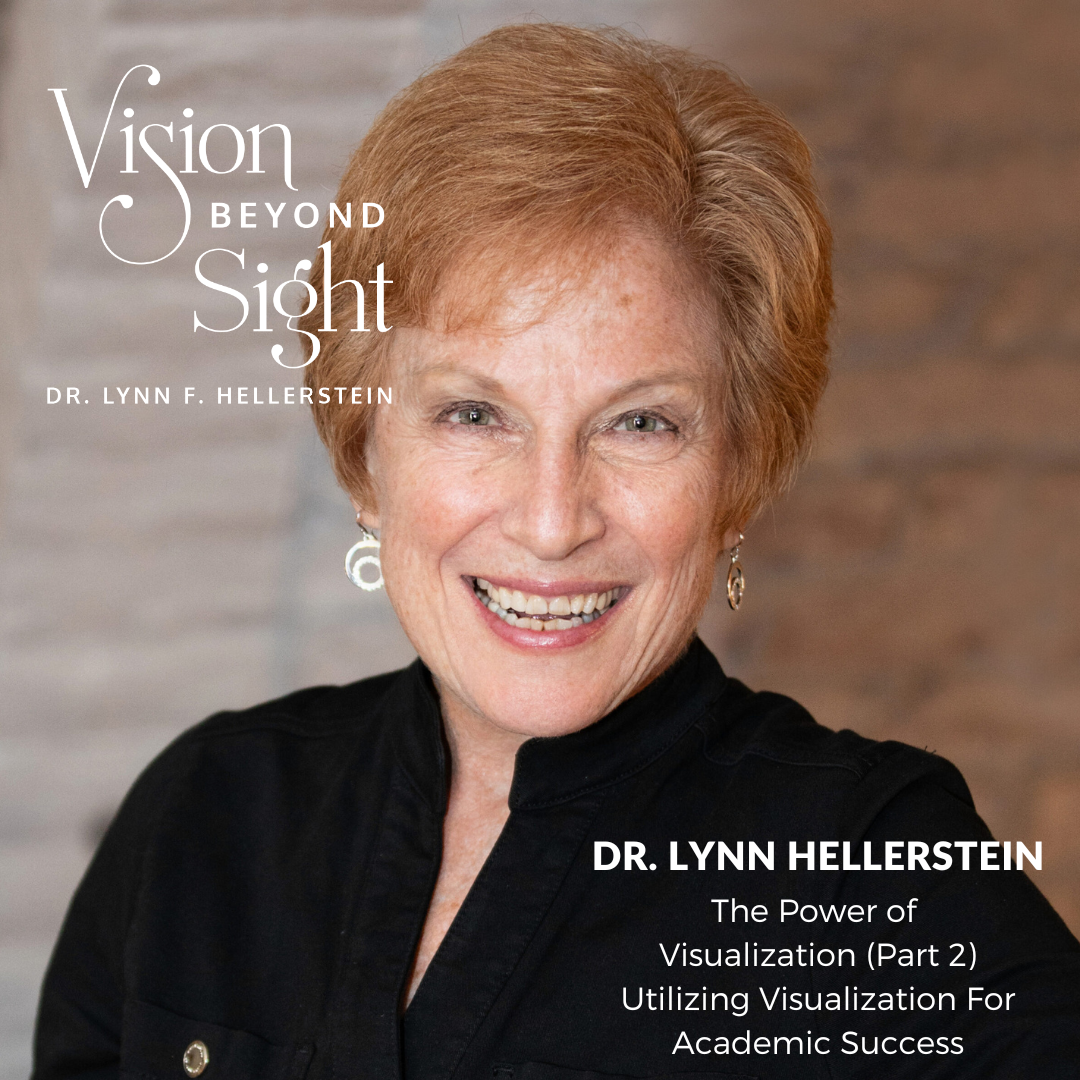 Dr. Lynn Hellerstein of Vision Beyond Sight continues her series on the power of visualization. On the second episode, she talks about utilizing visualization for academic success. She discusses how powerful visualization can help with reading, spelling, math and creative writing, and how to test anxiety and stress.
Click here and tune in to the show now to explore:
A review on the power of visualization (refer to Part 1 here!)
The See It. Say It. Do It! Process
How reading is a complex task:
◦ Decoding, sight words, comprehension, fluency
◦ Utilization of visualization with reading.
Spelling visualization: "See it, then write it!"
Math:
◦ Overcoming the fear of math
◦ Strategies for math facts memorization
◦ Challenges in math due to reading and writing difficulties
Creative writing: "Write from your pictures."
How to test anxiety and stress: Importance of utilizing the See It. Say It. Do It! Process
Hi everyone, this is Dr. Lynn and welcome to Vision Beyond Sight!
Today is another special show. Many of you who listen regularly to the podcast hear so many of the speakers discuss how they utilize visualization – starting at a very young age to adults. Today, I continue to speak about the Power of Visualization. This podcast is Part 2 that tackles the utilization of visualization for academic success. (Refer to Part 1 here!) Over the next several months, there will be additional Visualization topics to include visualization for sports, stress/anxiety, and more.
Just a little bit about my story of how and why I started into visualization. As the founder and Co-owner of Hellerstein & Brenner Vision Center, I've been a developmental optometrist for more than 45 years. My emphasis has always been in the area of vision therapy.
I've had the opportunity to help thousands of people transform their lives through their vision training and visualization. People with learning and reading problems, special needs, double vision, crossed eyes, lazy eyes, ADHD, dyslexia, and/or brain injury have greatly benefited from this vision work, as have athletes, musicians and exceptional performers.
Now, my passion has shifted from treating patients individually with traditional vision problems to empowering people to utilize their inner vision through visualization. The transformation started in 2002, when I had significant health issues and found my health and mental healing through functional medicine physicians and psychologist Dr. Deb Sandella who created the RIM program (Releasing Inner Memories). Dr. Deb's work was about utilizing visualization which was part of our vision therapy program to a much deeper level. She involved a much more multi-sensory approach, which has influenced my work with myself and others.
My mission is: to inspire and empower millions of people through their vision and visualization skills so that they may see and experience their world through the lens of clarity, courage and confidence.
Connect with Dr. Lynn Hellerstein:
LynnHellerstein.com | Hellerstein & Brenner Vision Center
Facebook | Instagram | LinkedIn | Twitter | Pinterest | YouTube
Check out Dr. Lynn's award-winning books here:
See It. Say It. Do It! Organize It!
50 Tips to Improve Your Sports Performance
"If you don't take action, you're just a dreamer. If you don't have the declaration, you're fighting yourself the whole time with this negative talk. But when you do the See It! Say It! Do It! process, you get the 'ta-da!' the transformation in your life and the step forward." – Dr. Lynn Hellerstein
Click here to play this show now!
---
Dr. Lynn Hellerstein, Developmental Optometrist, co-owner of Hellerstein & Brenner Vision Center, P.C., award-winning author and international speaker, holds powerful and inspiring conversations with her guests in the areas of health, wellness, education, sports and psychology. They share their inspirational stories of healing and transformation through their vision expansion. Vision Beyond Sight Podcast will help you see with clarity, gain courage and confidence. Welcome to Vision Beyond Sight!
Dr. Lynn's books are available at Amazon.com and www.lynnhellerstein.com/shop.
Dr. Lynn is available for speaking engagements and consulting. For more information, visit www.lynnhellerstein.com.
To learn more about vision therapy or to find a doctor providing vision therapy in your area, visit: COVD.org.
To learn more about vision and the impact in concussion/brain injury, visit: Neuro-Optometric Rehabilitation Association.
Listen and subscribe wherever you get your podcasts!
New episodes every Wednesday at 9 am MT/10 am CT
Latest posts by Vision Beyond Sight
(see all)