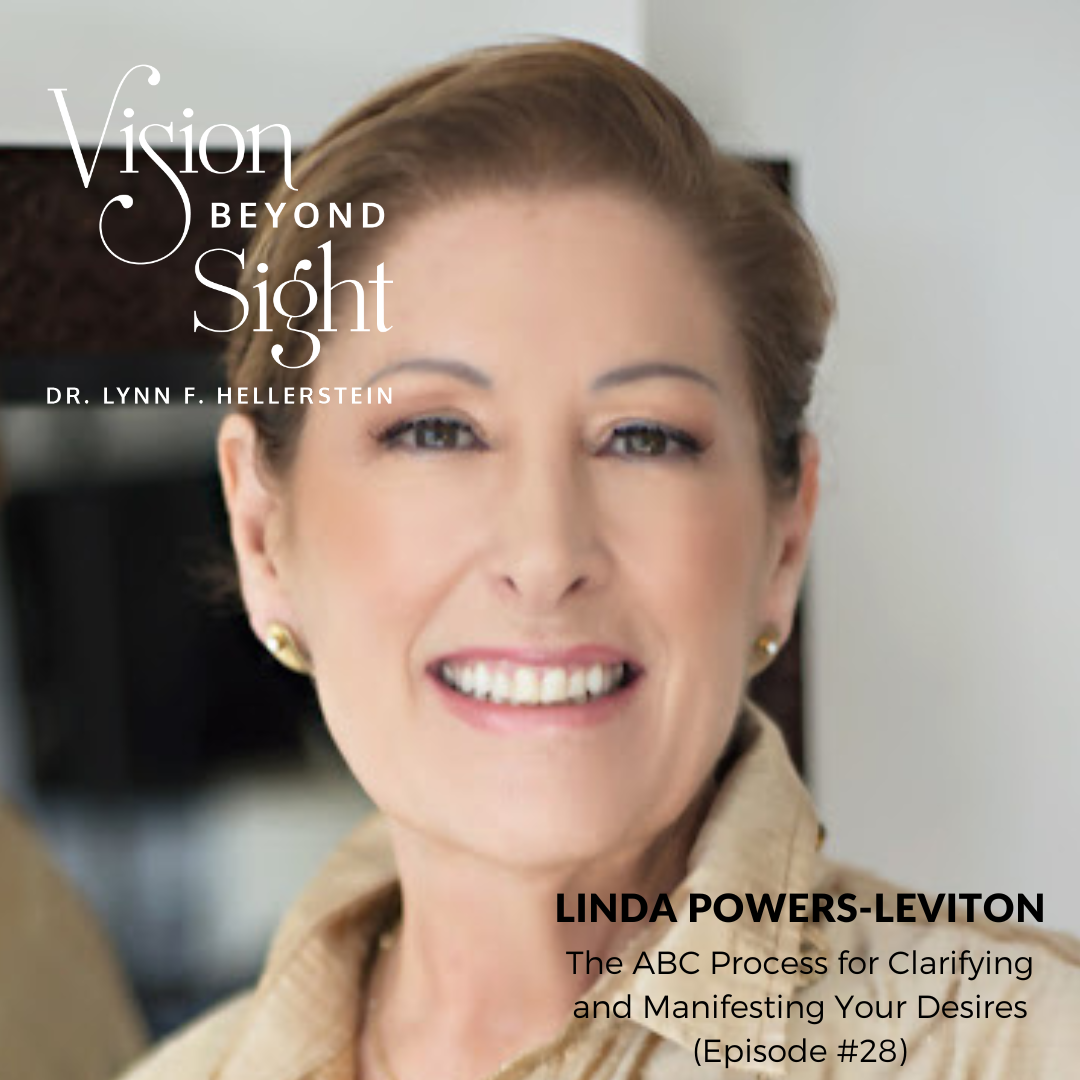 Dr. Lynn Hellerstein of Vision Beyond Sight speaks with Linda Powers-Leviton, author, therapist, and director of the West Coast operations of the Gifted Development Center. She talks about the ABC process for clarifying and manifesting your desires.
Click here and tune in to the show now to explore:
How understanding what you desire is essential in order to manifest it
The ABC process for clarifying and manifesting your desires
Challenges people tend to have in doing it
What you can do if you don't know what you want yet
Examples of how it has worked for Linda and others in the past
Linda Powers-Leviton, M.A. directs the West Coast operations of the Gifted Development Center (www.gifteddevelopment.org) in Granada Hills, California. She has taught and administered programs for the gifted and twice exceptional since 1975 and has been licensed as a Marriage, Family and Child Therapist since 1999—working primarily with gifted and twice-exceptional children, adults and families—coaching them on how best to create successful relationships and lives. In her private practice, she sees gifted people of all ages for a range of inter and intrapersonal challenges. Trained in Family Therapy by Virginia Satir (the mother of family therapy), she includes a range of eclectic and original therapeutic practices tailored to this population in her private practice.
In 2003, Linda created Whole Child Assessment, a qualitative way of assessing children. After 5 years training with Annemarie Roeper, she and Anne Beneventi then created Gifted Qualitative Assessment (GQA), a hybrid form of Annemarie Roeper's Qualitative Assessment that can be used to assess learning challenges, as well as giftedness. GQA uses Dr. Linda K. Silverman's 40 years of research on assessing Gifted and twice-exceptional children. This process analyzes information from parents and direct play/interview with the child to understand their qualities, gifts and challenges.
Linda is the author of Peace Within, Peace Between – A Relationship Toolkit. She is the mother of three highly gifted children, one twice exceptional, and one who just published, To Be Honest, a memoir.
In her spare time, she is an artist, writer, furniture designer, and guide in manifesting the heart's needs and life purpose.
Connect with Linda Powers-Leviton:
Email Linda at becalmer@aol.com or linda@leviton.org and put ABC List on the subject line and she will send you a free explanation on how you do the ABC list!
"When people have a daily intention and develop a mantra that is related to whatever their wishes and calling it in, that also really helps because it's a refocusing on what is going to happen and what you want as opposed to what you don't want and what you need." – Linda Powers-Leviton
Click here to play this show now!
---
Dr. Lynn Hellerstein, Developmental Optometrist, co-owner of Hellerstein & Brenner Vision Center, P.C., award-winning author and international speaker, holds powerful and inspiring conversations with her guests in the areas of health, wellness, education, sports and psychology. They share their inspirational stories of healing and transformation through their vision expansion. Vision Beyond Sight Podcast will help you see with clarity, gain courage and confidence. Welcome to Vision Beyond Sight!
Dr. Lynn's books are available at Amazon.com and www.lynnhellerstein.com/shop.
Dr. Lynn is available for speaking engagements and consulting. For more information, visit www.lynnhellerstein.com.
To learn more about vision therapy or to find a doctor providing vision therapy in your area, visit: COVD.org.
To learn more about vision and the impact in concussion/brain injury, visit: Neuro-Optometric Rehabilitation Association.
Listen and subscribe wherever you get your podcasts!
New episodes every Wednesday at 9 am MT/10 am CT
Latest posts by Vision Beyond Sight
(see all)