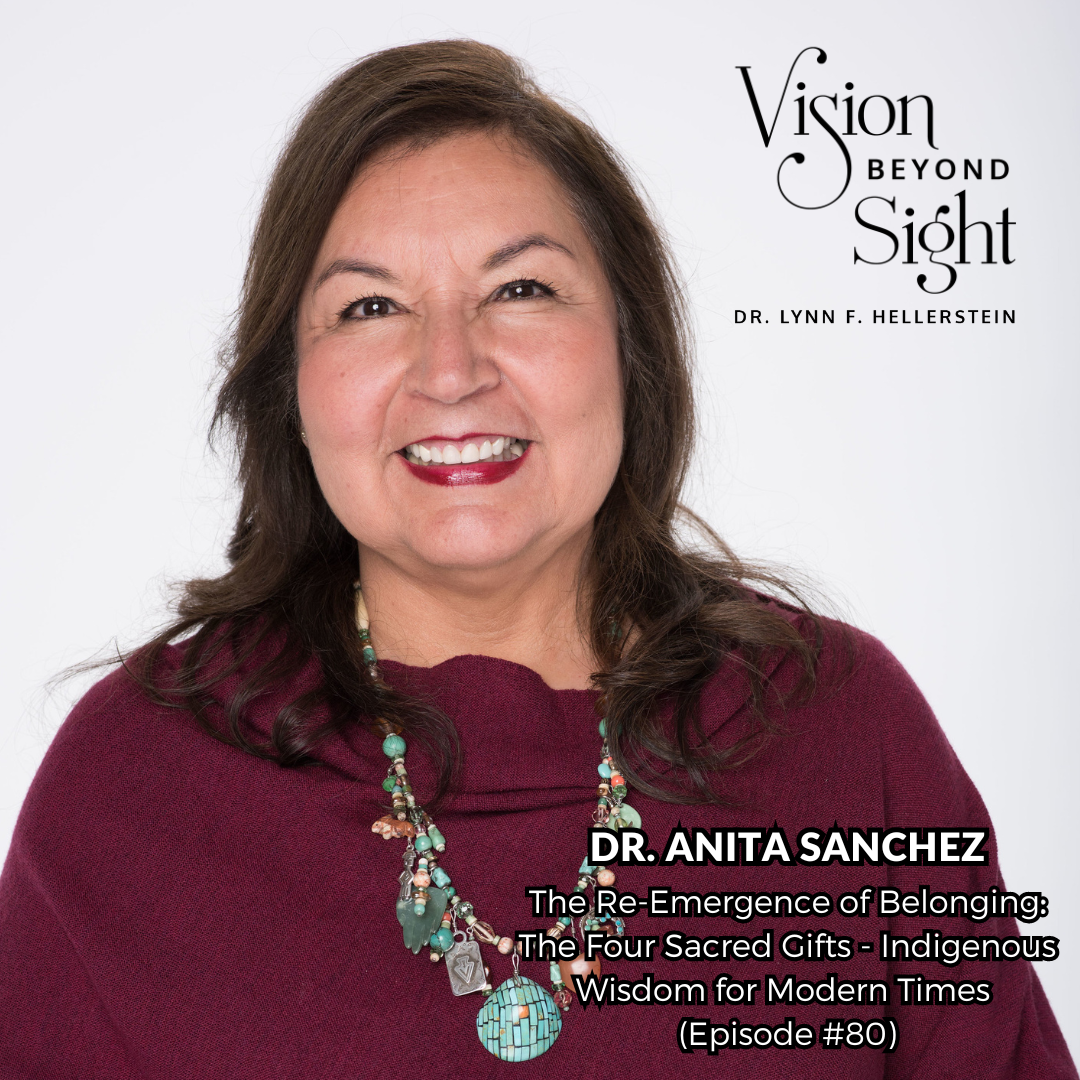 Dr. Lynn Hellerstein of Vision Beyond Sight speaks with Dr. Anita Sanchez, transformational leadership & Fortune 500 corporate consultant, coach, and author, to talk about belonging and connecting with each other, and using the four sacred gifts of indigenous wisdom. Drawing from her own life experiences and Nahua heritage, she inspires us to forgive the unforgivable, access healing and its basic elements, embrace unity with others and our self, and take hope and action, so we can manifest peace, care and love for each other in our relationships, in business and as people on Earth.
🔊 Click here and tune in to the show now to explore:
Indigenous wisdom that we all know and belong with the original message of care and love
Starting harmony and balance through the four sacred gifts
The gift of the power to forgive the unforgivable
The gift of the power of healing
The gift of the power of unity
The gift of the power of hope and action
Realizing these sacred gifts in business
Appreciative inquiry and positive psychology
How to forgive the unforgivable – anecdotes about Israel and Palestine
Four basic elements for healing present all over the world – listening, supportive relationships, unconditional love and committing to positive actions
Being careful of what you say and think because it holds power
Manifesting peace, care and love for each other
About Dr. Anita Sanchez:
Dr. Anita Sanchez, Nahua (Aztec), CEO & Founder Sanchez Tennis & Associates, LLC, Diversity, Inclusion, Belonging, Leadership, Culture Change.
Anita Sanchez, PhD, Nahua (Aztec) and Mexican American, is a consultant, trainer, coach and speaker to Fortune 500 companies, education and non-profit organizations.  For decades Anita bridges indigenous wisdom and science for individual to societal renewal focusing on leadership, diversity, inclusion, belonging  and cultural transformation.
Board member of Bioneers and member of the Evolutionary Leaders and Transformational Leadership Council.
Author of seven books including international award-winning book, The Four Sacred Gifts: Indigenous Wisdom for Modern Times, Simon & Schuster.
Recent awards include 2022 Mogul's Top 100 DEI Leaders, 2020 Conscious Company Media "World Changing Woman" and 2020 World Woman's Foundation "Woman of the Hour" #SheisMyHero campaign to inspire one million girls to live their dreams and leadership. Anita leads an annual journey into the sacred headwaters of the Amazon each year.
Dr. Anita inspires people to discover and trust their gifts so that they become a life giving force to all, people and the earth.
Connect with Dr. Anita Sanchez:
Sign up to Four Sacred Gifts for free to receive updates from Anita, and download a FREE beautiful song – In Right Relations – inspired by the messages in the book. Also get the FREE ebook – The Four Sacred Gifts: Essential Indigenous Wisdom for Thriving In These Times!
Websites: Anita Sanchez | Four Sacred Gifts | Sanchez Tennis & Associates LLC
Facebook | Twitter | LinkedIn | Instagram
"Truly consider using the four gifts. The promise from Spirit that came through these elders from all over the world is that if you use these you'll remember how to create harmony and balance in your life and with all others. And we need both of those. We need them inside of ourselves. So what we do is create harmony and balance rather than creating more anger, separation, hurt. All those are natural responses to great pain, I get that. However, if we keep using the gifts, we'll be able to stay present to the pain and suffering. And I will say, be more drawn, motivated to manifest the peace, the love, the caring of ourselves and each other." – Dr. Anita Sanchez
🔊 Click here to play this show now!
---
Dr. Lynn Hellerstein, Developmental Optometrist, co-owner of Hellerstein & Brenner Vision Center, P.C., award-winning author and international speaker, holds powerful and inspiring conversations with her guests in the areas of health, wellness, education, sports and psychology. They share their inspirational stories of healing and transformation through their vision expansion. Vision Beyond Sight Podcast will help you see with clarity, gain courage and confidence. Welcome to Vision Beyond Sight!
Dr. Lynn's books are available at Amazon.com and www.lynnhellerstein.com/shop.
Dr. Lynn is available for speaking engagements and consulting. For more information, visit www.lynnhellerstein.com.
To learn more about vision therapy or to find a doctor providing vision therapy in your area, visit: COVD.org.
To learn more about vision and the impact in concussion/brain injury, visit: Neuro-Optometric Rehabilitation Association.
Listen and subscribe wherever you get your podcasts!
New episodes every Wednesday at 9 am MT/10 am CT.
Latest posts by Vision Beyond Sight
(see all)