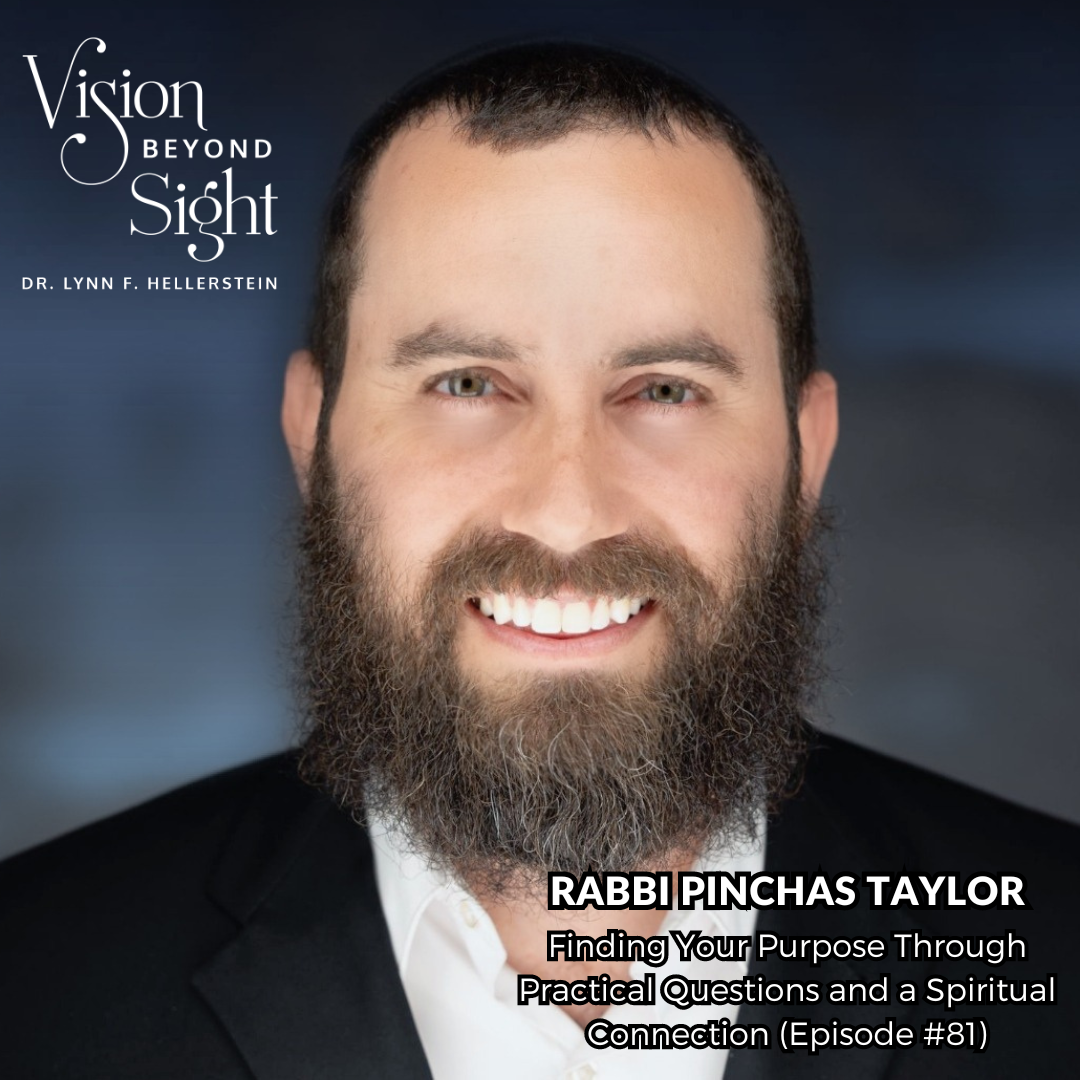 Dr. Lynn Hellerstein of Vision Beyond Sight speaks with Rabbi Pinchas Taylor, American rabbi, bestselling author, lecturer, celebrity life coach and founder of The Ark coaching program, to talk about finding your purpose through a spiritual connection and by answering 4 simple and practical questions. Rabbi Taylor talked about contemplating on your talents, passion, unique experiences and circle of influence, and how a religious and spiritual mindset can drive your life towards purpose and happiness.
🔊 Click here and tune in to the show now to explore:
Missing a life with purpose because of a lack of spiritual mindset and choosing conformity
Impact of living a life without purpose
Practical ways to discover your purpose
What are your talents?
What are you passionate about?
Finding where your talents and passion intersect
What unique experiences shaped you specifically?
Where is your current circle of influence?
The value of religion and spirituality to purpose
About Rabbi Pinchas Taylor:
Rabbi Pinchas Taylor is an American rabbi, a bestselling author and lecturer, and has spoken across the globe in a wide variety of venues. His books Pillars of Faith and A Jewish Guide to the Mysterious are great works of insight and scholarship into the spiritual realm.
Rabbi Taylor has been called the "Celebrity Life Coach" for his work with actors, athletes, and other public figures and founded "The Ark," a successful faith-based study and coaching program.
Rabbi Taylor is a certified cognitive behavioral therapy practitioner, a certified clinical trauma spe-cialist, a member of the American Counseling Association, and the Association for Conflict Resolution.
Rabbi Taylor is the National Director of the American Faith Coalition, and formerly a member of the Governor of Florida's Faith advisory board. He is often a contributor on national news outlets.
Connect with Rabbi Pinchas Taylor:
Check out Rabbi Taylor's formal coaching program for groups or individuals at Therabbicoach.com.
Website | Facebook | Instagram | YouTube
"Without a spiritual mindset, that there's something more to life in the universe than meets the eye, if we think that our existence in this universe is simply some sort of cosmic accident eventually, that God was not involved or there wasn't something higher that created this universe, it becomes more difficult to find purpose in what is essentially a cosmic accident." – Rabbi Pinchas Taylor 
🔊 Click here to play the show now!
---
Dr. Lynn Hellerstein, Developmental Optometrist, co-owner of Hellerstein & Brenner Vision Center, P.C., award-winning author and international speaker, holds powerful and inspiring conversations with her guests in the areas of health, wellness, education, sports and psychology. They share their inspirational stories of healing and transformation through their vision expansion. Vision Beyond Sight Podcast will help you see with clarity, gain courage and confidence. Welcome to Vision Beyond Sight!
Dr. Lynn's books are available at Amazon.com and www.lynnhellerstein.com/shop.
Dr. Lynn is available for speaking engagements and consulting. For more information, visit www.lynnhellerstein.com.
To learn more about vision therapy or to find a doctor providing vision therapy in your area, visit: COVD.org.
To learn more about vision and the impact in concussion/brain injury, visit: Neuro-Optometric Rehabilitation Association.
Listen and subscribe wherever you get your podcasts!
New episodes every Wednesday at 9 am MT/10 am CT.
Latest posts by Vision Beyond Sight
(see all)