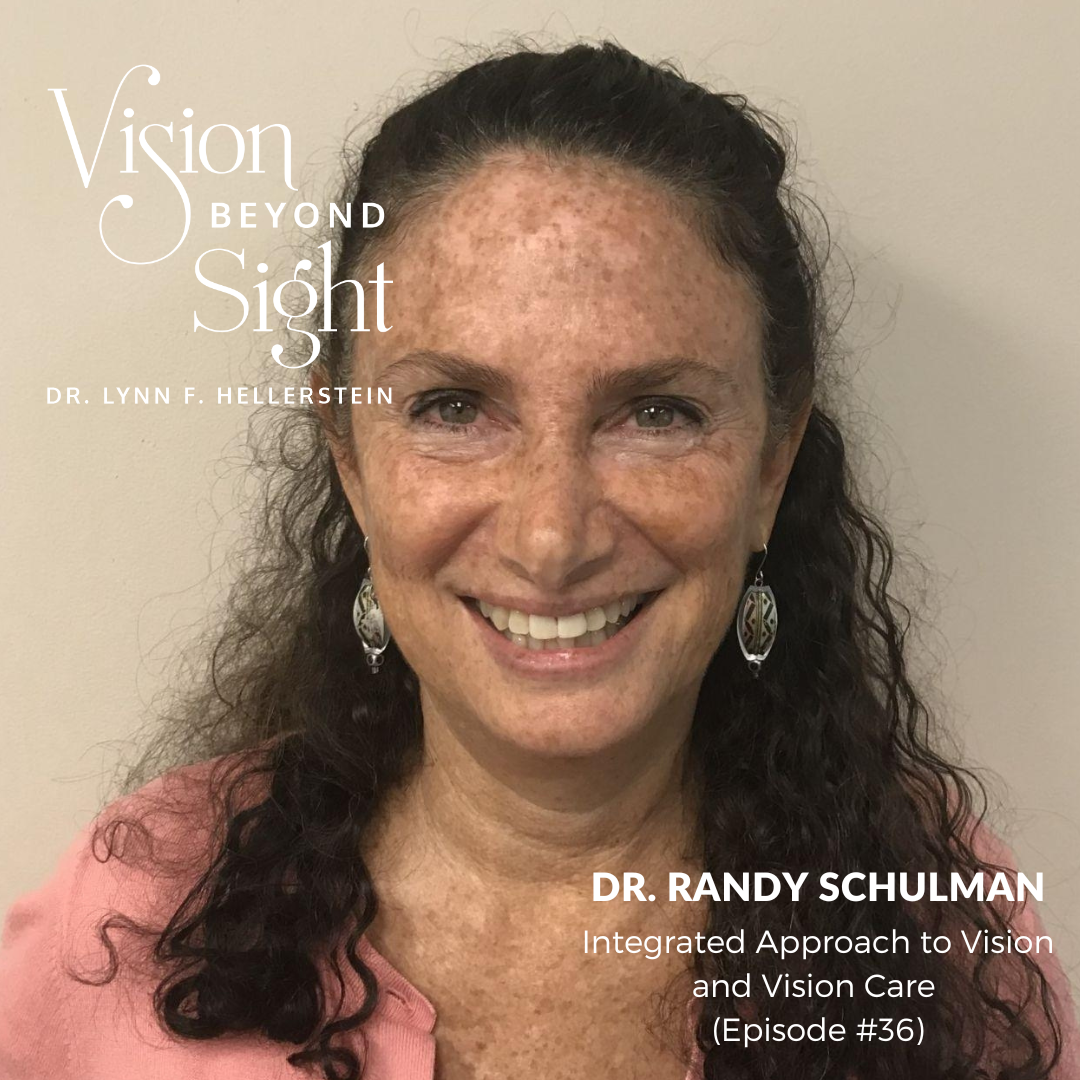 Dr. Lynn Hellerstein of Vision Beyond Sight speaks with Dr. Randy Schulman, integrative optometrist and owner at EyeCare Associates, PC. She talks about the integrated approach to vision and vision care, ways to improve vision and overall well-being, and even the spiritual aspects of vision.
Click here and tune in to the show now to explore:
Integrated model of vision
Our personal responsibility for vision
Ways to improve vision and overall well-being
Spiritual aspects of vision
Dr. Randy Schulman graduated cum laude from the University of Pennsylvania in 1987 where she received her Bachelor of Arts degree in Psychology. She graduated with her Doctorate in Optometry and Masters in Vision Science degrees from the State University of New York, College of Optometry in 1991 and is currently an Adjunct Clinical Professor and Residency Supervisor for the school. Dr. Schulman received Fellowships in the College of Optometrists for Vision Development and the College of Syntonic Optometry and is an Associate member of the Optometric Extension Program and the Neuro-Optometric Rehabilitation Association.
Dr. Schulman has lectured extensively on behavioral optometry topics such as vision in the classroom, vision and aging, visual difficulties in the developmentally delayed, and has lectured and/or published on vision and autism, lenses and prisms, Lyme disease, brain injury, pupillary constriction, functional field testing and multisensory integration. She specializes in integrative optometry and vision therapy with emphasis on vision rehabilitation, pediatrics, learning disabilities, traumatic brain injury, concussions and preventative, integrative and alternative vision care for all ages.
Dr. Schulman is always learning and teaching others. She enjoys spending time with her partner, Denny Johnson and grown children Jordan, Jared and Jessie, reading and doing yoga and Zumba.
Connect with Dr. Randy Schulman and EyeCare Associates, PC:
Website | Facebook | LinkedIn | YouTube
Discover the pristine soul with Rayid International:
"We recently had somebody that had a stroke. A young person, in her 30's. She came in wearing contacts that were way too strong and she was getting headaches. All we had to do was drop the prescription half a diapter and it relieved a lot of her headaches. For other patients, too. I might suggest that they wear one pair of contacts or one set of contacts while at work, then on the weekends they can wear the stronger ones when they're not looking at the screen all day. If they have to drive home from work, they can wear a little bit of prescription over those weaker contacts to drive home." – Dr. Randy Schulman
Click here to play this show now!
---
Dr. Lynn Hellerstein, Developmental Optometrist, co-owner of Hellerstein & Brenner Vision Center, P.C., award-winning author and international speaker, holds powerful and inspiring conversations with her guests in the areas of health, wellness, education, sports and psychology. They share their inspirational stories of healing and transformation through their vision expansion. Vision Beyond Sight Podcast will help you see with clarity, gain courage and confidence. Welcome to Vision Beyond Sight!
Dr. Lynn's books are available at Amazon.com and www.lynnhellerstein.com/shop.
Dr. Lynn is available for speaking engagements and consulting. For more information, visit www.lynnhellerstein.com.
To learn more about vision therapy or to find a doctor providing vision therapy in your area, visit: COVD.org.
To learn more about vision and the impact in concussion/brain injury, visit: Neuro-Optometric Rehabilitation Association.
Listen and subscribe wherever you get your podcasts!
New episodes every Wednesday at 9 am MT/10 am CT.
Latest posts by Vision Beyond Sight
(see all)