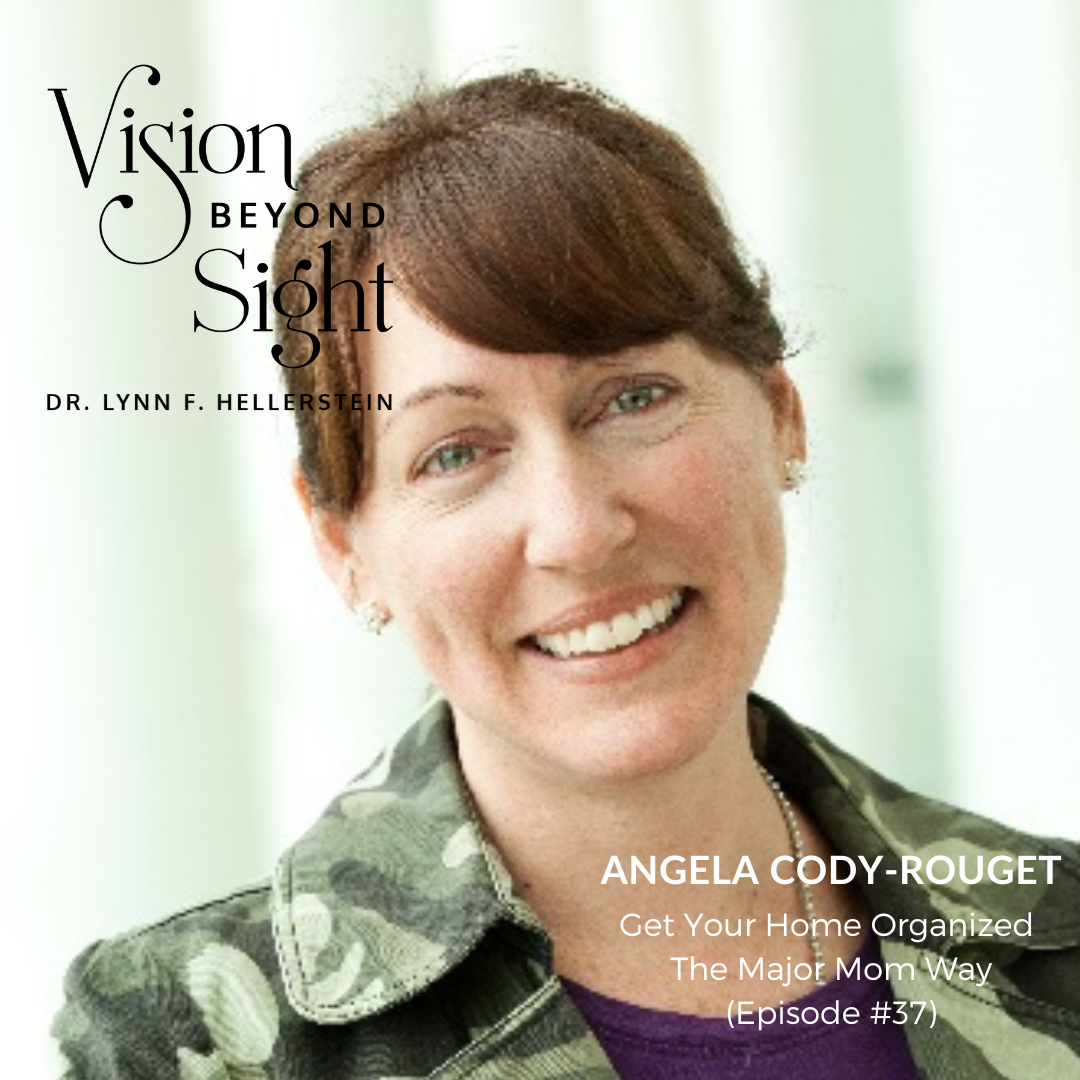 Dr. Lynn Hellerstein of Vision Beyond Sight speaks with Angela Cody-Rouget, a.k.a. Major Mom, to talk about home organizing through the Major Mom Method, and the impacts of having a disorderly home. She is the founder and owner of Major Organizers, a residential organizing company. She spent 14 years in the US Air Force as a satellite commander and missileer where she attained the rank of Major, hence her nickname Major Mom.
Click here and tune in to the show now to explore:
Major impacts of disorder
Major roadbloacks to getting organized
Majorly simple S.T.E.P.S. to creating a clutter-free home
Angela Cody-Rouget, a.k.a. Major Mom, is the founder and owner of Major Organizers, a residential organizing company. She has been building the Major Organizers brand (formerly Major Mom) since November of 2006 and currently has teams of Liberators in four states. She was featured on the military episode of Shark Tank on February 5, 2016. Angela spent 14 years dedicated to serving her country in the US Air Force as a satellite commander and missileer. She attained the rank of Major and her husband nicknamed her Major Mom after their first child was born. After her son was born in 2005, she resigned her commission to be a better wife and mother to her two children.
Angela earned a BA in Speech Communication at Indiana University and an MBA from University of Colorado. The Major achieved and maintained the designation of Certified Professional Organizer (CPO) for over 6 years. Angela is a member of the National Association of Professional Organizers (NAPO) and Faithful Organizers, and has served as the President of the Board of Directors for both organizations. She volunteers her time to her veteran community and church on a regular basis.
Like most women, she sometimes feels torn between kids and career and the balancing act is difficult, but she's thankful for a husband who is supportive. She also has kids that cheer her on because they believe in her. Angela was born to create order out of chaos. She is on a mission to raise up an army of Liberators so she can restore order to the world, one household at a time!
Connect with Major Mom Angela Cody-Rouget and Major Organizers:
Avail a Power Hour Virtual Organizing Session with Major Mom for only $88! Or request for a free estimate for your home! Call 888-549-8854 or click this link now!
"In the Major Mom Method, we say you really need to get clear on what you want your home to look like. If your vision does not include storing items, then you need to go through the hard work of planning a better place for these items to go. And usually it means being extremely charitable and letting go… Gifting them to a family who lost everything in a fire or to a single mom who just got out of domestic abuse and she's starting over. There's millions of families starting over in the United States every year and they are in desperate need of something to use." – Major Mom Angela Cody-Rouget
Click here to play this show now!
---
Dr. Lynn Hellerstein, Developmental Optometrist, co-owner of Hellerstein & Brenner Vision Center, P.C., award-winning author and international speaker, holds powerful and inspiring conversations with her guests in the areas of health, wellness, education, sports and psychology. They share their inspirational stories of healing and transformation through their vision expansion. Vision Beyond Sight Podcast will help you see with clarity, gain courage and confidence. Welcome to Vision Beyond Sight!
Dr. Lynn's books are available at Amazon.com and www.lynnhellerstein.com/shop.
Dr. Lynn is available for speaking engagements and consulting. For more information, visit www.lynnhellerstein.com.
To learn more about vision therapy or to find a doctor providing vision therapy in your area, visit: COVD.org.
To learn more about vision and the impact in concussion/brain injury, visit: Neuro-Optometric Rehabilitation Association.
Listen and subscribe wherever you get your podcasts!
New episodes every Wednesday at 9 am MT/10 am CT.
Latest posts by Vision Beyond Sight
(see all)