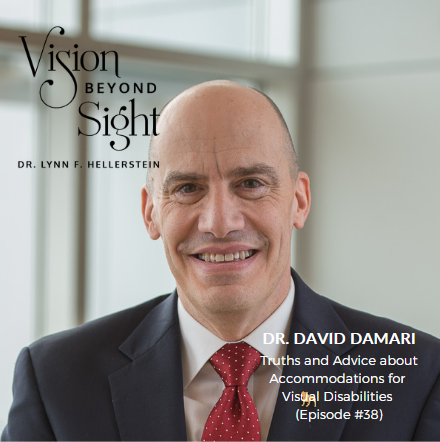 Dr. Lynn Hellerstein of Vision Beyond Sight speaks with Dr. David Damari, professor of clinical optometry and a consultant that help testing organizations and licensing boards to comply with disability laws for candidates who claim visual disabilities. He talks about visual disabilities, and the truths and his advice for patients and healthcare professionals regarding accommodations for them.
Click here and tune in to the show now to explore:
How to avoid letting visual difficulties limit your potential
The different kinds of accommodations for visual disabilities
If you are a patient, how to guide your vision care provider so that you have the best chance to receive the most appropriate accommodation to allow for equal access to the examination or any other aspect of your prospective profession.
If you are a healthcare professional, how to document your patient's condition so that it is clear to the educational institution, testing organization, or employer that your patient is fully capable of the task at hand with the proper accommodation.
The hard truths about failing to receive test accommodations
Dr. David Damari is a Clinical Professor at the Ohio State University College of Optometry. His focus is the assessment of patients with visual disabilities, often more subtle that eyesight limitations, that limit individuals' capabilities at work, school, or athletics. He can partner with those patients to overcome those obstacles through therapy and suggested accommodations under the Americans with Disabilities Amendments Act.
Dr. Damari is the consultant on visual disabilities to many national and state testing and licensing boards, including the National Board of Medical Examiners (who administrate the US Medical Licensing Examination), the National Board of Osteopathic Medical Examiners, the CFA Institute (who develop and administer the Chartered Financial Analyst Examination in 104 different countries), the Law School Admissions Council, and several states' Boards of Law Examiners. He wrote chapters on visual disabilities in three books, including Accommodations in Higher Education under the Americans with Disabilities Act (ADA), edited by Michael Gordon and Shelby Keiser (GSI/Guilford, 1998). Before his tenure at SCO began in 1997, he was a private practitioner in Rochester, New York, helping hundreds of patients meet their visual needs in education, athletics, and the workplace. He graduated from SUNY College of Optometry and did the residency in Vision Therapy Rehabilitation there.
From 2013 to 2021, Dr. Damari was the Dean at the Michigan College of Optometry, and is a past president of the Association of Schools and Colleges of Optometry, a Fellow and past president of the College of Optometrists in Vision Development, and a Fellow of the American Academy of Optometry. He is the only active optometrist to have completed the Fellow-in-Residence program at the National Board of Examiners in Optometry (NBEO).
From Dr. Damari:
My mission is to help everyone whose potential might be limited by visual function difficulties to overcome those, whether they are my own patients or the future patients of students I teach and influence.
I grew up in a small bedroom community near Binghamton, New York, and went to college at a small liberal arts college in Upstate, Colgate University, where I majored in physics, math, and chemistry and learned how to write very effectively. I also learned at Colgate that I absolutely did not want to become a medical doctor! I was determined to become a lawyer until my optometrist, Dr. Steve Solomon from Owego NY, convinced me to look at his profession. After watching what was happening in his practice and reflecting on my own visual difficulties, I decided to go to SUNY College of Optometry, where many of the greats in developmental vision were teaching at the time. I feel very blessed to have been able to learn from and be mentored by those doctors, some of whom are still valued colleagues today.
I am part of a very small cadre of eye doctors who act as "gatekeepers" under the Americans with Disabilities Act. We consult for testing organizations such as the Law School Admissions Council and licensing boards such as state bar examiners and medical licensing examiners to aid in their compliance with the ADA for candidates who claim visual disabilities. Doctors of optometry are particularly suited for this work because of our post-baccalaureate education in visual perception, vision science, psychometrics, and physiological optics, training that no other health profession receives.
Connect with Dr. David Damari and Visual Disability Counseling:
Twitter | LinkedIn | Instagram
If you believe you or your organization could benefit from Dr. Damari's professional consulting services, you can email him at visiondoc@icloud.com.
"I like to make sure that students who have visual disability are able to access those tests to their best capabilities. And I find it often, these students, what they think is going to help them, isn't really the best thing to address their visual condition either because they've been misled or they're not really aware of what the test they're going to take is going to demand from them visually." – Dr. David Damari
---
Dr. Lynn Hellerstein, Developmental Optometrist, co-owner of Hellerstein & Brenner Vision Center, P.C., award-winning author and international speaker, holds powerful and inspiring conversations with her guests in the areas of health, wellness, education, sports and psychology. They share their inspirational stories of healing and transformation through their vision expansion. Vision Beyond Sight Podcast will help you see with clarity, gain courage and confidence. Welcome to Vision Beyond Sight!
Dr. Lynn's books are available at Amazon.com and www.lynnhellerstein.com/shop.
Dr. Lynn is available for speaking engagements and consulting. For more information, visit www.lynnhellerstein.com.
To learn more about vision therapy or to find a doctor providing vision therapy in your area, visit: COVD.org.
To learn more about vision and the impact in concussion/brain injury, visit: Neuro-Optometric Rehabilitation Association.
Latest posts by Vision Beyond Sight
(see all)