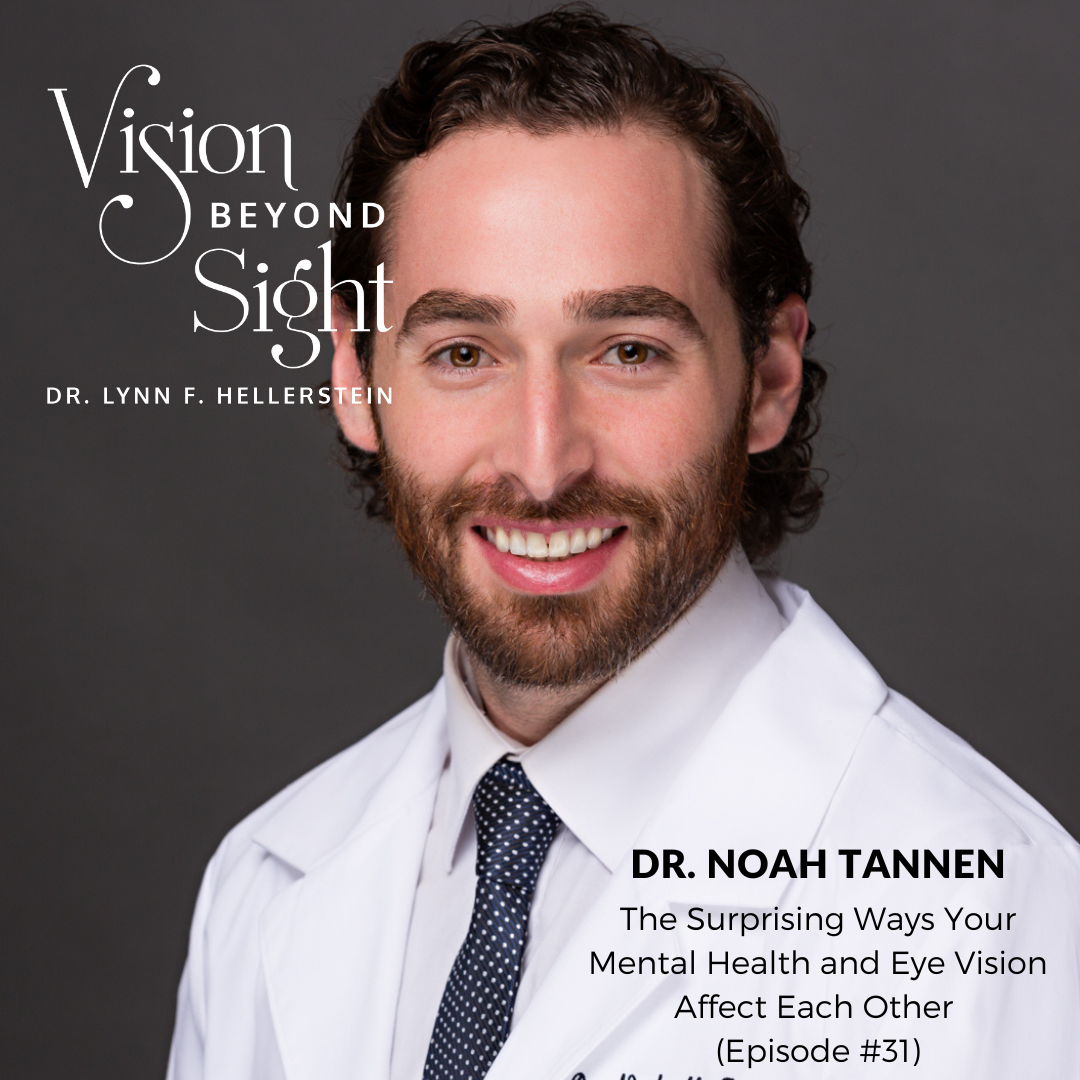 Dr. Lynn Hellerstein of Vision Beyond Sight speaks with Dr. Noah Tannen, specialist in vision therapy, neuro-optometric rehabilitation, and myopia control. This is his second appearance in the show and he talks about how your mental health can affect your vision, and how visual dysfunction can affect your mental health. (Check out his first talk here about myopia control.) Dr. Noah is also a host of Continuing Education lectures around the country, and co-author of the book, "A Parent's Guide to Raising Children with Healthy Vision."
Click here and tune in to the show now to explore:
How visual dysfunction can affect mental health
How mental health can affect vision
The importance of managing both the visual issues and the mental health, and how to approach this as an eye doctor
Dr. Noah Tannen grew up in Cherry Hill, NJ with his sister Rachael, and parents Barry and Sandi. After his father was kind enough to give him a summer job as a vision therapist in high school, Dr. Noah saw the transformative power that vision therapy had on his patients, and ultimately chose to join his father in practice at Eyecare Professionals, PC in Hamilton, NJ.
Dr. Noah received a Bachelor of Science in Psychology from Lafayette College, and went on to receive his Doctor of Optometry degree from State University of New York College of Optometry. He completed his residency in pediatrics, vision therapy, and neuro-optometric rehabilitation at Pennsylvania College of Optometry at Salus University.
Dr. Noah was accepted as a fellow in the American Academy of Optometry (FAAO) in 2018, as well as a fellow in the College of Optometrists in Vision Development (FCOVD) in 2020. Dr. Noah received the Optelec Low Vision Award for Excellence in Low Vision while at SUNY Optometry.
Dr. Noah is a regular guest on vision-oriented podcasts, hosts Continuing Education lectures around the country, and has accomplished several publications on the following topics: myopia control, vision development and rehabilitation, nystagmus, and patient care after traumatic brain injury. He is also a co-author of the book, A Parent's Guide to Raising Children with Healthy Vision.
Dr. Noah specializes in vision therapy, neuro-optometric rehabilitation, and myopia control. His mission is to maximize the visual potential of his patients and enrich their lives by helping them to achieve their full potential. In his free time, he enjoys traveling and playing guitar. He has just gotten married to his lovely fiancée, Emily.
Connect with Dr. Noah Tannen and Eye Care Professionals, PC:
Website | Facebook | Twitter | LinkedIn
Check out his book: A Parent's Guide to Raising Children with Healthy Vision
Researchers project one-half of the world's population will suffer from myopia (nearsightedness) by the year 2050. That's around 5 billion people! What's happening to our children and their eyesight? The answer to this question and what you can do to help your children is explored in this book.
Over 30 years, Dr. Despotidis has spoken to thousands of parents who share one common goal – to raise healthy children in every sense of the word… physically, emotionally, and socially. This book is written to educate parents on the science behind myopia development and the serious consequences technology has on our children's social development. To provide a balanced perspective, Dr. D has enlisted the help of his younger colleague, Dr. Noah Tannen, and Kimberly Lee, a teacher with a Master in Education. Each brings a different viewpoint to raising children with healthy vision. Together they share their wisdom and insight into this global epidemic of childhood vision deterioration.
Life is not black and white. There is no one formula for raising healthy, happy children. Every child is unique. That's the power of this book. It's filled with facts, insights, and recommendations, but ultimately it's a tool to enable parents to make the best decisions for their own children when it comes to vision. The authors' hopes are for parents to see the world through their eyes; as eye doctors, parents, and advocates who challenge the status quo and do what's best for their children.
"A lot of times, stress is not even brought up in the conversation. Unfortunately, a lot of doctors, parents and teachers incorrectly tell the children or feel that the children are lying about their symptoms to get out of the work. They call it malingering. In my opinion, it's certainly not malingering. Even though the eye is healthy, these are real manifestations of psychosomatic disorders." – Dr. Noah Tannen
Click here to play this show now!
---
Dr. Lynn Hellerstein, Developmental Optometrist, co-owner of Hellerstein & Brenner Vision Center, P.C., award-winning author and international speaker, holds powerful and inspiring conversations with her guests in the areas of health, wellness, education, sports and psychology. They share their inspirational stories of healing and transformation through their vision expansion. Vision Beyond Sight Podcast will help you see with clarity, gain courage and confidence. Welcome to Vision Beyond Sight!
Dr. Lynn's books are available at Amazon.com and www.lynnhellerstein.com/shop.
Dr. Lynn is available for speaking engagements and consulting. For more information, visit www.lynnhellerstein.com.
To learn more about vision therapy or to find a doctor providing vision therapy in your area, visit: COVD.org.
To learn more about vision and the impact in concussion/brain injury, visit: Neuro-Optometric Rehabilitation Association.
Latest posts by Vision Beyond Sight
(see all)