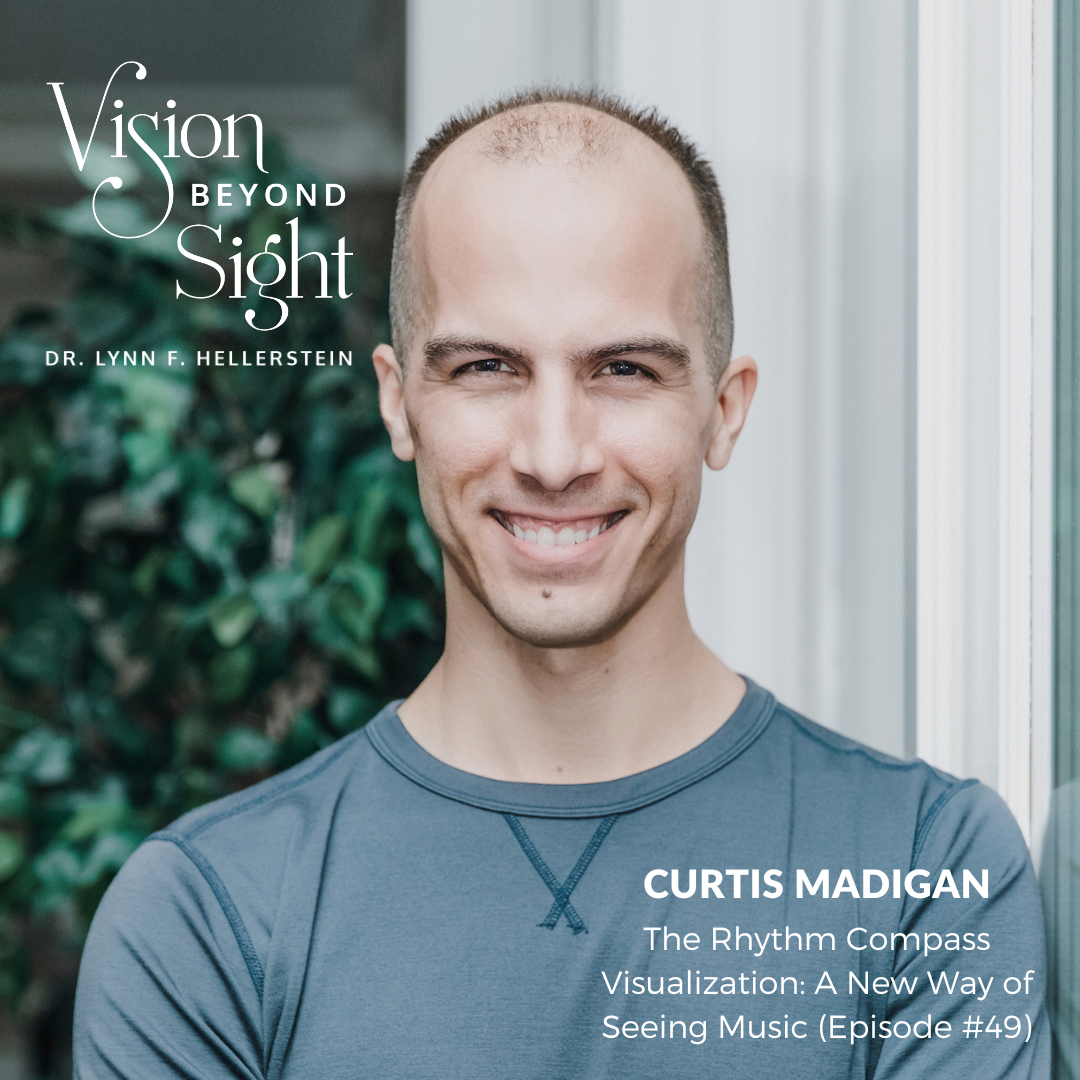 Dr. Lynn Hellerstein of Vision Beyond Sight speaks with Curtis Madigan, aka The Rhythm Doctor. He is a multi-instrumentalist, educator, coach to platinum-selling artists, the founder and CEO of Sound Formation, and a graduate of Berklee College of Music. Curtis talks about rhythm and visualization, and how we can utilize his own creations The Rhythm Compass and The Sound Formation Method to see and learn about music in a new and surprising way.
Click here and tune in to the show now to explore:
What is The Rhythm Compass and The Sound Formation Method?
Curtis' connection with Dr. Linda Silverman and her book The Visual-Spatial Learner (check out her own show on the podcast here)
How does The Rhythm Compass work and highlight rhythm?
How do kids learn about The Rhythm Compass?
Gifted kids and music
Comparing music notation and The Rhythm Compass
How does Curtis relate to Dr. Lynn's See It. Say It. Do It! process?
Problems with sight-reading music
How does Curtis "The Rhythm Doctor" help music students and professional musicians?
What are "rhythmic diseases"?
About Curtis Madigan:
Curtis Madigan grew up in Iowa with his two sisters Elise and Kara, his brother Josh, and his parents Genia and Joe. He was inspired to take up guitar at age ten. He took lessons with Merrill Birchmeyer and University of Iowa guitar faculty Steve Grismore. Despite his deep love of athletics, he knew that his main passion was music. He was fortunate to work with seven-time GRAMMY-winning artist Maria Schneider as the all-state guitarist during his junior year of high school and with the late Fred Sturm as the all-state guitarist his senior year. He was very fortunate to work with Rich Medd and Rob Medd in the exceptional West High School wind ensemble and jazz bands which regularly won statewide competitions.
Curtis was awarded Berklee College of Music's BEST scholarship to study guitar performance and composition. In Boston at Berklee, he met and performed with numerous high-level artists that he continues to work with to this day. It was also at Berklee that Curtis realized there was a huge dearth of information in music education pedagogy in the field of rhythm.
After Berklee, Curtis moved to Los Angeles where he trained in yoga and numerous martial arts including Liangong, Swimming Dragon, and Wing Chun. After very intensive training in meditation and martial arts, Curtis turned his attention on the gap in his understanding of music. First he created and developed The Rhythm Compass™ which became part of his comprehensive theory of rhythm. Then he founded his company Sound Formation and the Sound Formation Method™. He's now spoken internationally on his theory of rhythm and has created music programs that are being taught globally. He has published numerous books on his methodology for multiple instruments, coaches professional musicians at the highest level, is the go-to person for getting musicians out of pain and enhancing technical ability, and has become affectionately known as "The Rhythm Doctor."
Connect with Curtis Madigan and Sound Formation:
Free Ebook – 5 Simple Principles to Improve Your Groove: Sign up here to grab a FREE EBOOK that will teach you exactly what you're missing in your rhythmic feel, simple principles that deliver profound results, and why rhythm seems elusive and harder than it should be.
Ear Training Assessment: Understand where your strengths and weaknesses are in rhythm and harmony and how to alleviate these gaps. Click here to sign up for a consultation.
New Book – SFM Percussion Level 3, out December 15th, 2022: Learn essential principles of rhythm, new ways of conceptualizing rhythm, ear training in 3/8, 6/8, and 12/8, how to master accent displacement, triplet elisions and syncopations, rhythmic perception techniques, and anatomy of a groove. Click here to check it out!
Website | Facebook | Twitter | LinkedIn | Instagram | YouTube
"Once you recognize rhythmic shapes on the Rhythm Compass, you literally start to see shapes when you're sight-reading. And so you're able to rapidly make sense of a lot of information that you're looking at really quickly because you're just going, 'Oh it's that shape that I know in the practice.' It kinda pops out. So one person that I trained—a local bass player in Denver, a professional musician—he said it's akin to going from 2D to 3D when he started using the Rhythm Compass shapes because they would just pop out on him when he's reading music." – Curtis Madigan
Click here to play this show now!
---
Dr. Lynn Hellerstein, Developmental Optometrist, co-owner of Hellerstein & Brenner Vision Center, P.C., award-winning author and international speaker, holds powerful and inspiring conversations with her guests in the areas of health, wellness, education, sports and psychology. They share their inspirational stories of healing and transformation through their vision expansion. Vision Beyond Sight Podcast will help you see with clarity, gain courage and confidence. Welcome to Vision Beyond Sight!
Dr. Lynn's books are available at Amazon.com and www.lynnhellerstein.com/shop.
Dr. Lynn is available for speaking engagements and consulting. For more information, visit www.lynnhellerstein.com.
To learn more about vision therapy or to find a doctor providing vision therapy in your area, visit: COVD.org.
To learn more about vision and the impact in concussion/brain injury, visit: Neuro-Optometric Rehabilitation Association.
Listen and subscribe wherever you get your podcasts!
New episodes every Wednesday at 9 am MT/10 am CT.
Latest posts by Vision Beyond Sight
(see all)