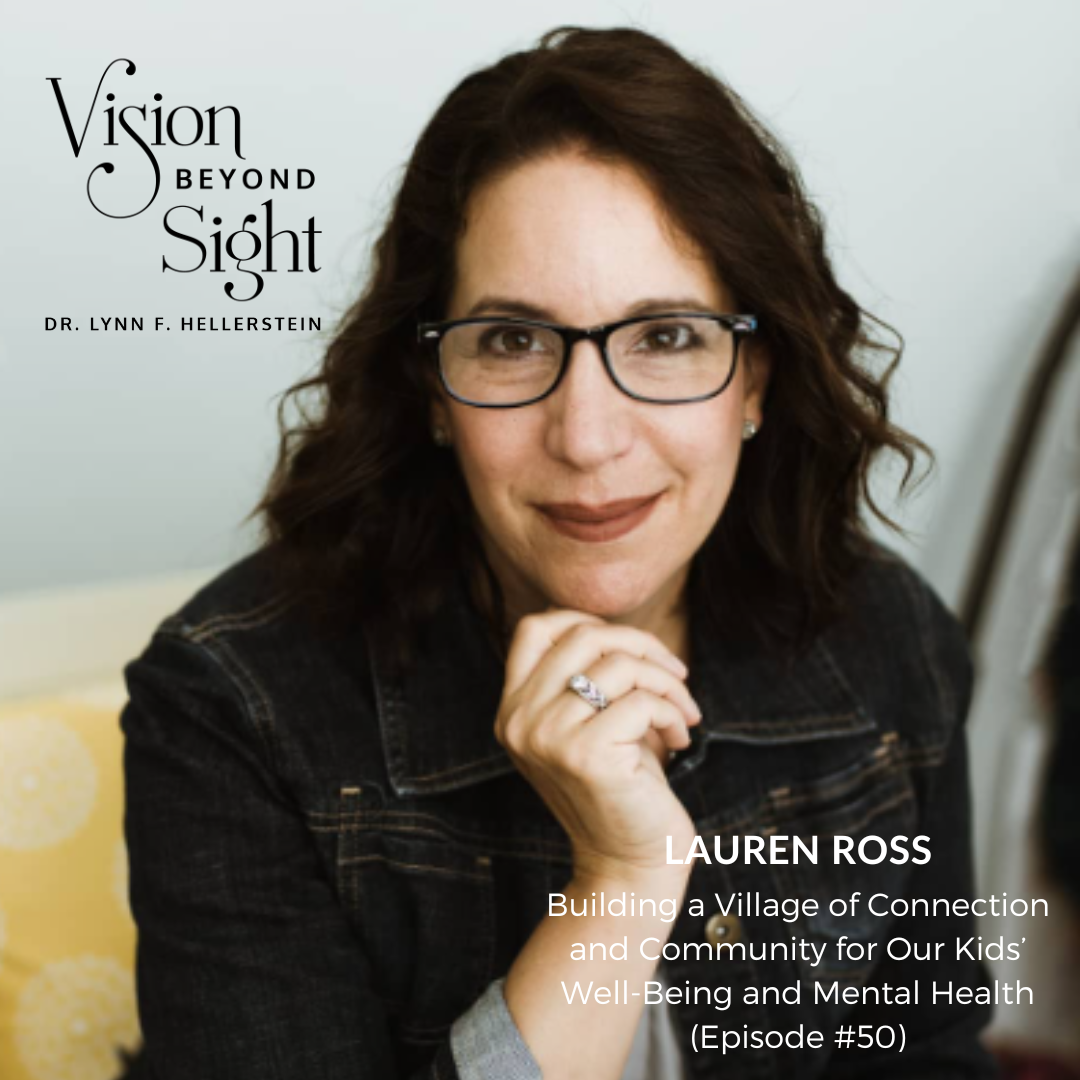 Dr. Lynn Hellerstein of Vision Beyond Sight speaks with Lauren Ross, certified Dare to Lead Facilitator with the Brené Brown Education and Research Group, founder of Project Village, licensed clinical social worker, and leader in the field of school mental health. Lauren talks about building connection and community online and in schools for parents and kids' well-being and mental health, teaching social and emotional skills to students and how we can be good digital citizens. She also discussed her online group Project Village, a community space for sharing resources, support and inspiration that helped people stay strong through the pandemic and beyond.
Click here and tune in to the show now to explore:
How connection and community are essential to our well-being and mental health
The story of Project Village that started as an online support group during the pandemic
What we can learn about being leaders in the online space
How to be good digital citizens
Teaching social and emotional skills to kids
About Lauren Ross:
Lauren Ross is a licensed clinical social worker and leader in the field of school mental health. With over 22 years of experience in public education and clinical settings, Lauren is passionate about creating spaces of belonging, support and resilience for youth and families. Lauren currently works at Cherry Creek School District where she serves as a leader of the mental health team, with over 170 school psychologists and social workers.
In 2019, Lauren trained under Brené Brown to become a Certified Dare to Lead Facilitator. She has brought this training to the public education and nonprofit sectors to build courageous leadership skills with the amazing humans doing hard and important work. In 2022, she shared the story of Project Village on the stage of TEDxCherryCreekWomen, encouraging all of us to show up in social media space with greater courage, compassion, connection and community.
Lauren lives in Denver, Colorado, with her amazing musical husband David, as well as their two children (Jade and Maya) and their schnoodle (Oreo). Visit her website at Project Village for more information.
Connect with Lauren Ross and Project Village:
Project Village: Website | Facebook
Watch Lauren's story of Project Village on the stage of TEDxCherryCreekWomen on YouTube last Nov. 13, 2022.
Invite Lauren for speaking engagements and keynotes through her website.
"Just like we teach our kids literacy, mathematics and social studies, we really have to be intentional and direct with how we teach social and emotional skills. Some of those skills involve: How do I manage hard feelings? We all have emotions; how do I name my emotions so I can tame them? How do I develop self-regulation or coping strategies when I'm having big feelings? And how do I get along with others? What are my conflict-resolution skills?" – Lauren Ross 
Click here to play this show now!
---
Dr. Lynn Hellerstein, Developmental Optometrist, co-owner of Hellerstein & Brenner Vision Center, P.C., award-winning author and international speaker, holds powerful and inspiring conversations with her guests in the areas of health, wellness, education, sports and psychology. They share their inspirational stories of healing and transformation through their vision expansion. Vision Beyond Sight Podcast will help you see with clarity, gain courage and confidence. Welcome to Vision Beyond Sight!
Dr. Lynn's books are available at Amazon.com and www.lynnhellerstein.com/shop.
Dr. Lynn is available for speaking engagements and consulting. For more information, visit www.lynnhellerstein.com.
To learn more about vision therapy or to find a doctor providing vision therapy in your area, visit: COVD.org.
To learn more about vision and the impact in concussion/brain injury, visit: Neuro-Optometric Rehabilitation Association.
Latest posts by Vision Beyond Sight
(see all)