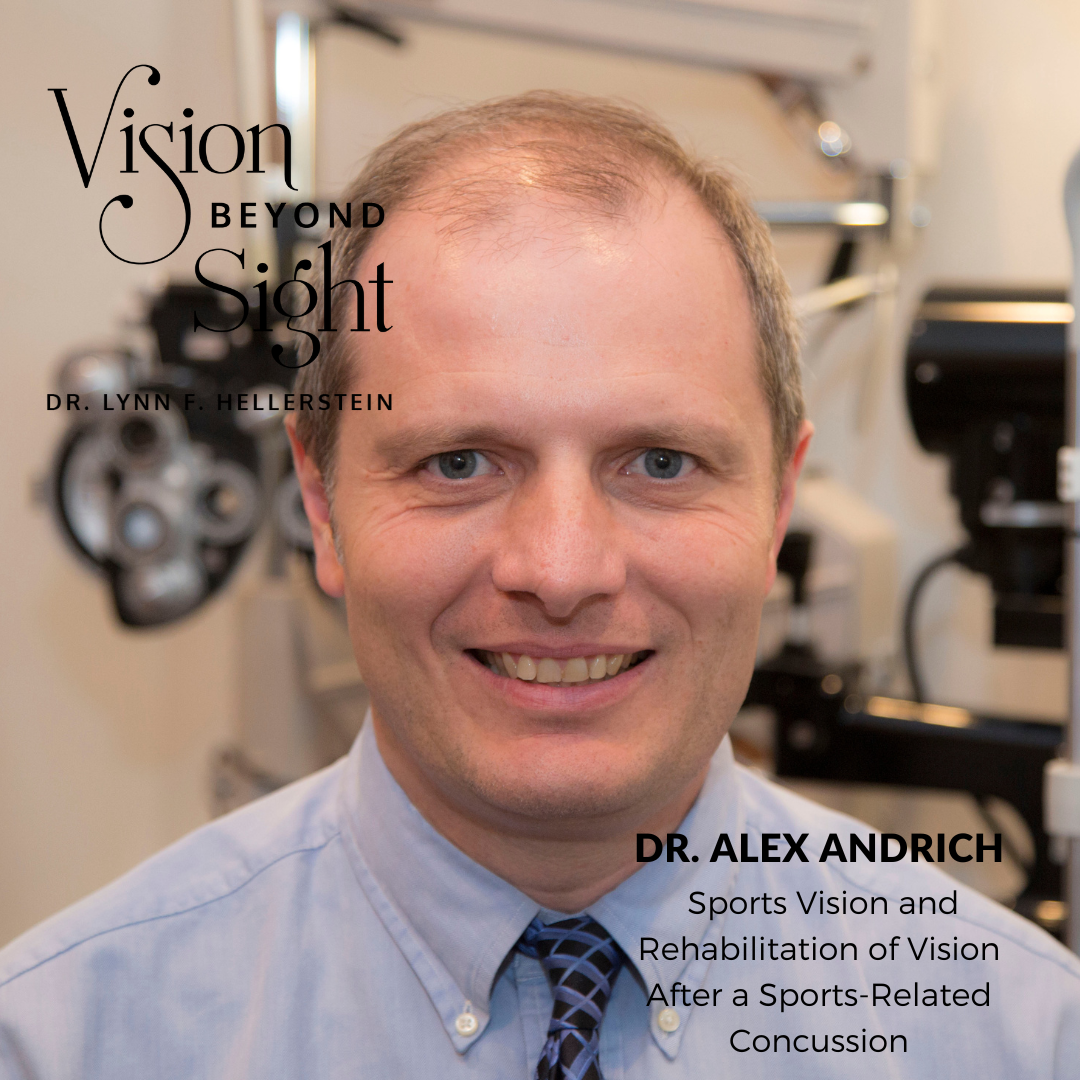 Dr. Lynn Hellerstein of Vision Beyond Sight speaks with Dr. Alex Andrich, an optometrist, performance vision coach and lecturer. He is the co-founder of The Vision Development Team and the International Sports Vision Association. He talks about sports vision, vision skills and vision rehabilitation after sports-related concussions.
Click here and tune in to the show now to explore:
The importance of vision in sports
Testing and Training vision skills
Vision rehabilitation after sports-related concussion
Dr. Alexandar Andrich is an accomplished graduate of The Ohio State University College of Optometry and a Fellow of the College of Optometrists in Vision Development. He is an acclaimed lecturer on the topics of pediatric/infant vision, binocular vision disorders, neuro-optometric rehabilitation, learning-related vision disorders, sports vision, and nutrigenomics related to ocular health and overall well-being.
In addition to providing Vision Therapy, Sports Vision, and Neuro-Optometric Vision Services, Dr. Andrich and his wife Patti, founded The Vision Development Team, a multi-location internationally recognized training center for providing high-level optometric testing accompanied by therapeutic interventions to improve visual functions and elite performance training for the competitive athlete.
Dr. Andrich has served on the staff in the Physical Medicine and Rehabilitation departments at University Hospitals Parma Medical Center and MetroHealth. Dr. Andrich is a co-founder and immediate past president of ISVA (International Sports Vision Association), representing over 14 countries. ISVA provides training to doctors, coaches, and athletic trainers world-wide in the field of sports vision.
Additionally, Dr. Andrich is the team optometrist and performance vision coach for the Cleveland Guardians baseball team, Cleveland Monsters hockey team, and other professional and amateur athletes. He is professionally involved with several state, national, and international organizations. When he is not busy serving others with his optometry passions, you can find him enjoying time with his family, skiing, and mountain biking.
Connect with Dr. Alex Andrich:
Find a Sports Vision and Performance Professional or improve your E-Gaming skiills via the International Sports Vision Association!
The Vision Development Team Website
"I think coaches and athletes are starting to realize there is an important part of overall performance that is often overlooked and that is the visual system. A lot of time and energy is spent in the mechanics. For example, a baseball player will spend a lot of time with the hitting coach, a swing coach—working on the mechanics. But realistically, I always say that you could have the nicest swing but if you are not seeing the ball, that nice swing is not gonna do you much in terms of performance." – Dr. Alex Andrich
Click here to play this show now!
---
Dr. Lynn Hellerstein, Developmental Optometrist, co-owner of Hellerstein & Brenner Vision Center, P.C., award-winning author and international speaker, holds powerful and inspiring conversations with her guests in the areas of health, wellness, education, sports and psychology. They share their inspirational stories of healing and transformation through their vision expansion. Vision Beyond Sight Podcast will help you see with clarity, gain courage and confidence. Welcome to Vision Beyond Sight!
Dr. Lynn's books are available at Amazon.com and www.lynnhellerstein.com/shop.
Dr. Lynn is available for speaking engagements and consulting. For more information, visit www.lynnhellerstein.com.
To learn more about vision therapy or to find a doctor providing vision therapy in your area, visit: COVD.org.
To learn more about vision and the impact in concussion/brain injury, visit: Neuro-Optometric Rehabilitation Association.
Listen and subscribe wherever you get your podcasts!
New episodes every Wednesday at 9 am MT/10 am CT
Latest posts by Vision Beyond Sight
(see all)