Fun times with Denver Broncos Pro-Linebacker Von Miller at his fundraising event. Proceeds will benefit the Von Miller Foundation and its mission to provide needed eye care and eye wear to children in Denver.
Hellerstein & Brenner Vision Center was honored to be the clinic where Von Vision Foundation volunteers examined 164 kids…104 needed glasses. See more at: http://bit.ly/1lDG2Z1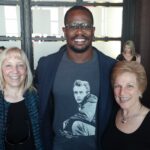 A pioneer in vision therapy and developmental optometry, for more than 30 years Dr. Lynn Hellerstein, has helped thousands of children and adults improve their vision and transform their lives — at home, in the classroom and on the sports field.
Founder and co-owner of Hellerstein & Brenner Vision Center, Dr. Lynn Hellerstein is the author of an award-winning book series, SEE IT. SAY IT.DO IT!
Dynamic and engaging, Dr. Hellerstein is a popular speaker nationally and internationally.

Latest posts by Lynn Hellerstein (see all)