Excellent group of occupational, physical, speech therapists, teachers, administrators at the Clinton County RESA workshop on Nov. 6, 2014.    Here are some of the comments:
"It's not often you find a conference that is immediately applicable.  This one provided useful strategies to use with students tomorrow!"
Elizabeth Dewey, OTRL
"Dr. Hellerstein is such a treat!  I learned so many wonderful and useful strategies to use both at work and for life.  She maintained our focus 100%."
Tammy Baudoux, OTR
"Dr. Hellerstein's presentation style is down to earth with humor and connects with the audience."
I am honored to have been invited to present.  Thanks to Amy Baad, OTR/L, MA for organizing the workshop!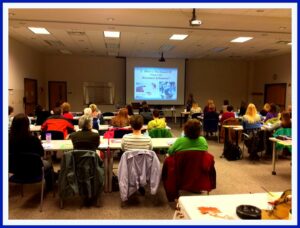 Latest posts by Lynn Hellerstein (see all)