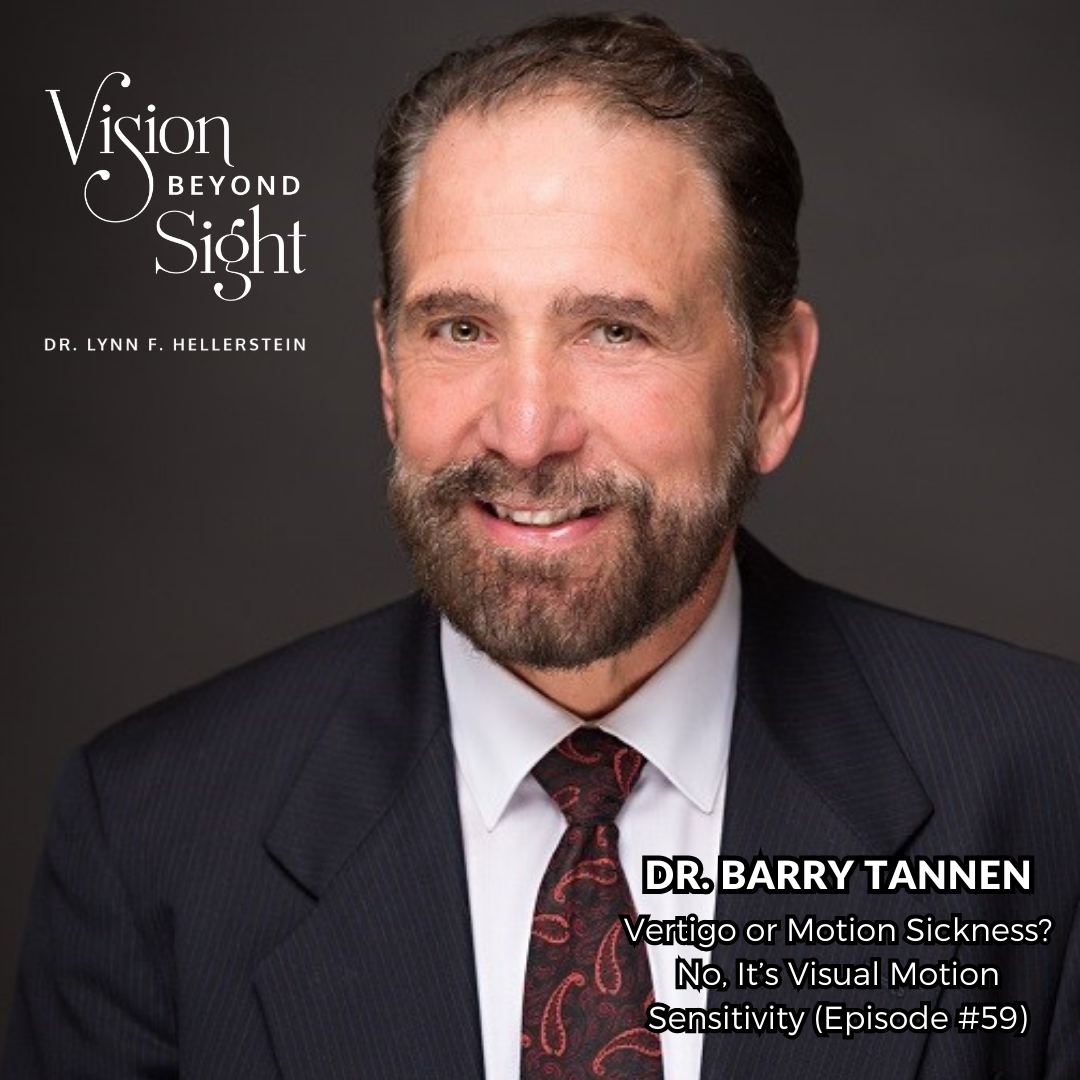 Dr. Lynn Hellerstein of Vision Beyond Sight speaks with Dr. Barry Tannen, optometric physician and co-founder/partner of EyeCare Professionals, PC. Dr. Tannen talks about visual motion sensitivity and specific photophobia which are common and overlooked consequences of concussion and traumatic brain injury. Learn how to differentiate them from other conditions like vertigo, motion sickness and light sensitivity, and their corresponding diagnostic tests and neuro-optic rehabilitative therapies.
Click here and tune in to the show now to explore:
What is visual motion sensitivity and how is it different from motion sickness?
What is specific photophobia or photosensitivity and how is it different from light sensitivity?
Who treats these conditions?
How do you know if you have true vertigo?
The role of the brain in filtering
Evaluating patients with these symptoms
Neuro-optic rehabilitative therapies for treatment
About Dr. Barry Tannen:
Dr. Barry Tannen has been an optometric physician for more than 30 years at EyeCare Professionals, PC which he co-founded with Dr. Nick Despotidis. His clinical and research interests are visual deficits related to concussion, acquired brain injury, strabismus, amblyopia, and learning-related vision problems. Dr. Tannen is the program supervisor for a private practice-based residency in Vision Therapy and Rehabilitation at EyeCare Professionals.  His passion is helping patients who have severe vision conditions who previously thought there was no hope.
Dr. Tannen received the A.M. Skeffington award for excellence in Optometric Writing from the College of Optometrists in Vision Development in 2016, the Ludlam Education Award by the Neuro-Optometric Rehabilitation Association in 2014, and the Scientific Achievement Award by the New Jersey Society of Optometric Physicians in 2002. He is a Fellow in the American Academy of Optometry, and the College of Optometrists in Vision Development (COVD), Past President of COVD, and a Clinical Professor Emeritus of the SUNY/State College of Optometry in New York.  Dr. Tannen lectures internationally and has co-authored over 70 journal articles, as well as a clinical textbook on Eye Movements.
In his spare time, he enjoys tennis, hiking, cycling, kayaking, boating, and spending time at his beach house with his wife Sandi, children, and grandchildren. He's thrilled to be practicing with his son, Dr. Noah Tannen, who joined EyeCare Professionals in 2017.
Connect with Dr. Barry Tannen and EyeCare Professionals, PC:
"Mostly, visual motion sensitivity is provoked when people are in busy visual environments. For example, supermarkets or malls. It could also be triggered by things moving in the periphery, like if you're in a car—not so much the motion of the car but the visual motion that's going around you. The optic flow, as they call it, that surrounds you. It could be provoked by looking at a computer screen. If you think about these types of things, these occur everyday in people's lives. When those symptoms happen, people just say, I don't feel good. Sometimes they don't even know. They just don't feel well and they know they're not feeling well but they're not even sure what's causing it. But when we start to really ask questions, we find that visual motion sensitivity is sort of at the root cause of it." – Dr. Barry Tannen
Click here to play this show now!
---
Dr. Lynn Hellerstein, Developmental Optometrist, co-owner of Hellerstein & Brenner Vision Center, P.C., award-winning author and international speaker, holds powerful and inspiring conversations with her guests in the areas of health, wellness, education, sports and psychology. They share their inspirational stories of healing and transformation through their vision expansion. Vision Beyond Sight Podcast will help you see with clarity, gain courage and confidence. Welcome to Vision Beyond Sight!
Dr. Lynn's books are available at Amazon.com and www.lynnhellerstein.com/shop.
Dr. Lynn is available for speaking engagements and consulting. For more information, visit www.lynnhellerstein.com.
To learn more about vision therapy or to find a doctor providing vision therapy in your area, visit: COVD.org.
To learn more about vision and the impact in concussion/brain injury, visit: Neuro-Optometric Rehabilitation Association.
Latest posts by Vision Beyond Sight
(see all)