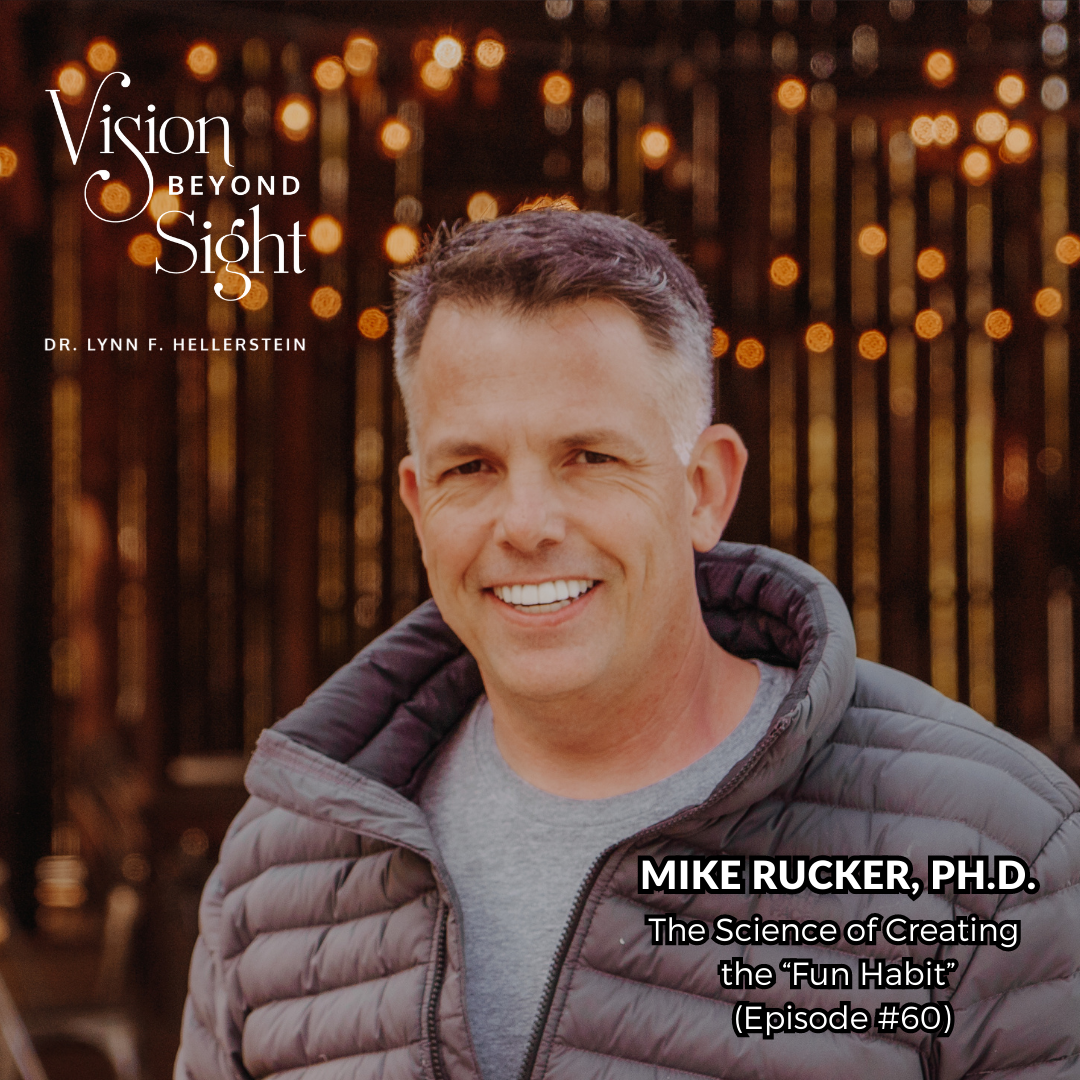 Dr. Lynn Hellerstein of Vision Beyond Sight speaks with Mike Rucker, Ph.D., organizational psychologist, behavioral scientist, author, and charter member of the International Positive Psychology Association. Mike talks about comparing happiness and fun, how having more time for leisure relates to more productivity, creating the "fun habit" using the PLAY model, how to incorporate more fun to our busy lives, and his bestselling book The Fun Habit.
🔊 Click here and tune in to the show now to explore:
The difference between happiness and fun
Comparing happiness between the West and collective societies in the East
The hedonic flexibility principle of making transitions from work to leisure
The importance of fun to productivity and avoiding burnout
Changing priorities in favor of more leisure and less work hours
The "fun habit" using Mike's PLAY model to incorporating more fun to our busy life
Activity bundling, deliberate precommitment to fun, and reaching out to fun people
Mike's bestselling book, The Fun Habit
Looking at the world through the lens of fun
"This construct of fun—enjoying yourself, finding joy and delight in the moment—is really just a reframe of knowing that you have the agency and autonomy to find happiness right where you are and it does not necessarily require figuring out what your rank is in regards to the social norms that you live in. It's really just about fitting in with your friends and the activities that you enjoy." – Mike Rucker, Ph.D.
About Mike Rucker, Ph.D.:
Mike Rucker, Ph.D. is an organizational psychologist, behavioral scientist, and charter member of the International Positive Psychology Association. He has been academically published in publications like the International Journal of Workplace Health Management. His ideas about fun and health have been featured in The Wall Street Journal, Washington Post, Fast Company, Psychology Today, Forbes, Vox, Thrive Global, Mindful, mindbodygreen, and more. He currently serves as a senior leader at Active Wellness and is the author of the best-selling book The Fun Habit, which is out now.
Connect with Mike Rucker, Ph.D.:
Website | Facebook | Twitter | LinkedIn | Instagram
Book: The Fun Habit: How the Pursuit of Joy and Wonder Can Change Your Life
Buy here: Amazon | Simon&Schuster
Description: Discover the latest compelling scientific evidence for the potent and revitalizing value of fun and how to make having fun a habitual and authentic part of your daily life.
Doesn't it seem that the more we seek happiness, the more elusive it becomes?
There is an easy fix, hiding in plain sight. Fun is an action you can take here and now, practically anywhere, anytime. Through research and science, we know fun is enormously beneficial to our physical and psychological well-being, yet fun's absence from our modern lives is striking. Whether you're a frustrated high-achiever trying to find a better work-life balance or someone who is seeking relief from life's overwhelming challenges, it is time you gain access to the best medicine available. The Fun Habit is the ultimate guide to reap the serious benefits fun offers.
Grounded in current research, accessible science, and practical recommendations, The Fun Habit explains how you can build having fun into an actionable and effortless habit and why doing so will help you become a healthier, more joyful, more productive person. In the vein of Year of Yes, 10% Happier, and Atomic Habits, The Fun Habit is an inspiring and motivational guidebook that you will want to share with everyone in your life.
"I think so many of us are living through the lens of martyrdom. That life is somehow a means to an end. I really think life was meant to be enjoyed. And that does not circumvent all the important things that we need to get done. But once we are enjoying ourselves, we're better versions of ourselves. We flip from this "me ideology" to a "we ideology." We know empathy grows. We know kindness grows. We try to better each other along with ourselves, and so everything is additive. So using fun in that context is not just a selfish act of hedonism. It's really a way to truly be a change-maker and make the impact that you want to see in the world." – Mike Rucker, Ph.D.
🔊 Click here to play this show now!
---
Dr. Lynn Hellerstein, Developmental Optometrist, co-owner of Hellerstein & Brenner Vision Center, P.C., award-winning author and international speaker, holds powerful and inspiring conversations with her guests in the areas of health, wellness, education, sports and psychology. They share their inspirational stories of healing and transformation through their vision expansion. Vision Beyond Sight Podcast will help you see with clarity, gain courage and confidence. Welcome to Vision Beyond Sight!
Dr. Lynn's books are available at Amazon.com and www.lynnhellerstein.com/shop.
Dr. Lynn is available for speaking engagements and consulting. For more information, visit www.lynnhellerstein.com.
To learn more about vision therapy or to find a doctor providing vision therapy in your area, visit: COVD.org.
To learn more about vision and the impact in concussion/brain injury, visit: Neuro-Optometric Rehabilitation Association.
Latest posts by Vision Beyond Sight
(see all)