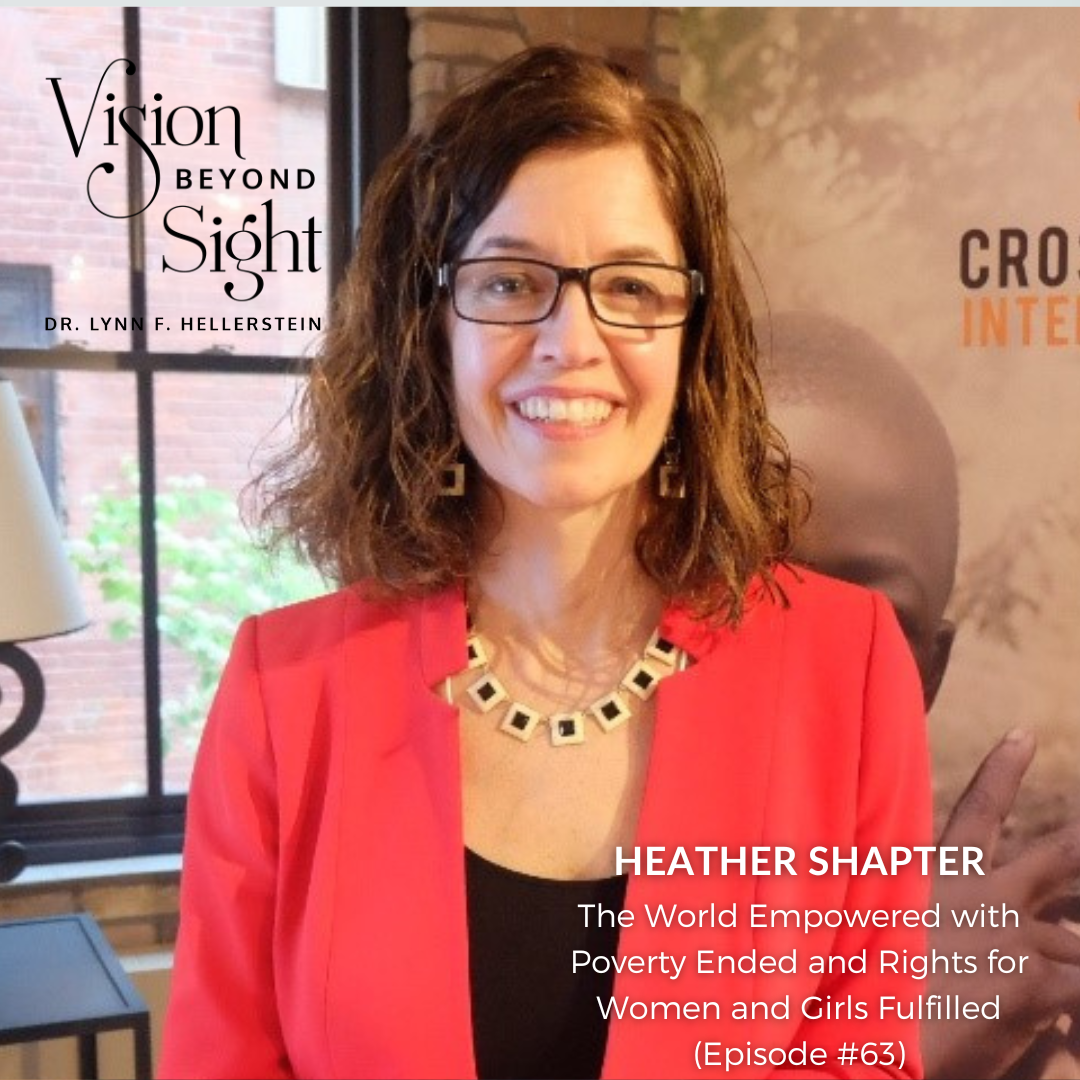 Dr. Lynn Hellerstein of Vision Beyond Sight speaks with Heather Shapter, executive director of Crossroads International. Heather talks about how this volunteer cooperation agency works with local partners in Sub-Saharan Africa to advance rights, reduce poverty and increase access to justice for one million women and girls. She also discusses the power of community and the impact of local advocacies.
🔊 Click here and tune in to the show now to explore:
Why is ending world poverty personal for Heather?
Why are so many people may not be empowered?
How does virtual interaction affect community and empowerment?
Crossroads International – programs and advocacies
Issues on diversity, equality and age of marriage
Educating girls on their rights
Why should we care about what's happening in Africa and the rest of the world?
The impact of local advocacies in far-flung areas
How to be open to diverse views in the personal and national level?
The power of community
About Heather Shapter:
Heather Shapter is the Executive Director of Crossroads International, which works with local partners in Sub-Saharan Africa to advance rights, reduce poverty and increase access to justice for one million women and girls. She has held leadership roles in some of the world's most respected international non-governmental organizations, in the Caribbean, Africa, Russia, the Middle East and Southeast Asia. Heather lives in Toronto, Canada with her husband, Gerry and her two sons.
Connect with Heather Shapter and Crossroads International:
Website | Facebook | Twitter | LinkedIn | Instagram | YouTube
Your gift today could change a life forever. Donate here.
Email: heather@cintl.org
"If you look in your own community, and look and see what matters to you—let's say equality. Research has shown that advocacy locally can make a difference in far-flung lands. How could that be? Let's say three communities in Canada start really caring about equality around ethnicity. That actually pressures our government to look at its laws around diversity, ethnicity and equality. And then when Canada sits at the global table with the other nations, it starts to put pressure on the other nations to have the same laws in place, or at least to be representing voices in the same kind of way. And then their laws are impacted for the better." – Heather Shapter
🔊 Click here to play this show now!
---
Dr. Lynn Hellerstein, Developmental Optometrist, co-owner of Hellerstein & Brenner Vision Center, P.C., award-winning author and international speaker, holds powerful and inspiring conversations with her guests in the areas of health, wellness, education, sports and psychology. They share their inspirational stories of healing and transformation through their vision expansion. Vision Beyond Sight Podcast will help you see with clarity, gain courage and confidence. Welcome to Vision Beyond Sight!
Dr. Lynn's books are available at Amazon.com and www.lynnhellerstein.com/shop.
Dr. Lynn is available for speaking engagements and consulting. For more information, visit www.lynnhellerstein.com.
To learn more about vision therapy or to find a doctor providing vision therapy in your area, visit: COVD.org.
To learn more about vision and the impact in concussion/brain injury, visit: Neuro-Optometric Rehabilitation Association.
Listen and subscribe wherever you get your podcasts!
New episodes every Wednesday at 9 am MT/10 am CT.
Latest posts by Vision Beyond Sight
(see all)