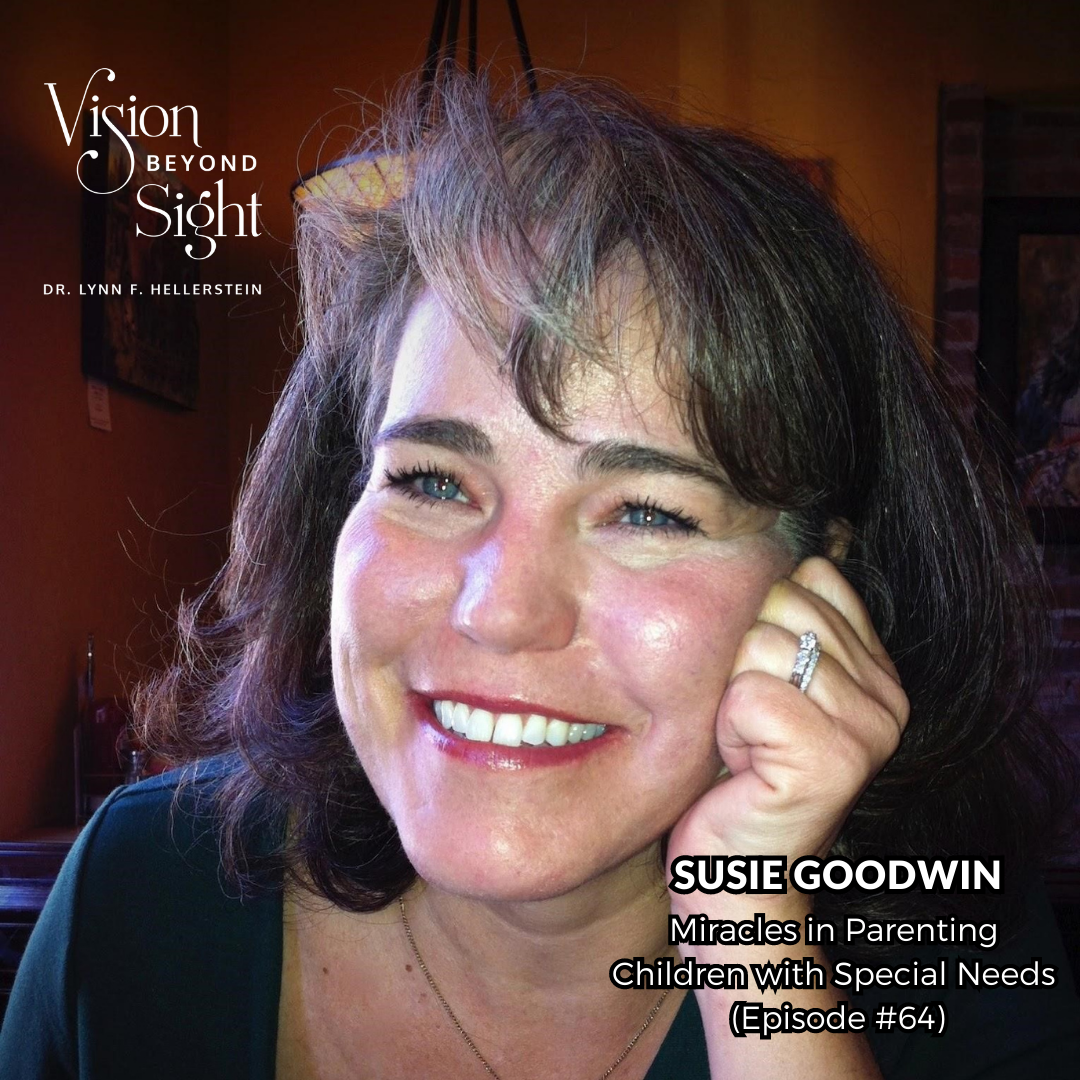 Dr. Lynn Hellerstein of Vision Beyond Sight speaks with Susie Goodwin, founder of Miracles in Parenting. Susie talks about how taking care of her own children led her to supporting and coaching parents whose kids also have special needs like autism, ADHD, OCD, and ODD.
🔊 Click here and tune in to the show now to explore:
Susie's story as a parent of a child diagnosed with autism
Discovering the miracles of meeting his son on where he was through mindset and play
The realities of working with schools for evaluations and accommodations
Guiding your special needs child towards adulthood
Letting Susie's son have a pet for anxiety and preparing him for it
Susie's son as an adult
Susie's coaching business Miracles in Parenting
Sibling and family support
About Susie Goodwin:
I support parents who have children with high needs like autism, ADHD, OCD,ODD, Sensory Integration, and undiagnosed behavior challenges to calm the chaos and grow their relationship as a family unit through coaching. As we create a practical plan, parents experience being valued, seen, heard and supported while navigating the parenting journey.  The end result is empowered parents who move out of isolation and into connection with their children.  Parents get to stop putting out fires and start making happy memories as they become the parents they want to be.
I'm a mom to two kiddos who carried a diagnosis of autism, Tourettes, OCD, Sensory Integration Disorder, ADHD and a mood disorder.  They are now in their 20's and out creating the lives they want for themselves. Zach is living with roommates in an apartment and has a full time job and Emmie is on her way to California to build trails at Shasta Lake and Yosemite with the Sierra Corp. I learned so many strategies and gained a lot of skills and tools navigating my parenting journey with my children that didn't come from books, doctors, therapists or teachers.  I wish I had access to all the things I now know when I first became a mom. It is my passion and heart's desire to share what I have learned with parents who find themselves concerned about their children's future.
My background is in Early Childhood and Elementary Education.  Although being a teacher has helped me tremendously along the way, what really qualifies me to coach parents comes courtesy of Zach & Emmie. I've coached parents for years and officially opened my business Miracles in Parenting in 2020.
As an empty nester, I live with my husband Kent and two goldens, Darby and Charlie.  We live in Littleton and enjoy seeing my children when they come by and spending time with our parents who live locally.
Connect with Susie Goodwin and Miracles in Parenting:
Email: miraclesinparenting@gmail.com
I'd love parents to give me a call! Together we can discuss any concerns they have and get parents and their children set up for success. The first call is always free!
"It's really, really wonderful when a parent realizes that they can use some support themselves. That's where I come in. I help parents to show up as the parents that they want to be. A parent will share a struggle that they're having, and I'll give them a strategy to use. What they realize is when they start working on how they are showing up as parents, they elicit change from their children. When as parents, we change our approach, our children will meet us in that place. Our approach needs to meet them where they are and I help parents figure out how to do that." – Susie Goodwin
🔊 Click here to play this show now!
---
Dr. Lynn Hellerstein, Developmental Optometrist, co-owner of Hellerstein & Brenner Vision Center, P.C., award-winning author and international speaker, holds powerful and inspiring conversations with her guests in the areas of health, wellness, education, sports and psychology. They share their inspirational stories of healing and transformation through their vision expansion. Vision Beyond Sight Podcast will help you see with clarity, gain courage and confidence. Welcome to Vision Beyond Sight!
Dr. Lynn's books are available at Amazon.com and www.lynnhellerstein.com/shop.
Dr. Lynn is available for speaking engagements and consulting. For more information, visit www.lynnhellerstein.com.
To learn more about vision therapy or to find a doctor providing vision therapy in your area, visit: COVD.org.
To learn more about vision and the impact in concussion/brain injury, visit: Neuro-Optometric Rehabilitation Association.
Listen and subscribe wherever you get your podcasts!
New episodes every Wednesday at 9 am MT/10 am CT.
Latest posts by Vision Beyond Sight
(see all)