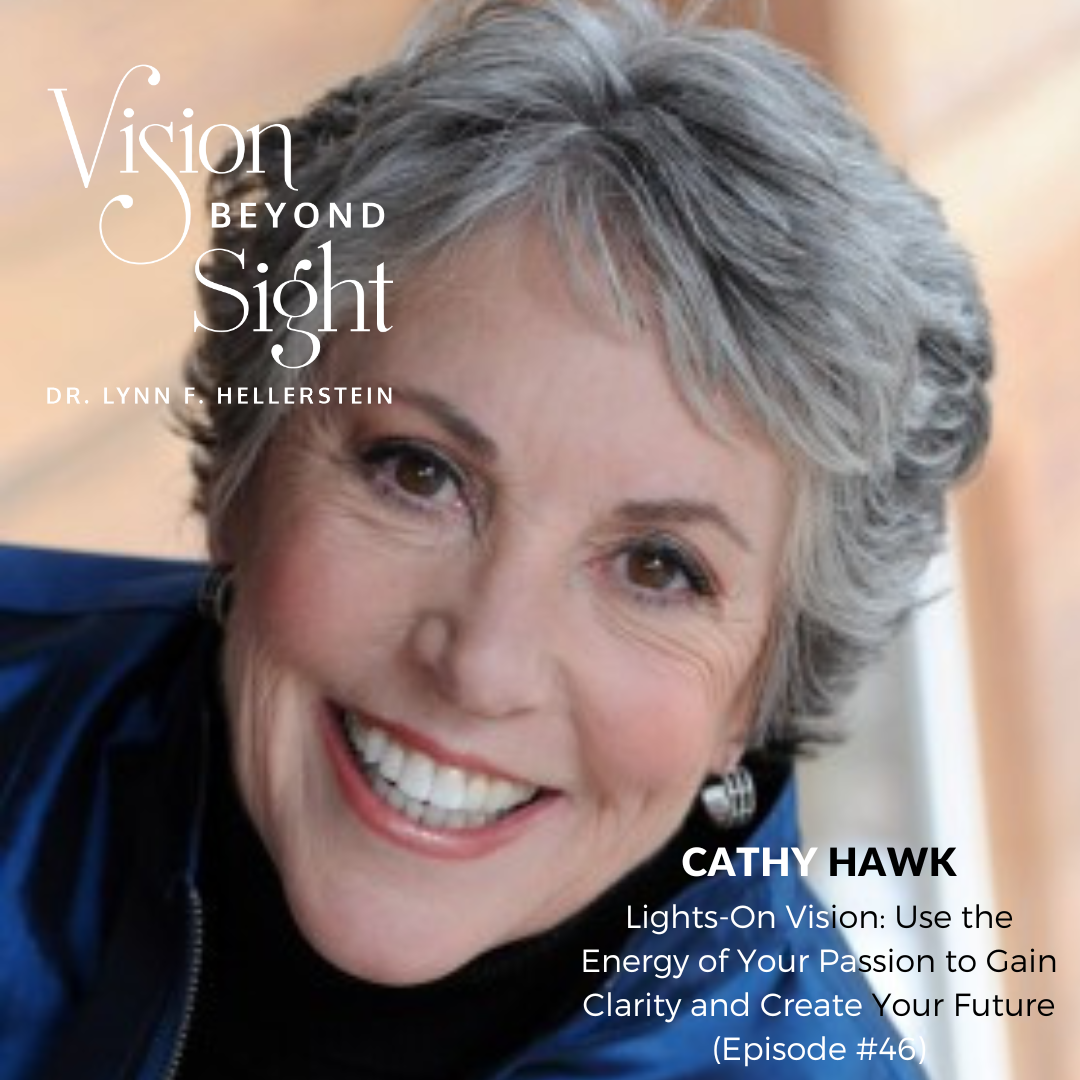 Dr. Lynn Hellerstein of Vision Beyond Sight speaks with Cathy Hawk, veteran energy coach, creator of the Lights-On Learning Method, and the Founding Director of Clarity International. Cathy talks about using Lights-On vision to recognize your passion and use energy to guide your choices as you create your future. She also describes the importance of when to say yes and no, taking charge of your life's script, having resilience, and how talking about passion makes people light up to create positive physiological reactions.
Click here and tune in to the show now to explore:
What does it mean to be Lights-On?
How do thoughts create a reaction in our body?
What is the link between living Lights-On and your health and physiology?
What is a choice point?
How do we know what to say yes to and what to say no to?
What does it mean that we are in charge of writing the script for our future?
What are powerful partners?
What is resilience and what does it mean to live a resilient life?
About Cathy Hawk:
I grew up on the East Coast, one of 4 children, and enjoyed a very happy childhood. My mother was a teacher and my father was an engineer and inventor. They raised me to be creative and adventurous. I attended University of Maryland, and graduated from Temple University School of Dental Hygiene. I had a successful 28-year career in periodontics, including an appointment to the WA State Dental Hygiene Board.
In my quest for a second career, I was looking for a way to help others discover the passion that I had experienced. It felt like a calling. Luckily, the profession of career coaching was in its infancy and I was immediately attracted to it and began my studies in that field. It was a perfect fit. Because there were few tools for coaching in those early years, I was inspired to create a tool kit to help clients find their passion and called it "Lights-On Learning." That tool kit is a method for positive thought which integrates mind, body, and spirit for life and business.
That led me to become a trailblazer in the field of executive coaching. My award-winning books and courses have enlightened thousands of entrepreneurs for the past 30 years.
My husband and I work together to write our books and coach our clients. We have a unique partnership!
Connect with Cathy Hawk and Clarity International:
Website | Facebook | LinkedIn | YouTube
Get a free 30-minute Lights-On coaching call with Cathy Hawk! Just email her at cathyhawk@getclarity.com, and mention Vision Beyond Sight!
"The best way to explain Lights-On is… First of all, we all have ideas of things we want to create. Everyone has a hidden dream. Sometimes we make a choice to make a big change, get out and live a new and different vision or dream. When you get Lights-On is when you get a connection between an idea and you embody it. Everybody listening would know what that feels like. That feeling where an idea just ignites a fire within you is what I call Lights-On." – Cathy Hawk
Click here to play this show now!
---
Dr. Lynn Hellerstein, Developmental Optometrist, co-owner of Hellerstein & Brenner Vision Center, P.C., award-winning author and international speaker, holds powerful and inspiring conversations with her guests in the areas of health, wellness, education, sports and psychology. They share their inspirational stories of healing and transformation through their vision expansion. Vision Beyond Sight Podcast will help you see with clarity, gain courage and confidence. Welcome to Vision Beyond Sight!
Dr. Lynn's books are available at Amazon.com and www.lynnhellerstein.com/shop.
Dr. Lynn is available for speaking engagements and consulting. For more information, visit www.lynnhellerstein.com.
To learn more about vision therapy or to find a doctor providing vision therapy in your area, visit: COVD.org.
To learn more about vision and the impact in concussion/brain injury, visit: Neuro-Optometric Rehabilitation Association.
Listen and subscribe wherever you get your podcasts!
New episodes every Wednesday at 9 am MT/10 am CT.
Latest posts by Vision Beyond Sight
(see all)