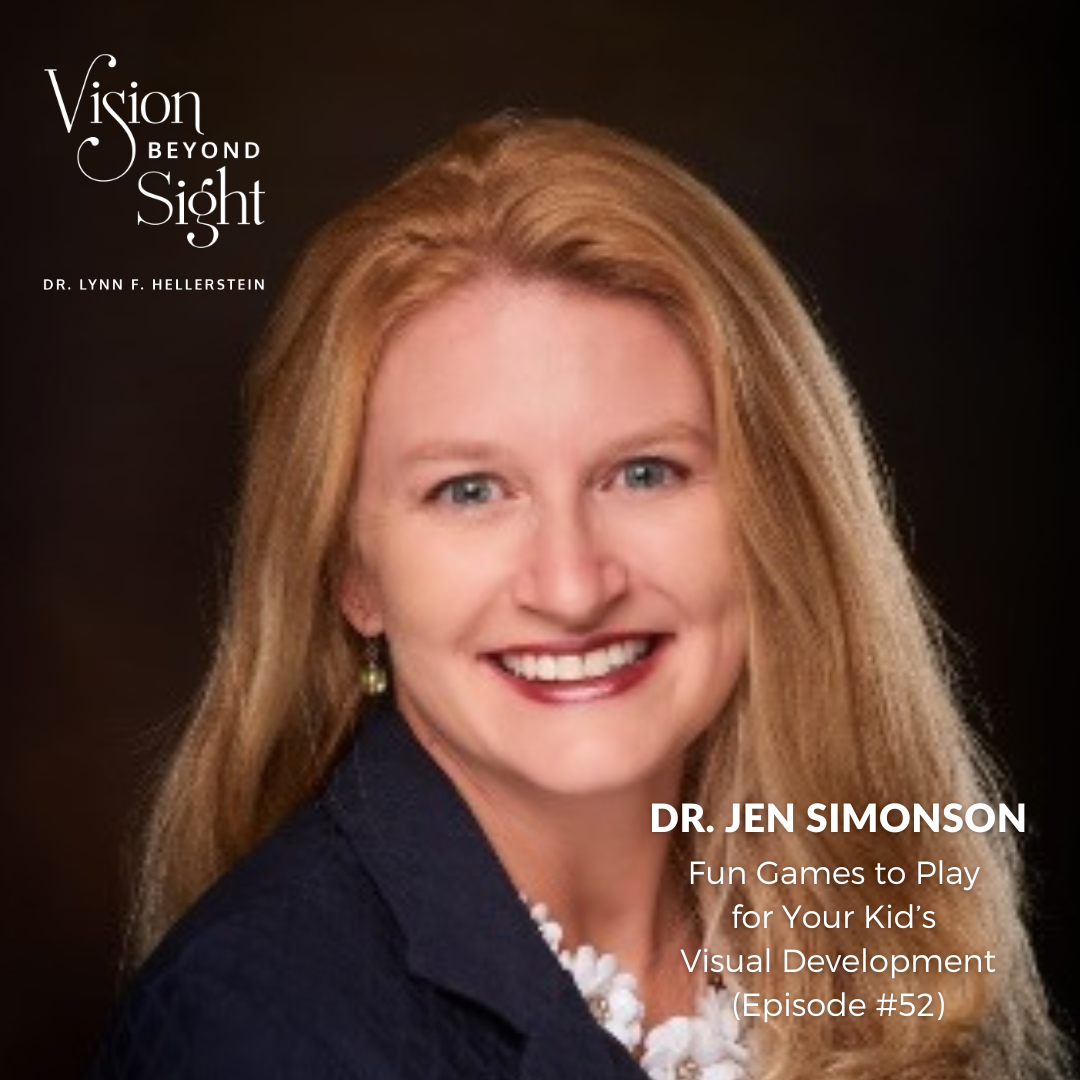 Dr. Lynn Hellerstein of Vision Beyond Sight speaks with Dr. Jen Simonson, book author and illustrator of vision therapy picture books, and clinical director of the Boulder Valley Vision Therapy Center in Boulder, Colorado. Jen talks about fun games that parents can play with your kids for visual development, what it means to have visual skills and a 3D visual experience, and her wonderful series of visual therapy picture books.
Click here and tune in to the show now to explore:
How Jen became a developmental optometrist
How the visual challenges of Jen's three sons impacted her approach to working with patients
Jen's vision therapy program
The visual experience of watching the Avatar movie in 3D
Games for kids' visual development and processing
– Clack!, Spot It, North Pole Camouflage, etc.
How play can build a strong foundation for different visual skills
Jen's visual therapy picture books
About Dr. Jen Simonson:
Jen Simonson, OD, FCOVD is the clinical director of the Boulder Valley Vision Therapy Center in Boulder, Colorado. Originally from a farm near the small village of Leesburg, Ohio, she attended the Ohio State University for both an undergraduate degree in Biology and her doctorate in Optometry. She interned in Ardmore, Oklahoma with the Chickasaw Tribe and in San Diego, California in vision therapy.
Dr. Simonson knew she wanted to specialize in vision development and rehabilitation after completing vision therapy for a crossed eye in college. She worked as a vision therapist for Professional Vision Care and as a research assistant in the Department of Pediatrics and Binocular Vision at the Ohio State University while in Optometry School. Dr. Simonson has completed optometry mission trips to Honduras and the Dominican Republic. Locally she has been a volunteer for the Opening Eyes Program for the Special Olympics and Von's Vision Charity.
Dr. Simonson completed her Fellowship with the College of Optometrists in Vision Development in 2006 and was awarded the 2007 Colorado Young Optometrist of the Year. She is currently serving as the vice chair of the International Examination and Certification Board (IECB) and is the Speaker Chair of the Colorado Vision Training Conference.
Her primary interests in practice include pediatric vision care, vision therapy, sports therapy, and vision rehabilitation. She is the author of several picture books for children about vision therapy and has written two text book chapters. Her case report on Monovision Syndrome was recently published in the journal Vision Development & Rehabilitation. Dr. Simonson is the co-administrator of the VTODs (Vision Therapy Optometrists) group on Facebook with over 4,200 international members. Dr. Simonson loves to hike, ski, and stand-up paddleboard with her husband and three sons.
"Our school day, academic demands and work days are on computers, iPads and laptops. That is not an ideal visual experience—staring at the same distance for a prolonged period of time and a lot of people experience visual eyestrain. We don't just do vision therapy on a computer. We really want to do things as much as possible in real space, interacting with items like, we call manipulative blocks and different toys. However, they allow us to really control what each eye sees and we can make enhanced vision on one eye and poor vision on the other eye until they match. So we use a lot of virtual reality in our vision therapy and that is sometimes the first place that people do see in 3D because it does pop out so much more than our tests do in the exams." – Dr. Jen Simonson
Connect with Dr. Jen Simonson and Boulder Valley Vision Therapy:
Website | Facebook | LinkedIn | Instagram | YouTube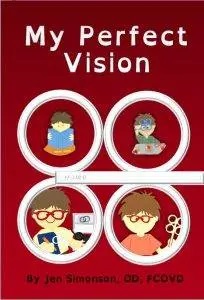 Dr. Jen Simonson is the author of a series of picture books to educate patients and parents of the symptoms of vision problems, specialized testing, and vision therapy treatment. These illustrated storybooks explain the common symptoms and signs of functional vision problems. Check them out here.
My Perfect Vision | My Double Vision | My Jumbled Vision | My Mismatched Vision
"We learn by play at this young age. And so when we try to use kind of a more adult concept for teaching, it doesn't match where they are developmentally. But even adults, we can learn by play. So when you make it fun and challenging, you make new brain connections, or you reinforce those to be stronger and faster connections. And so really, sometimes even with our rehabilitation adult patients, we'll go back and play these games and they're so amazed that it's challenging for them. That used to be easy. So when they regain that skill, they can really see their performance change on a very steep learning curve and they gain a lot more confidence, but they had fun doing it instead of frustration doing it." – Dr. Jen Simonson
Click here to play this show now!
---
Dr. Lynn Hellerstein, Developmental Optometrist, co-owner of Hellerstein & Brenner Vision Center, P.C., award-winning author and international speaker, holds powerful and inspiring conversations with her guests in the areas of health, wellness, education, sports and psychology. They share their inspirational stories of healing and transformation through their vision expansion. Vision Beyond Sight Podcast will help you see with clarity, gain courage and confidence. Welcome to Vision Beyond Sight!
Dr. Lynn's books are available at Amazon.com and www.lynnhellerstein.com/shop.
Dr. Lynn is available for speaking engagements and consulting. For more information, visit www.lynnhellerstein.com.
To learn more about vision therapy or to find a doctor providing vision therapy in your area, visit: COVD.org.
To learn more about vision and the impact in concussion/brain injury, visit: Neuro-Optometric Rehabilitation Association.
Listen and subscribe wherever you get your podcasts!
New episodes every Wednesday at 9 am MT/10 am CT.
Latest posts by Vision Beyond Sight
(see all)