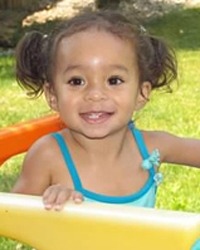 Is there a new baby in your family or circle of friends? Most parents of tiny ones already have jam-packed to-do lists, but here's another important item to add: schedule an early vision assessment for your baby as early as 6 months. A public wellness program makes getting this care easy. (Premature infants or those with a family history of vision problems should be seen shortly after birth.)
The American Optometric Association, along with The Vision Care Institute of Johnson & Johnson, is on a mission to launch little ones on a lifetime of good vision care through the InfantSEE® program, managed by Optometry Cares®. Participating providers offer infant eye assessments as a no-cost wellness service for babies 6 to 12 months old.
Spend a few minutes with a baby, and you'll see a brain busily becoming the Grand Central Station of visual development. Most parents recall the excitement of seeing their baby learn to focus on faces and objects, and eventually follow movement with his  eyes. At times, the "tracks" may seem crossed as the eyes aren't quite coordinated, or your baby may be on a slightly different developmental time table from the "norm," but most babies sort it out. As your baby begins to move more and crawl, eye-brain-body development progresses rapidly, establishing complex visual skills such as depth perception, motor integration, and color vision.
Catching problems early is wise, and solutions are available.
How do you do an eye exam on a baby?
An optometrist will assess the eyes for normal appearance and health, and test for movement ability and reaction to light. Nearsightedness, farsightedness, or astigmatism may also be detected.
Appointment "survival tips" from InfantSEE  
Complete paperwork in advance so you're free to focus on your child in the office.
Schedule the exam for a time of day when your infant is usually alert.
Bring a bottle and a toy or security object like a blanket.
Find a doctor in your area
Here's how to find a doctor near you who is participating in this wonderful program.

Latest posts by Lynn Hellerstein
(see all)