"I think in pictures!"  Who said that? Van Gogh? Spielberg? Dr. Seuss? If your life includes kids with Autism Spectrum Disorder (ASD), you may recognize the words of Dr. Temple Grandin, renowned for her insights into how her ASD brain works.  Dr. Grandin writes, "I think in pictures" — and she doesn't want a cure. Although she is on the mild end of the spectrum, her message on the role of vision and visualization in ASD individuals is still invaluable.
60 – 70% of ASD kids have vision problems. For most kids, vision is the dominant sense of learning but in ASD children, vision problems often go undetected. That means, if you work with ASD kids, you are probably dealing with vision issues, even in children who have passed a screening exam for 20/20 vision.
There's more to vision than 20/20. ASD kids may have complex issues such as problems coordinating eye movements or processing what they see. The message here is that vision is "a brain thing" more than just eye equipment. And vision problems often feed behavioral problems. How can we expect a child to focus on a task if they can't see? Parents and teachers have to know how to spot the symptoms and find treatment.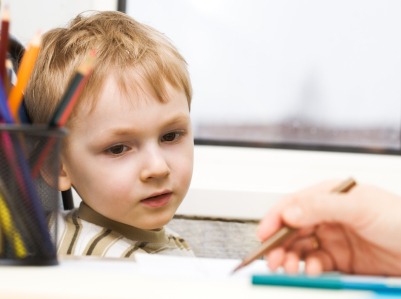 Imagine, you're an ASD child…
Gifted with an exceptionally visual brain, but you can't coordinate your eyes to focus or track.
Born with impaired vision. If you've always seen "double," how would you know the difference?
Nonverbal — you can't say what you see.
Hypersensitive to light. Sitting near a window flooded with bright sunshine is almost painful.
New webinar with Linda Hodgdon
So what can be done? How can you even diagnose vision issues in ASD? Autism expert, consultant, and author Linda Hodgdon and pulled together many answers in our new webinar, "Vision in Children with ASD: More than 20/20." It includes the latest information on vision in ASD children, as well as insights from my decades of clinical experience diagnosing and treating these issues.  You'll learn:
– How to recognize common behaviors and symptoms of vision problems in ASD kids – with exercises to help you understand what it's like.
– Basics of vision and visual system processing.
– How doctors can do an eye exam on a nonverbal ASD child.
– How to find the right professional to treat your ASD child.
– Effective solutions.
Start with this free interview
To help you determine if this webinar is right for you, Linda and I put together a free short interview on Linda's website. The webinar itself is a 75-minute audio-visual program you view take anytime. It includes an opportunity to submit written questions to me. For webinar participants who want even more, I've put together a select package of my educational materials plus a 15-minute phone consultation, all for less than my usual consultation fee.
Solutions are there
So many kids with ASD are being held back unnecessarily by vision-related problems that can be treated. Dr Grandin is critically aware of the impacts of vision problems on ASD children, and in her book "Thinking in Pictures: My Life with Autism," she writes, "In many of these children, the eye itself is normal but faulty wiring in the brain is causing the problem."
It's up to us to take the steps ASD kids need to bridge the gaps between their vision, their visual brains, and their true potential. It's my hope that you'll use this webinar to close the gaps that so many children face unnecessarily.

Latest posts by Lynn Hellerstein
(see all)