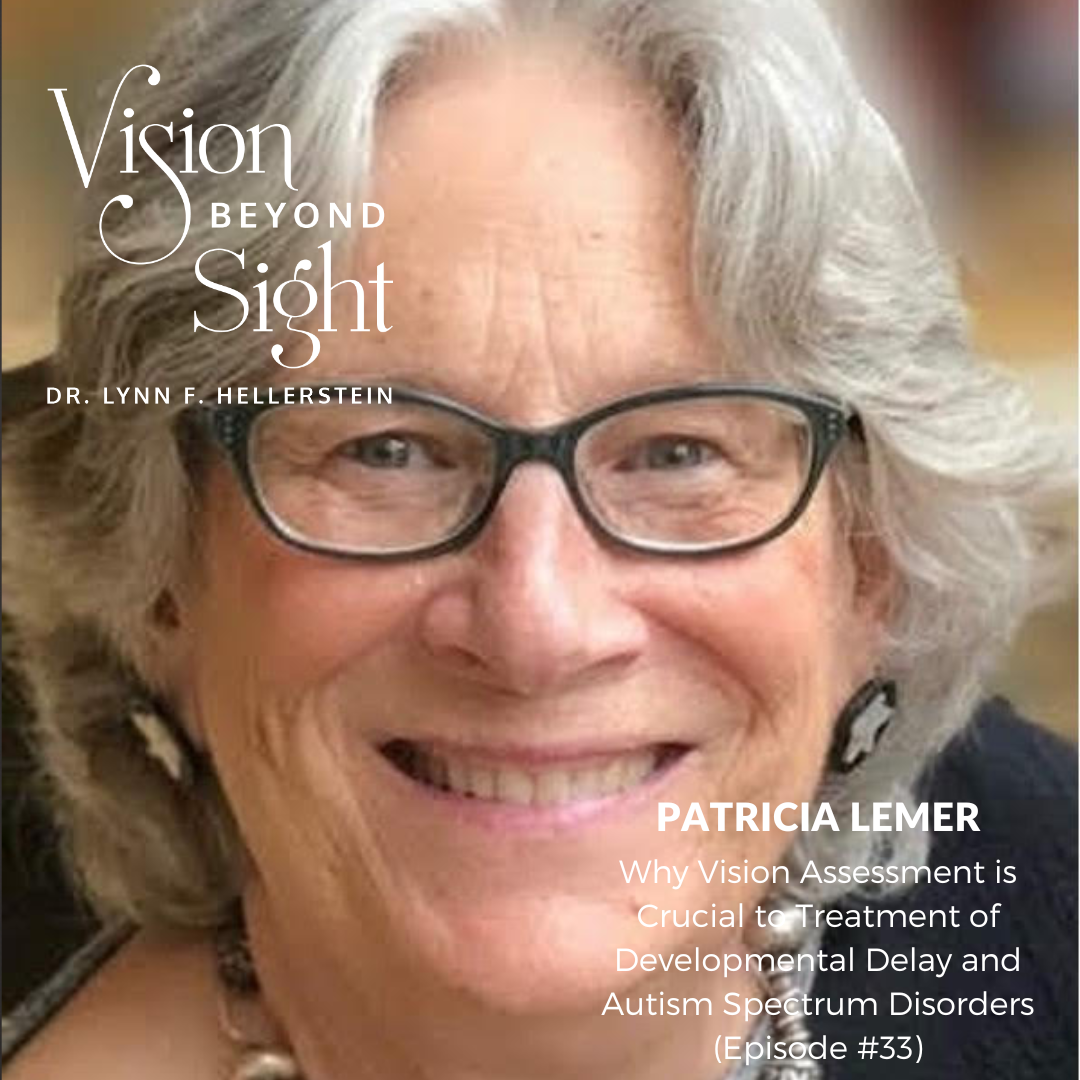 Dr. Lynn Hellerstein of Vision Beyond Sight speaks with Patricia Lemer, co-founder of Developmental Delay Resources, licensed professional counselor, educational diagnostician, author, podcast host and well-known for her Total Load Theory of autism. She talks about why a full vision assessment is crucial to the understanding and treatment of developmental delay and autism spectrum disorders in children.
Click here and tune in to the show now to explore:
Total Load Theory of autism, diagnosis and treatment
Lifestyle and biomedical issues in autism spectrum disorders
Vision issues in autism, learning and behavior
What are some things new parents can do to enhance children's development?
Patricia S. Lemer or Patty is a Licensed Professional Counselor, and practiced as an educational diagnostician for over 40 years. In 1993, she co-founded Developmental Delay Resources (DDR), an international, 501c3 organization, and served as the Executive Director for 20 years.  In 2013, DDR merged with Epidemic Answers, which she chaired until 2017. She is now Board Chair Emeritus. Ms. Lemer holds a Masters of Education in Counseling and Learning Disabilities from Boston College and a Masters in Business from Johns Hopkins University.
Patty lectures widely on viewing developmental delays, including autism, PDD, AD(H)D, LD, OCD, NLD and others, as a spectrum of disorders.  She is passionate about determining possible causes, and is known for her "Total Load Theory" of autism. She is especially interested in the role of vision in all disabilities. She has served as a Study Leader at the Osher Institute at Carnegie Mellon University and the University of Pittsburgh, where she is a popular instructor on autism spectrum disorders. She helped establish a center for adults with autism and other disabilities in Kuwait 2012-2014.
Patty is a published author with dozens of articles professional journals and parent magazines. Her third book, Outsmarting Autism: Build Healthy Foundations for Communication, Socialization and Behavior at All Ages, (North Atlantic Books, 2019) is an updated and expanded version of the original book published in 2014.  She was the Editor of EnVISIONing a Bright Future: Interventions that Work for Children and Adults with Autism Spectrum Disorders (2008). Her books guide parents through the maze of available treatments to determine which might be appropriate for a family member.
Patty's bimonthly show, "The Autism Detective" is a popular podcast broadcast on the second and fourth Tuesday on www.Healthylife.net. Past shows are available on both Spotify and Anchor.
Patty lives in Pittsburgh, PA and is the mother of an adult daughter and the grandmother of Penelope, born in August, 2006.
Connect with Patricia Lemer:
Websites: www.PatriciaLemer.com | www.OutsmartingAutism.com
Facebook: Patricia Spear Lemer | Outsmarting Autism
The Autism Detective Podcast: Spotify | Anchor
Relevant links about developmental delay and ASD:
James Adams PhD on Fecal Microbiota Transplants
The Autism Detective with guest Judy Chinitz – Just Because He Doesn't Speak Doesn't Mean He Has Nothing to Say
Environmental Working Group (EWG) – Dirty Dozen
Spelling to Communicate S2C – Elizabeth Vosseller
EMFs and Autism – Peter Sullivan
"The one hallmark of autism is poor eye contact. And it's always been thought that it is a behavioral symptom. But kids who have poor eye contact are very frequently, kids who have binocularity problems, who may see double, who have trouble focusing on something at a specific distance… Their lack of eye contact is an actual compensatory technique so that they can listen or see an image in their mind's eye. Their lack of eye contact is a very important, number one symptom that there is a visual dysfunction and that they need a visual exam." – Patricia Lemer
Click here to play this show now!
---
Dr. Lynn Hellerstein, Developmental Optometrist, co-owner of Hellerstein & Brenner Vision Center, P.C., award-winning author and international speaker, holds powerful and inspiring conversations with her guests in the areas of health, wellness, education, sports and psychology. They share their inspirational stories of healing and transformation through their vision expansion. Vision Beyond Sight Podcast will help you see with clarity, gain courage and confidence. Welcome to Vision Beyond Sight!
Dr. Lynn's books are available at Amazon.com and www.lynnhellerstein.com/shop.
Dr. Lynn is available for speaking engagements and consulting. For more information, visit www.lynnhellerstein.com.
To learn more about vision therapy or to find a doctor providing vision therapy in your area, visit: COVD.org.
To learn more about vision and the impact in concussion/brain injury, visit: Neuro-Optometric Rehabilitation Association.
Listen and subscribe wherever you get your podcasts!
New episodes every Wednesday at 9 am MT/10 am CT.
Latest posts by Vision Beyond Sight
(see all)