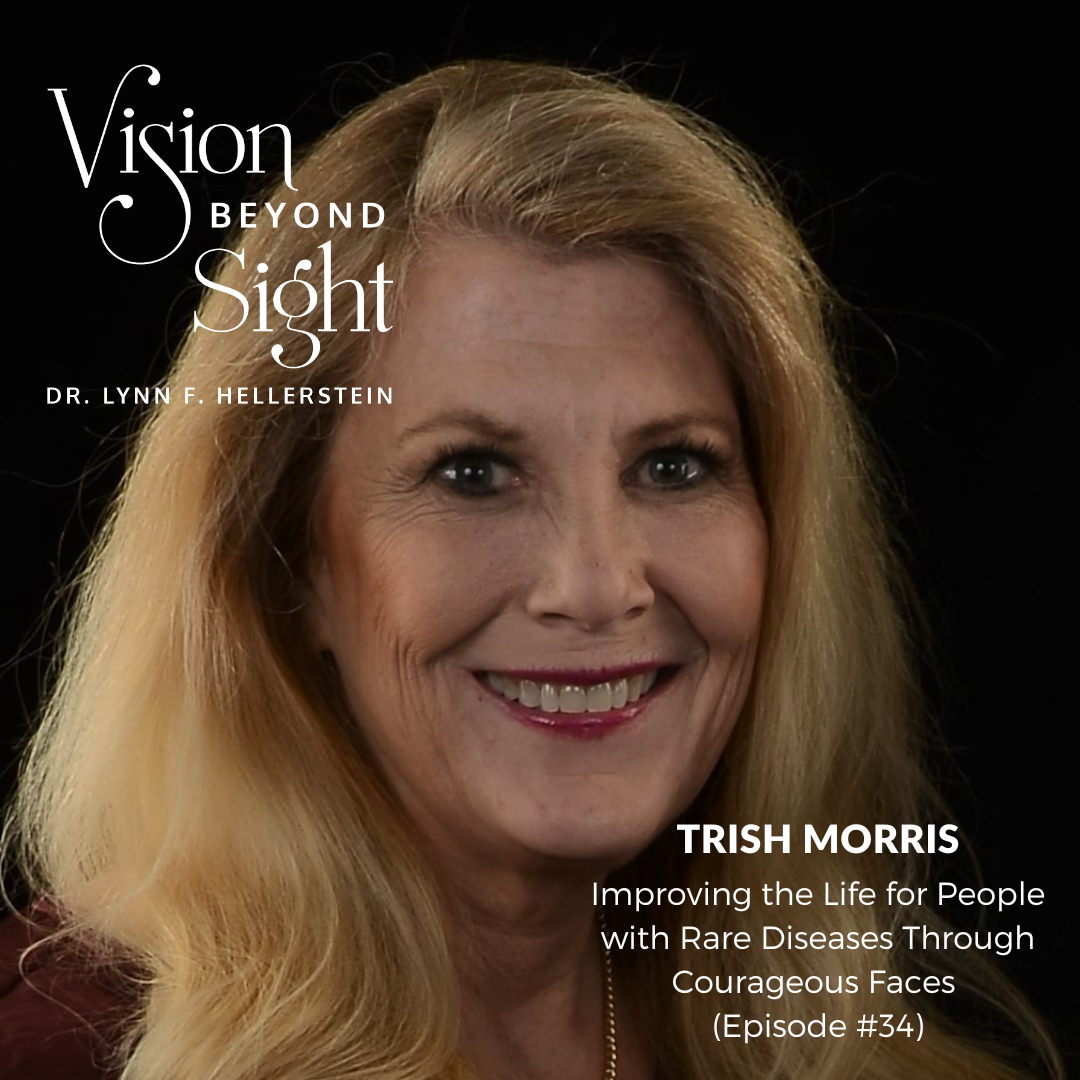 Dr. Lynn Hellerstein of Vision Beyond Sight speaks with Trish Morris, president, founder and CEO of Courageous Faces Foundation, and volunteer in the Special Olympics for 20 years. She talks about improving the quality of life for people with rare and severe medical conditions, and how we can do our part in helping them through Courageous Faces Foundation.
Click here and tune in to the show now to explore:
Facts on rare diseases and the people who are affected by them
How people with rare diseases have no community
How joining them in their ongoing life's journey is impactful
Why should you support Courageous Faces Foundation?
What are Champions and how are they selected?
What are the things the foundation has done for the Champions?
How can people help with the foundation's work and make an impact on people with a rare disease?
Trish Morris is the President, Founder and CEO of Courageous Faces Foundation. She maintains the direction and vision of the only foundation of its kind that provides ongoing, direct and personalized care for people with rare and severe medical conditions to enhance their quality of life.
Trish has had more than a decade of compassionate caring for people with differences and always championed better futures for people who are differently abled. She coordinated hundreds of athletes with unique needs on the Rocky Mountain Special Olympics Team, and served on multiple boards and committees with similar vision before starting the Courageous Faces Foundation.
As a bonus, Trish also brings a savvy and strategic sense of financial management to the Foundation so donors can be assured their dollars are being allocated in the most carefully planned and cost-effective ways. Prior to embarking on her philanthropic journey, she served as Associate Vice President and Portfolio Manager at Wells Fargo Advisors. In 2010, Trish retired from the position to fully embrace her passion for helping people who have unique medical conditions to not just survive but thrive.
She and her husband Rick share their home with their dogs who are adoring enough to let them continue living there.
Connect with Trish Morris and Courageous Faces Foundation:
Learn about the amazing people served by Courageous Faces Foundation, and do your part by making a donation or sharing this podcast and their info!
Email: trishmorris@courageousfacesfoundation.org
Phone: 303-717-6869
"When I first started the foundation, I noticed that people who have a rare condition don't have a community. They don't have a group that surrounds them that really lifts them up, helps them figure out things day-to-day. It could be a resume, a clothing issue, or technology. We started the foundation with that in mind." – Trish Morris
Click here to play this show now!
---
Dr. Lynn Hellerstein, Developmental Optometrist, co-owner of Hellerstein & Brenner Vision Center, P.C., award-winning author and international speaker, holds powerful and inspiring conversations with her guests in the areas of health, wellness, education, sports and psychology. They share their inspirational stories of healing and transformation through their vision expansion. Vision Beyond Sight Podcast will help you see with clarity, gain courage and confidence. Welcome to Vision Beyond Sight!
Dr. Lynn's books are available at Amazon.com and www.lynnhellerstein.com/shop.
Dr. Lynn is available for speaking engagements and consulting. For more information, visit www.lynnhellerstein.com.
To learn more about vision therapy or to find a doctor providing vision therapy in your area, visit: COVD.org.
To learn more about vision and the impact in concussion/brain injury, visit: Neuro-Optometric Rehabilitation Association.
Listen and subscribe wherever you get your podcasts!
New episodes every Wednesday at 9 am MT/10 am CT.
Latest posts by Vision Beyond Sight
(see all)