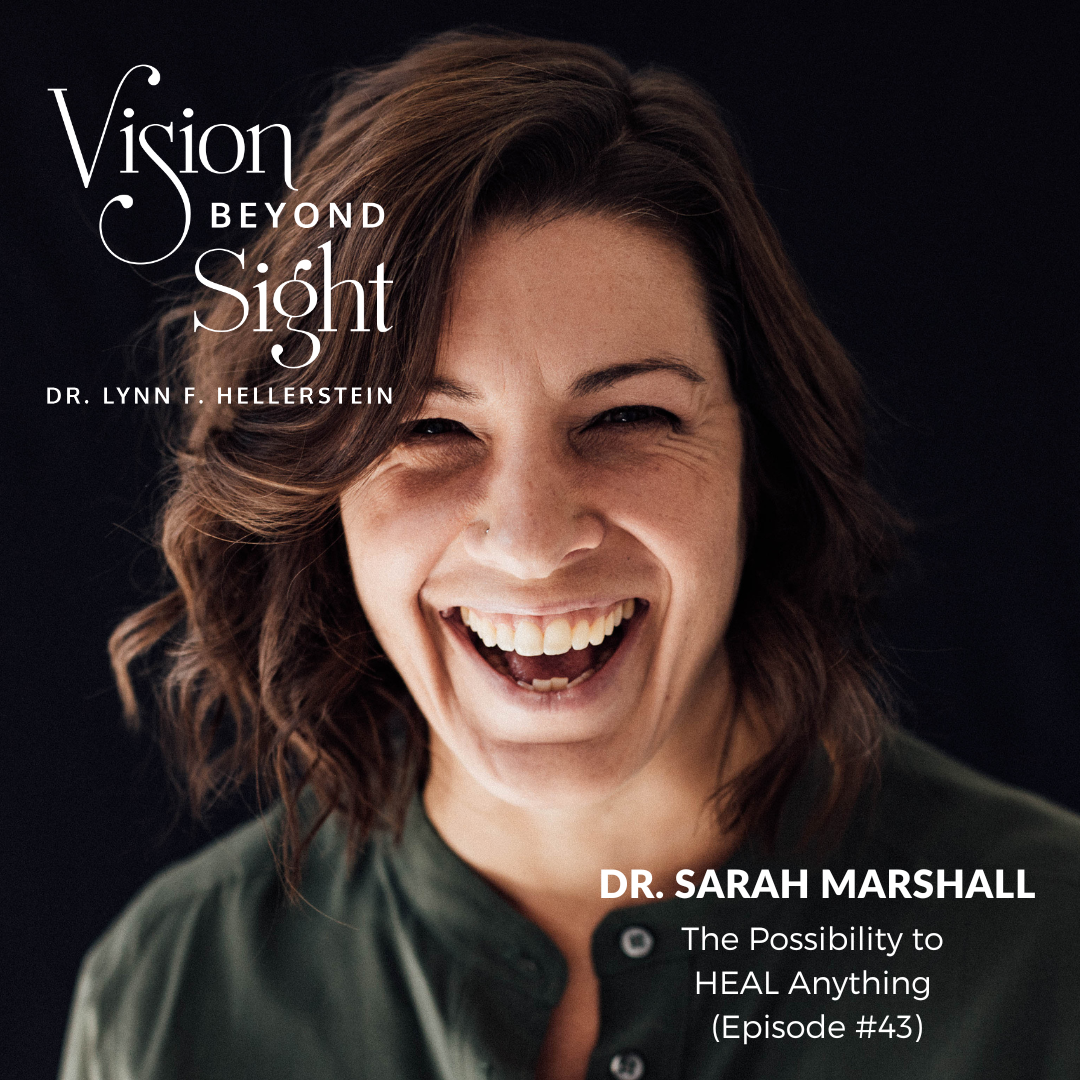 Dr. Lynn Hellerstein of Vision Beyond Sight speaks with Dr. Sarah Marshall, naturopathic physician, holistic health coach and podcast host. She talks about holistic healing and naturopathic philosophy, what it takes to heal and how healing looks like, and her own healing journey from childhood illness and her father's death.
Click here and tune in to the show now to explore:
What it takes to really heal
What healing actually looks like – the good, the bad, and the ugly
What defines naturopathic philosophy and what makes it different from integrative medicine
Sarah's own healing journey from childhood illness to her father's death from pancreatic cancer
About Dr. Sarah Marshall:
My calling is People are Whole and connected to the divine.  My mission is to provide education and access to holistic healing modalities to return people to connect with their bodies and restore themselves to full optimal health and spiritual well-being. What matters to me is people are free and empowered to live their life true to Who They Really Are.
I grew up in Rochester, NY, moved to Salt Lake City UT when I was 19 and became a downhill ski race coach and whitewater river guide while getting a BS in Chemistry on the side. I then went on to Naturopathic Medical School in Portland, OR.
I am a single mom of two fur babies: Henry, my four-year old golden retriever and The Fuzz, my sixteen-year old, long-haired tuxedo cat. After 21 years out west and even living abroad in Mexico, Costa Rica and The Netherlands, I recently moved back to Rochester to be close to my parents and extended family.
Just a year after moving back my father unexpectedly died of pancreatic cancer. It was one of the most incredibly difficult and profoundly intimate experiences of my life. That's one thing that sets me apart–I share myself and my life with my clients. I teach from my own experience and walk the walk of being vulnerable in my own healing journey so that others may see what is possible.
I am also host of a podcast, HEAL, and we are currently in our 7th season! I practice 100% online in a telemedical format and have for 10 years now, since before it was the cool thing to do 🙂
Connect with Dr. Sarah Marshall and HEAL:
Website | Facebook | LinkedIn | Instagram | YouTube:
"The principle that is most distinct and core to naturopathic philosophy is vis medicatrix naturae which is the healing power of nature. It is a belief, and scientifically backed up that when you align your daily actions of your life to the laws of nature, the body will innately heal." – Dr. Sarah Marshall
Click here to play this show now!
---
Dr. Lynn Hellerstein, Developmental Optometrist, co-owner of Hellerstein & Brenner Vision Center, P.C., award-winning author and international speaker, holds powerful and inspiring conversations with her guests in the areas of health, wellness, education, sports and psychology. They share their inspirational stories of healing and transformation through their vision expansion. Vision Beyond Sight Podcast will help you see with clarity, gain courage and confidence. Welcome to Vision Beyond Sight!
Dr. Lynn's books are available at Amazon.com and www.lynnhellerstein.com/shop.
Dr. Lynn is available for speaking engagements and consulting. For more information, visit www.lynnhellerstein.com.
To learn more about vision therapy or to find a doctor providing vision therapy in your area, visit: COVD.org.
To learn more about vision and the impact in concussion/brain injury, visit: Neuro-Optometric Rehabilitation Association.
Listen and subscribe wherever you get your podcasts!
New episodes every Wednesday at 9 am MT/10 am CT.
Latest posts by Vision Beyond Sight
(see all)