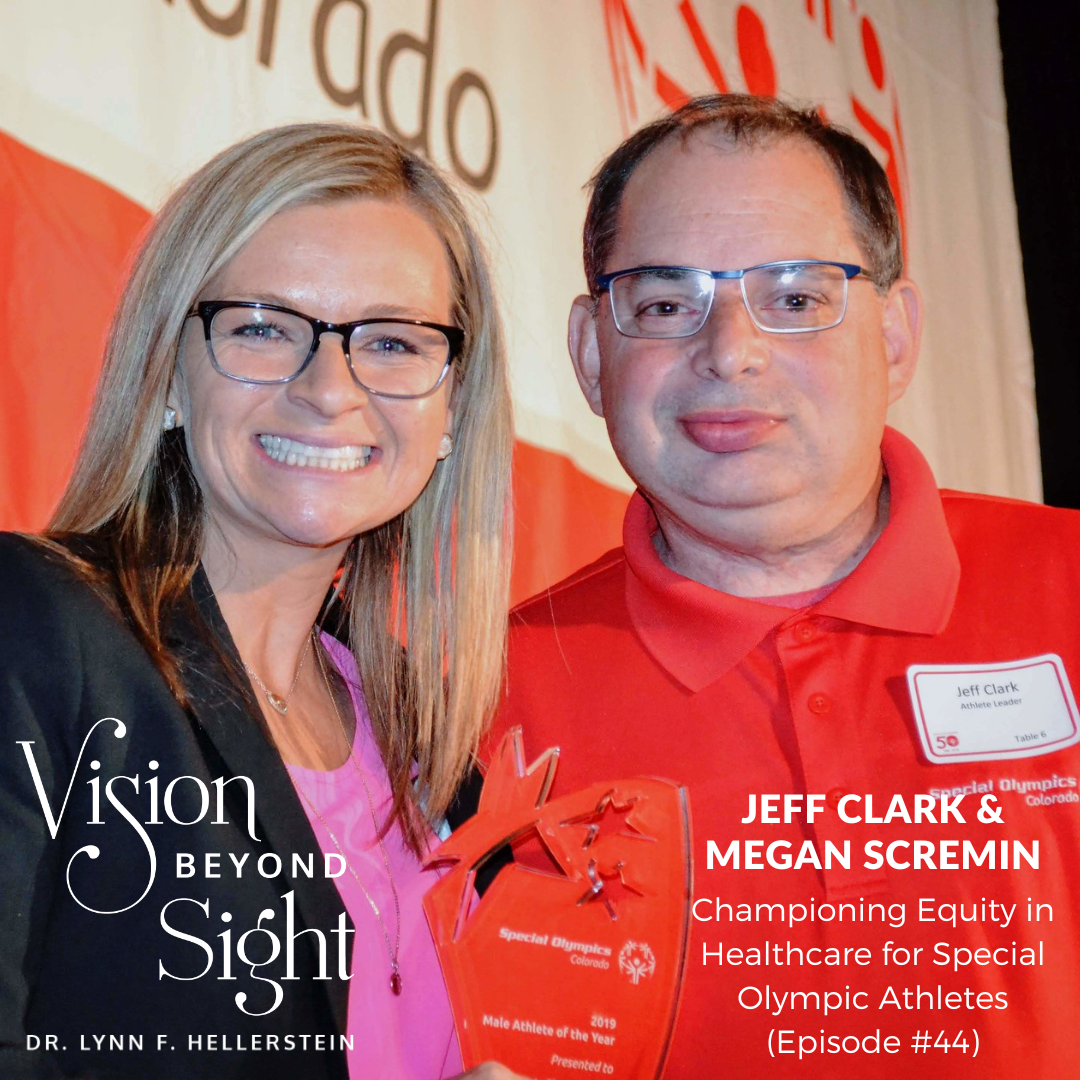 Dr. Lynn Hellerstein of Vision Beyond Sight speaks with Jeff Clark and Megan Scremin. Jeff is a Special Olympics Colorado athlete for 30 years, and was recognized as SOCO's Hall of Fame Male Athlete of the Year in 2019. Megan Scremin is the President & CEO of Special Olympics Colorado that serves nearly 16,000 athletes. Together they talk about building equity in healthcare for people and Special Olympic athletes with IDD (Intellectual and Developmental Disabilities). Know more about Special Olympics Colorado and the Healthy Athletes program, and even find out how you can volunteer and support!
Click here and tune in to the show now to explore:
On a team of ten athletes, 20% have never had an eye exam and 40% have untreated tooth decay.
Special Olympics Colorado provides free Healthy Athlete Screenings throughout the state to help athletes access healthcare.
Medical professionals volunteer to provide these screenings, and the more volunteers SOCO has, the more screenings they can offer.
The programs offered by Special Olympics Colorado and the athletes they serve.
The Healthy Athletes program and what that means for athletes.
How can volunteers and supporters get involved?
About Jeff Clark and Megan Scremin:
Jeff Clark has been a Special Olympics Colorado athlete for over 30 years. When Jeff went through a Healthy Athletes screening, he was able to get an updated prescription and glasses. With improved vision, Jeff has been able to compete in two sports each season and serve on the Northeast Region Athlete Leadership Council. In 2019, Jeff was recognized as SOCO's Hall of Fame Male Athlete of the Year.
In her role as President & CEO of Special Olympics Colorado, Megan Scremin is responsible for leading an organization serving nearly 16,000 athletes – children and adults with intellectual disabilities (ID), giving them year-round opportunities to train and compete in 21 sports. Scremins' vision includes reaching more athletes, coaches and families, growing the Unified Sports movement, improving health outcomes for people with ID and empowering athletes to create a more inclusive society for all people.
Connect with Jeff Clark, Megan Scremin and Special Olympics Colorado:
Website | Facebook | Twitter | LinkedIn | Instagram | YouTube
"After I graduated, I still wanted to compete but I didn't know how. My best friend and I were driving around and we saw somebody training at Skyline High School in track field. We drove up and said, 'What's going on here?' And they said, 'We're doing track and field for Special Olympics.' Ever since then, we got the coach's name and all that, and we've been competing pretty much ever since." – Jeff Clark
"Jeff brings up the fact that when he was in school, he didn't have Unified Champion Schools which is a big difference for what students today are experiencing. School was just a very different place for people with intellectual disabilities." – Megan Scremin 
"I used to be really shy. When I used to go through school, no one would come up and introduce themselves to me or whatever. When I got in the Special Olympics, it all changed. I am not shy at all about going up to somebody and introducing myself and all that, and trying to make friends. I've made so many friends. I consider Special Olympics like my second home, my second family." – Jeff Clark
Click here to play this show now!
---
Dr. Lynn Hellerstein, Developmental Optometrist, co-owner of Hellerstein & Brenner Vision Center, P.C., award-winning author and international speaker, holds powerful and inspiring conversations with her guests in the areas of health, wellness, education, sports and psychology. They share their inspirational stories of healing and transformation through their vision expansion. Vision Beyond Sight Podcast will help you see with clarity, gain courage and confidence. Welcome to Vision Beyond Sight!
Dr. Lynn's books are available at Amazon.com and www.lynnhellerstein.com/shop.
Dr. Lynn is available for speaking engagements and consulting. For more information, visit www.lynnhellerstein.com.
To learn more about vision therapy or to find a doctor providing vision therapy in your area, visit: COVD.org.
To learn more about vision and the impact in concussion/brain injury, visit: Neuro-Optometric Rehabilitation Association.
Listen and subscribe wherever you get your podcasts!
New episodes every Wednesday at 9 am MT/10 am CT.
Latest posts by Vision Beyond Sight
(see all)