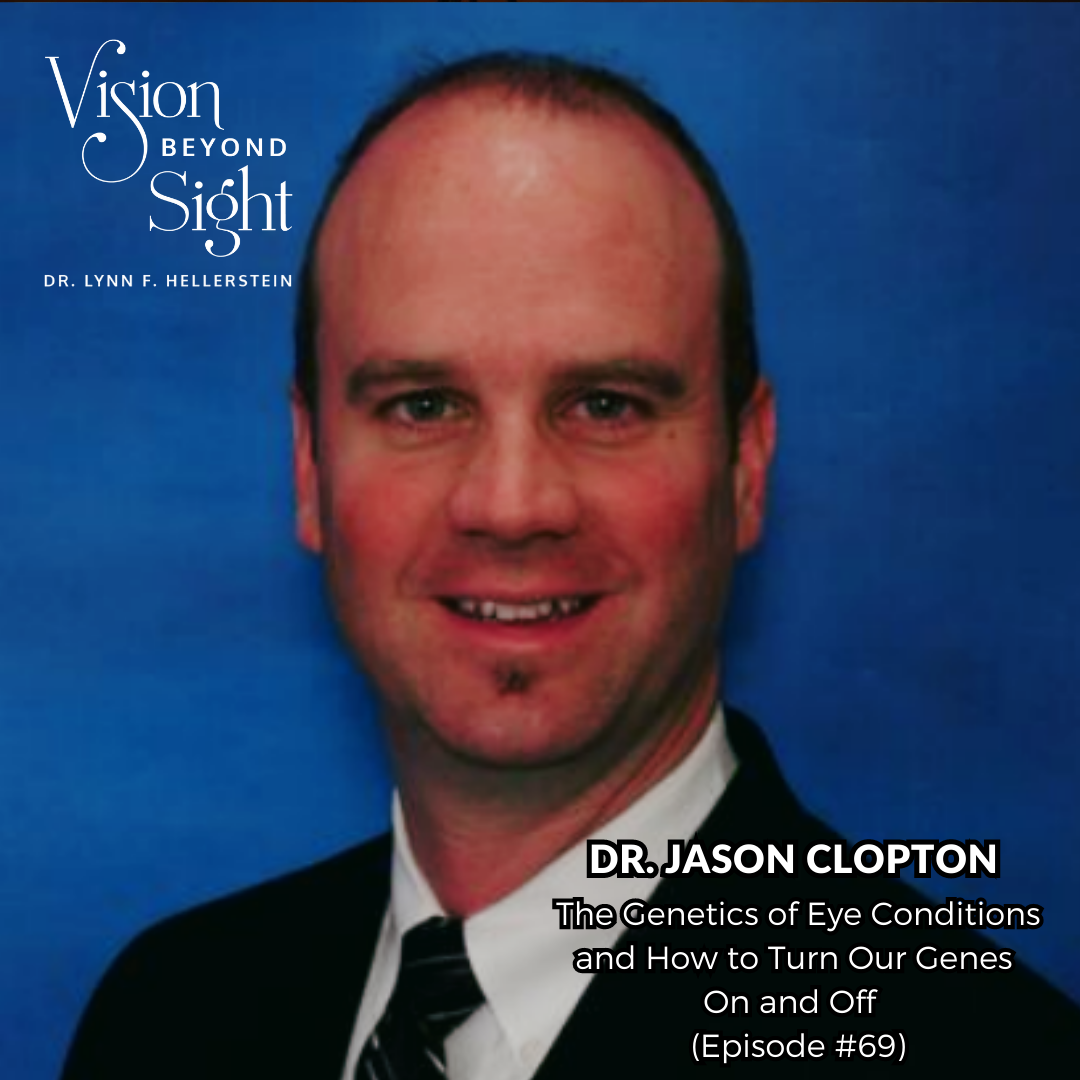 Dr. Lynn Hellerstein of Vision Beyond Sight speaks with Dr. Jason Clopton, director of the Center of Vision Development PLLC, managing partner of the Centers of Development PLLC referral centers for pediatrics and neuro rehabilitation, pioneer of pediatric and brain injury referral centers in Tennessee, US patent holder, and certified GX Sciences genetics provider. Dr. Clopton talks about the genetics of eye conditions like macular degeneration and glaucoma, epigenetics and factors that turn our genes on and off, genetic testing, and supplementation for our genes.
🔊 Click here and tune in to the show now to explore:
Dr. Clopton's pediatric and TBI referral centers
Eye conditions and their genetics
Macular degeneration – symptoms and supplementation
How to get your genetics looked at
Inflammation
Using supplements for genes
Glaucoma – genetics, symptoms and supplementation
Epigenetics and turning your genes on and off through food, sleep, positivity, and other environmental factors
Getting your genetics tested and looking at supplementation through GX Sciences
Importance of vitamin D supplementation
Understanding our body's efficiency as a gamechanger
About Dr. Jason Clopton:
Dr. Jason Clopton grew up in Chattanooga, TN and graduated from Southern College of Optometry in 1999. In 1998, he was awarded "Clinician of the Year" for his class by his professors and the InWave Optics Low Vision Award. After graduation he went into private practice. In 2001 he started the first pediatric and brain injury referral therapy center in Tennessee with his wife Heidi Clopton, OTR/L, a pediatric occupational therapist. He was awarded Tennessee's "Young Optometrist of the Year" in 2002. He attained his Fellowship in the College of Optometry in Vision Development in 2006, and Diplomate of the American Board of Optometry in 2013. He is a former board member of the College of Optometrists in Vision Development and Tennessee Brain Injury Association. He is a past Chairman of the Vision Re/habilitation Committee for the American Optometric Association (AOA).
Dr. Clopton wrote the AOA Guidelines for Coding and Billing for Vision Therapy and Neuro-re/habilitation. He has co-authored chapters Optometric Management of Functional Vision Disorders and The Optometric Practice in the book Visual Diagnosis and Care of the Patient with Special Needs First Edition. He is also U.S. Patent holder for System and Method for Real Time Monitoring and Dynamic Treatment of Oculomotor Conditions. US Patent # 8,845,099 granted September 30, 2014. He became an SSI-licensed scuba diving instructor in 2021.
Dr. Clopton is a certified GX Sciences genetics provider and is currently working with NBX wellness on creating Ophthalmic genetic panels.
Connect with Dr. Jason Clopton and NBX Wellness:
Websites: drclopton.com | NBX Wellness
"Our bodies are incredible machines that we take in everything from our environment, our mood, our food, our sleep patterns, our happiness… Everything that we do changes how our genes turn on and turn off. Visualization is a fantastic thing that it helps us to create the outcome. But what happens is when we visualize the outcome, our body turns on certain genes and turns off others to create that outcome." – Dr. Jason Clopton
🔊 Click here to play this show now!
---
Dr. Lynn Hellerstein, Developmental Optometrist, co-owner of Hellerstein & Brenner Vision Center, P.C., award-winning author and international speaker, holds powerful and inspiring conversations with her guests in the areas of health, wellness, education, sports and psychology. They share their inspirational stories of healing and transformation through their vision expansion. Vision Beyond Sight Podcast will help you see with clarity, gain courage and confidence. Welcome to Vision Beyond Sight!
Dr. Lynn's books are available at Amazon.com and www.lynnhellerstein.com/shop.
Dr. Lynn is available for speaking engagements and consulting. For more information, visit www.lynnhellerstein.com.
To learn more about vision therapy or to find a doctor providing vision therapy in your area, visit: COVD.org.
To learn more about vision and the impact in concussion/brain injury, visit: Neuro-Optometric Rehabilitation Association.
Listen and subscribe wherever you get your podcasts!
New episodes every Wednesday at 9 am MT/10 am CT.
Latest posts by Vision Beyond Sight
(see all)