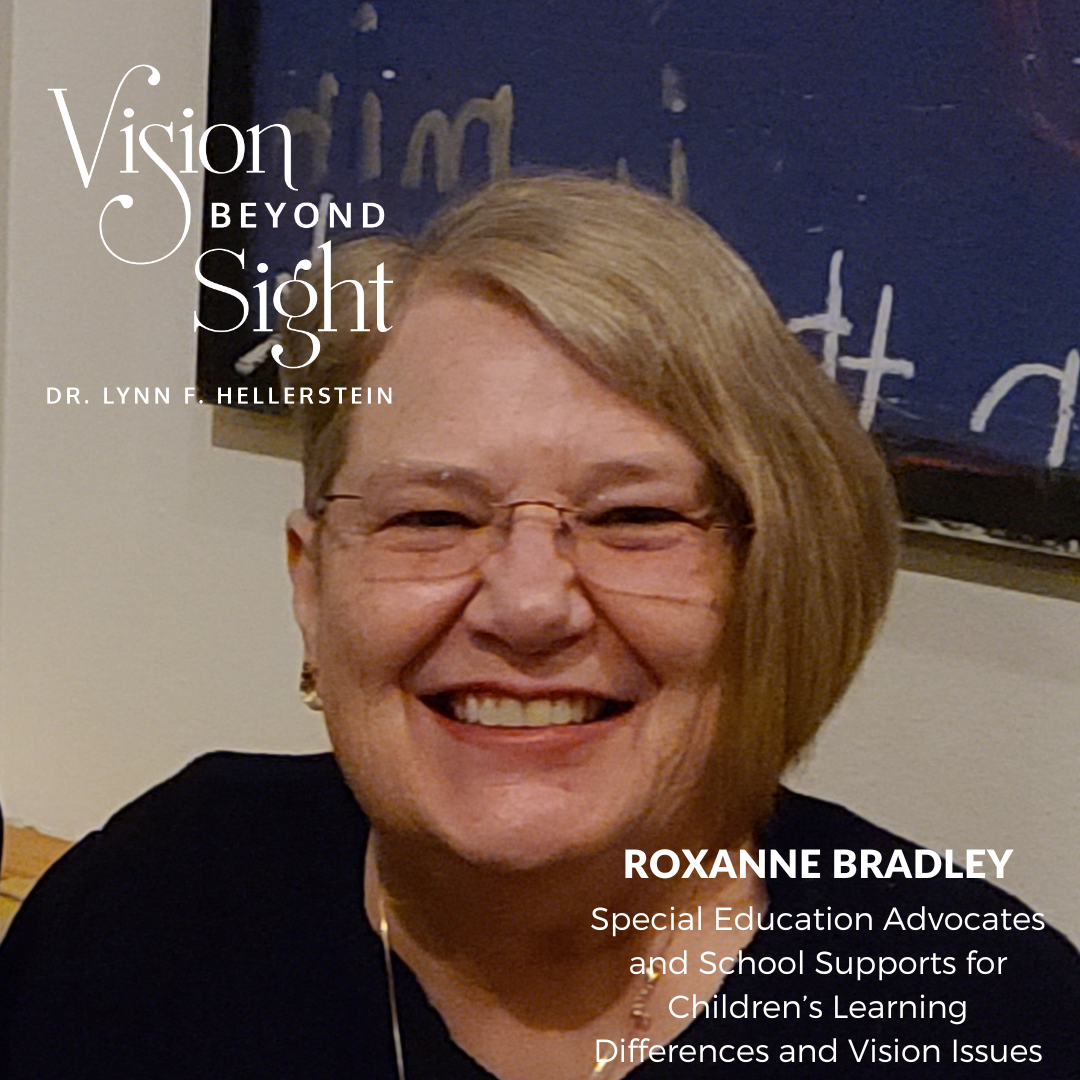 August is Children's Vision and Learning Month! Its goal is to help educate parents and educators about the critical link between vision and learning. Tune in to our special guests this month!
Dr. Lynn Hellerstein of Vision Beyond Sight speaks with Roxanne Bradley, a special education advocate, and the president and founder of Learning Differences World. She talks about the role of special education advocates in ensuring schools provide supports for children's learning differences and vision issues. She also provides insights on educational supports through an Individualized Education Program and 504 Plan.
Click here and tune in to the show now to explore:
Special education advocates and what do they do
The basic difference between a 504 Plan and an IEP (Individualized Education Program)
The kind of supports the schools can provide for children who have vision processing issues
When parents should hire a special education advocate
What benefits children can gain from hiring an advocate
Roxanne Bradley is the president and founder of Learning Differences World. Her passion is supporting families as they work together to ensure that the school is meeting the needs of the child. As a former teacher, engineer, and corporate manager—and mother of two foster-adopted children—she advocates to help the families she serves.
As a Special Education Advocate, Roxanne brings her unique background to bear on every situation. As a parent of two children with learning differences, Roxanne has been advocating for children since 1999: first with her own children, then for friends. Since 2014, Roxanne has been consistently helping parents get the supports their child needs.
Connect with Roxanne Bradley and Learning Differences World:
Roxanne is happy to provide an online giveaway of an article entitled "Hiring an Advocate." Download it here.
She also offers a meetup on the 1st Thursday of the month from September through May called the Denver Metro Specialized Education Support for Parents. You can join by going to this link.
If you would like a 1-hour free consultation, you can schedule it through her website here.
Website | Facebook | Twitter | LinkedIn | YouTube
"Child with behavior issues. Parents invited me in to help with them because I wanted to make sure he got the right support. So I looked at his evaluation and the kid is gifted… So they reached out to the school and the school had him reevaluated. So this year, he's now in the gifted program. He's going to gifted classes. His behavior is improving because we're putting the right supports in place because we know he's gifted. Because he has ADHD, he has slow processing speed so his writing is an issue, so we put in the supports for that and he's starting to blossom." – Roxanne Bradley
Click here to play this show now!
---
Dr. Lynn Hellerstein, Developmental Optometrist, co-owner of Hellerstein & Brenner Vision Center, P.C., award-winning author and international speaker, holds powerful and inspiring conversations with her guests in the areas of health, wellness, education, sports and psychology. They share their inspirational stories of healing and transformation through their vision expansion. Vision Beyond Sight Podcast will help you see with clarity, gain courage and confidence. Welcome to Vision Beyond Sight!
Dr. Lynn's books are available at Amazon.com and www.lynnhellerstein.com/shop.
Dr. Lynn is available for speaking engagements and consulting. For more information, visit www.lynnhellerstein.com.
To learn more about vision therapy or to find a doctor providing vision therapy in your area, visit: COVD.org.
To learn more about vision and the impact in concussion/brain injury, visit: Neuro-Optometric Rehabilitation Association.
Listen and subscribe wherever you get your podcasts!
New episodes every Wednesday at 9 am MT/10 am CT
Latest posts by Vision Beyond Sight
(see all)