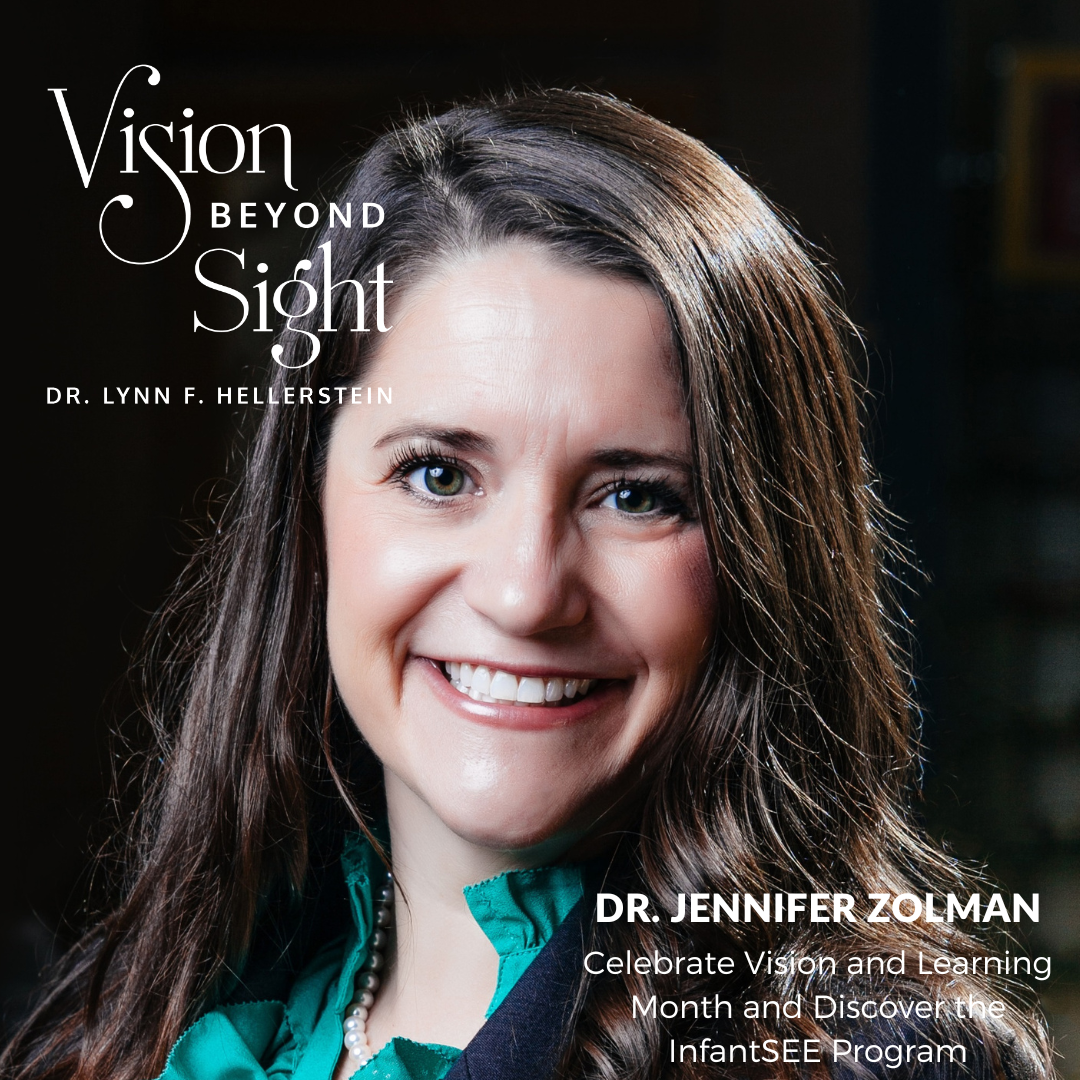 August is Children's Vision and Learning Month! Its goal is to help educate parents and educators about the critical link between vision and learning. Tune in to our special guests this month!
Dr. Lynn Hellerstein of Vision Beyond Sight speaks with Dr. Jennifer Zolman, multi-awarded optometrist, owner and CEO of the Draisin Vision Group. She is also actively affiliated with different optometric organizations. She talks about Vision and Learning Month in August and the InfantSEE Program. She also sheds light on why 20/20 vision may not be enough, and the importance of regular and comprehensive eye exams.
Click here and tune in to the show now to explore:
August as Vision and Learning Month
The InfantSEE Program
The importance of early intervention and yearly comprehensive eye exams
Why is 20/20 vision may not be enough?
Why should parents not rely on "vision screenings" as their child's eye exam?
When and how often should a child have a comprehensive eye exam and why?
What are some signs the learning difficulties may actually be vision problems?
Dr. Jennifer Zolman grew up in Eastern Ohio and attended college at The Ohio State University, completing her Bachelor of Science in Human Nutrition degree, and obtained her Doctorate of Optometry at Nova Southeastern College of Optometry in 2006. She is a fellow of the College of Optometrists in Vision Development. She is the owner and CEO of the Draisin Vision Group in Charleston, SC.
Dr. Zolman served as President of the South Carolina Optometric Physicians Association (SCOPA) in 2016-2017. Dr. Zolman has passion in mentoring tomorrow's doctors and serves as an adjunct clinical professor for 5 different Colleges of Optometry and the Residency director in Vision Therapy/Pediatric Optometry affiliated with Southern College of Optometry, teaching and mentoring future doctors in her office. She serves as a Director on Board of the College of Optometrists in Vision Development (COVD.) She is the current Chair of the American Optometric Association's InfantSEE and Children's Vision Committee and the South Carolina InfantSEE State Leader promoting infant exams and detection of early eye diseases. She serves as a clinical director of South Carolina's Special Olympics Lion's Club International Opening Eyes program that provides vision care and glasses to the special-needs population. Other professional organizations that Dr. Zolman is involved include: past president of the Coastal Carolina Optometric Association, member of the American Optometric Association, and member of the South Carolina Optometric Physicians Association.
Dr. Zolman has been honored with the South Carolina's Optometrist of the Year Award for 2021, the Women in Optometry's Theia Excellence Award in Leadership in 2019, 2020 Special Olympics Golisono Health Leadership Award, the Southern Council (SECO)'s Young Optometrist of the South in 2013, Nova Southeastern College of Optometry's 2017 Distinguished Alumni Award, SCOPA's Young Optometrist of the Year in 2012, SCOPA's Distinguished Service Award in 2009, SCOPA's Horizon Award in 2008, South Carolina Special Olympics Volunteer of the Year Award in 2013, one of Vision Monday's 2015 Most Influential Woman in Optical and also featured in the Vision Monday's Magazine articles: "The Next Generation of Optometry Leadership" in 2006 and "Rising Stars" in 2011. She has done numerous TV and news interviews, and written or contributed to many articles for optometric magazines. She was honored to return to her hometown to give the East Liverpool High School commencement speech to the 2016 graduates. Her practice was honored four years in a row (2019, 2020, 2021, 2022) with the Charleston's Lowcountry Mom's Choice Award. They also were honored with the national 2020 Cooper Vision Best Practices Award.
When not involved in professional duties, Dr. Zolman loves spending time with her family. Her husband Michael, four children: Lillie, Addison, Grayson and Mila, and their dog, Cooper. She coaches her daughter's soccer team and serves as a Sunday school teacher to 4-5-year-old kids. Dr. Zolman also enjoys relaxing at the beach, weekend camping adventures in their Wolf Pup Camper, kayaking, photography, leadership books and podcasts, and sports, especially Ohio State Football.
Connect with Dr. Zolman and the Draisin Vision Group:
Do you or your child have undiagnosed vision disorder? Find out here! 
Schedule your baby's no cost InfantSEE assessment! Click here! 
Website | Facebook | Instagram
"A lot of times, if you can tell a child something and they get it versus them reading the same material and they don't get it, often that can be a vision problem. They're not getting that information into their brain to process it." – Dr. Jennifer Zolman
Click here to play this show now!
---
Dr. Lynn Hellerstein, Developmental Optometrist, co-owner of Hellerstein & Brenner Vision Center, P.C., award-winning author and international speaker, holds powerful and inspiring conversations with her guests in the areas of health, wellness, education, sports and psychology. They share their inspirational stories of healing and transformation through their vision expansion. Vision Beyond Sight Podcast will help you see with clarity, gain courage and confidence. Welcome to Vision Beyond Sight!
Dr. Lynn's books are available at Amazon.com and www.lynnhellerstein.com/shop.
Dr. Lynn is available for speaking engagements and consulting. For more information, visit www.lynnhellerstein.com.
To learn more about vision therapy or to find a doctor providing vision therapy in your area, visit: COVD.org.
To learn more about vision and the impact in concussion/brain injury, visit: Neuro-Optometric Rehabilitation Association.
Listen and subscribe wherever you get your podcasts!
New episodes every Wednesday at 9 am MT/10 am CT
Latest posts by Vision Beyond Sight
(see all)