I hope the Pacific University College of Optometry students had as much fun as I did at the COVD Tour de Optometry visit in Feb. 2015.
Met with my Dean (from 37 years ago), Dr. Wid Bleything, the current Dean, Dr. Jenny Coyle, and Associate Dean, Dr. Fraser Horn.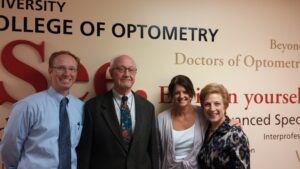 Had approximat
ely 100 students at each of my 2 lectures.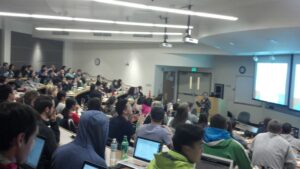 I'm grateful and inspired by those young students who are so excited about developmental vision and vision therapy.

A pioneer in vision therapy and developmental optometry, for more than 30 years Dr. Lynn Hellerstein, has helped thousands of children and adults improve their vision and transform their lives — at home, in the classroom and on the sports field.
Founder and co-owner of Hellerstein & Brenner Vision Center, Dr. Lynn Hellerstein is the author of an award-winning book series, SEE IT. SAY IT.DO IT!
Dynamic and engaging, Dr. Hellerstein is a popular speaker nationally and internationally.

Latest posts by Lynn Hellerstein (see all)