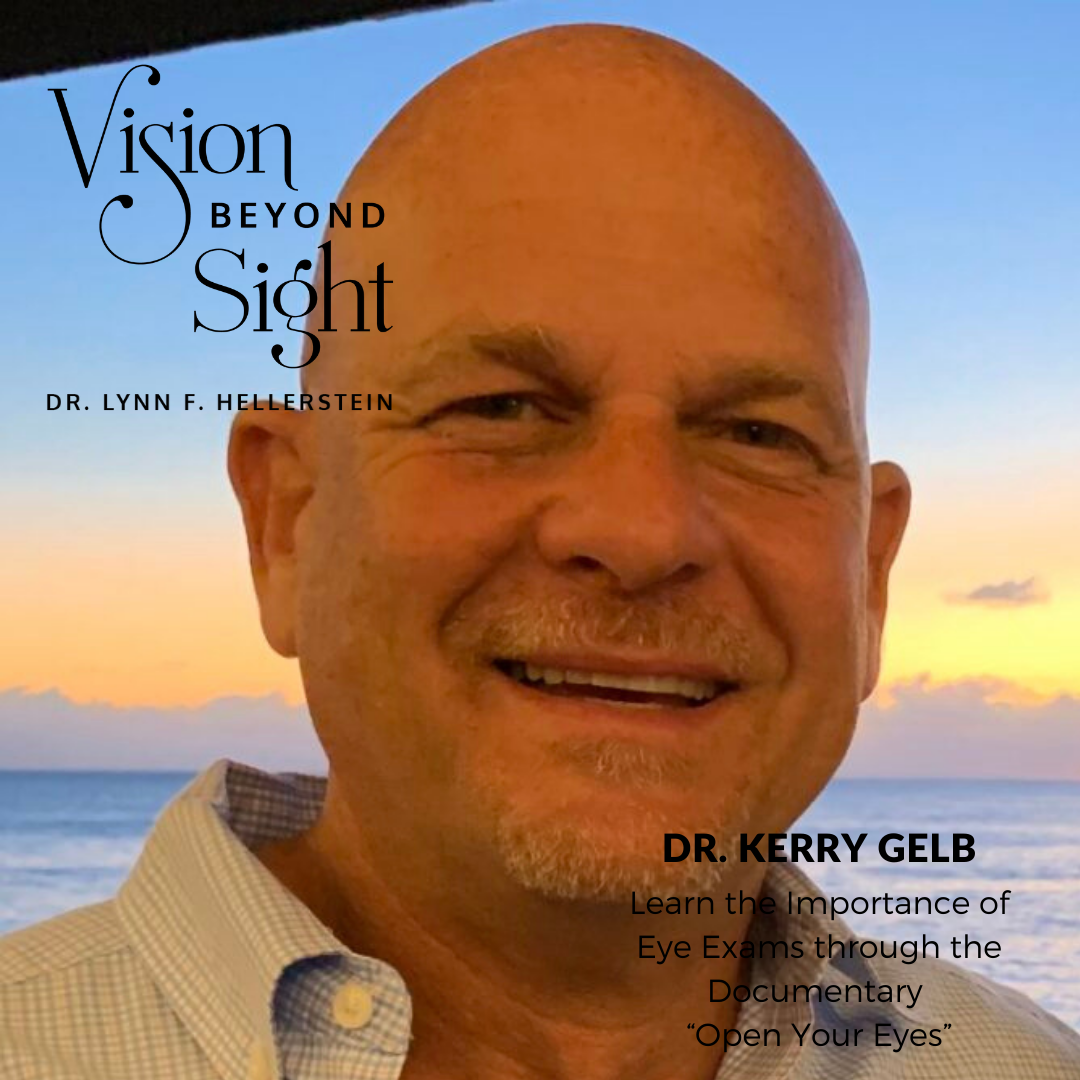 Dr. Lynn Hellerstein of Vision Beyond Sight speaks with Dr. Kerry Gelb, optometrist, producer of the documentary "Open Your Eyes" and host of the Open Your Eyes Podcast. He talks about his documentary "Open Your Eyes" and explained why it's so important to have our eyes examined, and how optometrists can now see almost 300 systemic diseases in the eye. He also discussed the importance of nutrition and doing eye exams in person.
The purpose of the documentary "Open Your Eyes" and the journey of Dr. Gelb in producing it
The limitations of online and phone eye exams
The importance of eye exams in detecting systemic eye diseases
The impact of nutrition to overall and eye health
Dr. Kerry Gelb spent 2017-2019 traveling the continent and Europe producing a feature-length documentary entitled "Open Your Eyes".  Upon its release, he launched the "Open Your Eyes Podcast" that delivers weekly episodes focusing on all aspects of health.
He has also been interviewed for radio and television on topics related to ocular health. He frequently lectures on the diagnosis and treatment of macular degeneration, glaucoma, and diabetes. He has extensive knowledge and expertise in the evaluation and fitting in specialty or "hard-to-fit" contact lenses. He is also certified in the evaluation and management of Corneal Refractive Therapy contact lenses. He is committed to providing the highest quality of care to his patients.
Dr. Kerry Gelb graduated with honors in 1984 from the Illinois College of Optometry, and completed a one-year residency in the diagnosis and management of ocular disease. Dr. Gelb has been practicing in New Jersey for the past 23 years. He is also a member of the New Jersey Society of Optometric Physicians and the President of ALLDocs (the Association of LensCrafters Leaseholding Doctors).
He currently resides in Union County with his wife and child.
Connect with Dr. Kerry Gelb and Open Your Eyes:

"The purpose of the documentary is to explain to patients out there why it's so important to have their eyes examined, and the importance of the eye… What people don't realize is there's a whole functional part of eye exams that you do to see how well the eyes work together, the whole learning and health aspects where people don't realize until they have a problem." – Dr. Kerry Gelb
---
Dr. Lynn Hellerstein, Developmental Optometrist, co-owner of Hellerstein & Brenner Vision Center, P.C., award-winning author and international speaker, holds powerful and inspiring conversations with her guests in the areas of health, wellness, education, sports and psychology. They share their inspirational stories of healing and transformation through their vision expansion. Vision Beyond Sight Podcast will help you see with clarity, gain courage and confidence. Welcome to Vision Beyond Sight!
Dr. Lynn's books are available at Amazon.com and www.lynnhellerstein.com/shop.
Dr. Lynn is available for speaking engagements and consulting. For more information, visit www.lynnhellerstein.com.
To learn more about vision therapy or to find a doctor providing vision therapy in your area, visit: COVD.org.
To learn more about vision and the impact in concussion/brain injury, visit: Neuro-Optometric Rehabilitation Association.
Latest posts by Vision Beyond Sight
(see all)