Greenwood Village, Colo., May, 2023 — For its leadership in optometry and delivery of exceptional patient care, Hellerstein & Brenner Vision Center, P.C. has been named a 2023 Best Practice by CooperVision—one of the world's leading manufacturers of contact lenses. Now in its eighth year, the Best Practices initiative seeks to discover and recognize U.S. eye care practices who have forged their own pathways to success through the innovative things that they do every day for the benefit of their patients and community.
Hellerstein & Brenner Vision Center, P.C. is among 10 honorees chosen as this year's Best Practices after a nationwide search that began last fall. Honorees were first announced in March and are profiled on the program's website at coopervision.com/practitioner/best-practices. The doctors and staff at Hellerstein & Brenner Vision Center P.C. are highly trained beyond routine eye care, specializing in many realms of optometry including ocular disease, specialty contact lenses, pediatric care, binocular vision disorders, vision and learning, vision therapy, and more.
"My staff is core to the success of the practice," said Dr. Lynn Hellerstein, owner of Hellerstein & Brenner Vision Center, P.C. "Our team shares the same values, including doing the right thing—for each other, the practice, and of course, our patients."
The doctors at Hellerstein & Brenner Vision Center, P.C. are each dedicated to giving back to the community and the profession. Of the five doctors, each has previously or currently serves as a board member or volunteer for many optometric and non-optometric associations.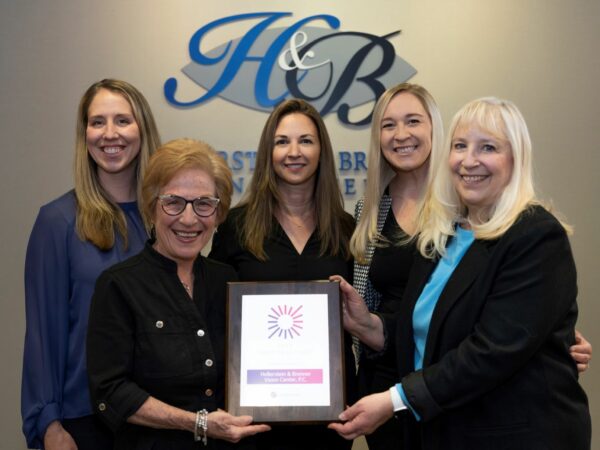 All U.S. optometry practices currently fitting contact lenses were eligible for consideration. Honorees were selected by a panel of judges made up of past Best Practices honorees and optometry industry experts. Evaluation was based on insights and experiences shared about the practices' innovation, patient experience, and practice culture.
"Best Practices sheds light on practices that truly view challenges as opportunities. Honorees are those like Hellerstein & Brenner Vision Center, P.C., constantly evolving in response to changes not only in optometry, but in the wants and needs of today's patients," said Michele Andrews, OD, Vice President, Professional & Government Affairs, Americas, CooperVision. "We're excited to partner with Hellerstein & Brenner Vision Center, P.C. and our other 2023 honorees to share their various secrets to success with other eye care professionals to inspire them in their own practices."
In the coming months, the 2023 Best Practices will be broadly recognized and presented with opportunities to help educate and elevate the profession through telling their stories across the nation. In addition, honorees recently participated in an educational summit hosted by CooperVision, where they had the opportunity to learn from and collaborate with one another.
CooperVision will open submissions for its 2024 Best Practices later this year. For more information on the honorees or the program, visit coopervision.com/practitioner/best-practices.
---
About CooperVision
CooperVision, a division of CooperCompanies (NYSE:COO), is one of the world's leading manufacturers of contact
lenses. The company produces a full array of daily disposable, two-week and monthly soft contact lenses that feature
advanced materials and optics, and premium rigid gas permeable lenses for orthokeratology and scleral designs.
CooperVision has a strong heritage of addressing the toughest vision challenges such as astigmatism, presbyopia,
childhood myopia, and highly irregular corneas; and offers the most complete portfolio of spherical, toric and
multifocal products available. Through a combination of innovative products and focused practitioner support, the
company brings a refreshing perspective to the marketplace, creating real advantages for customers and wearers.
For more information, visit www.coopervision.com.
About CooperCompanies
CooperCompanies ("Cooper") is a global medical device company publicly traded on the NYSE (NYSE:COO).
Cooper operates through two business units, CooperVision and CooperSurgical. CooperVision brings a refreshing
perspective on vision care with a commitment to developing a wide range of high-quality products for contact lens
wearers and providing focused practitioner support. CooperSurgical is committed to advancing the health of women,
babies and families with its diversified portfolio of products and services focusing on medical devices and fertility &
genomics. Headquartered in San Ramon, Calif., Cooper has a workforce of roughly 14,000 with products sold in over
100 countries. For more information, please visit www.coopercos.com.
Latest posts by Vision Beyond Sight
(see all)