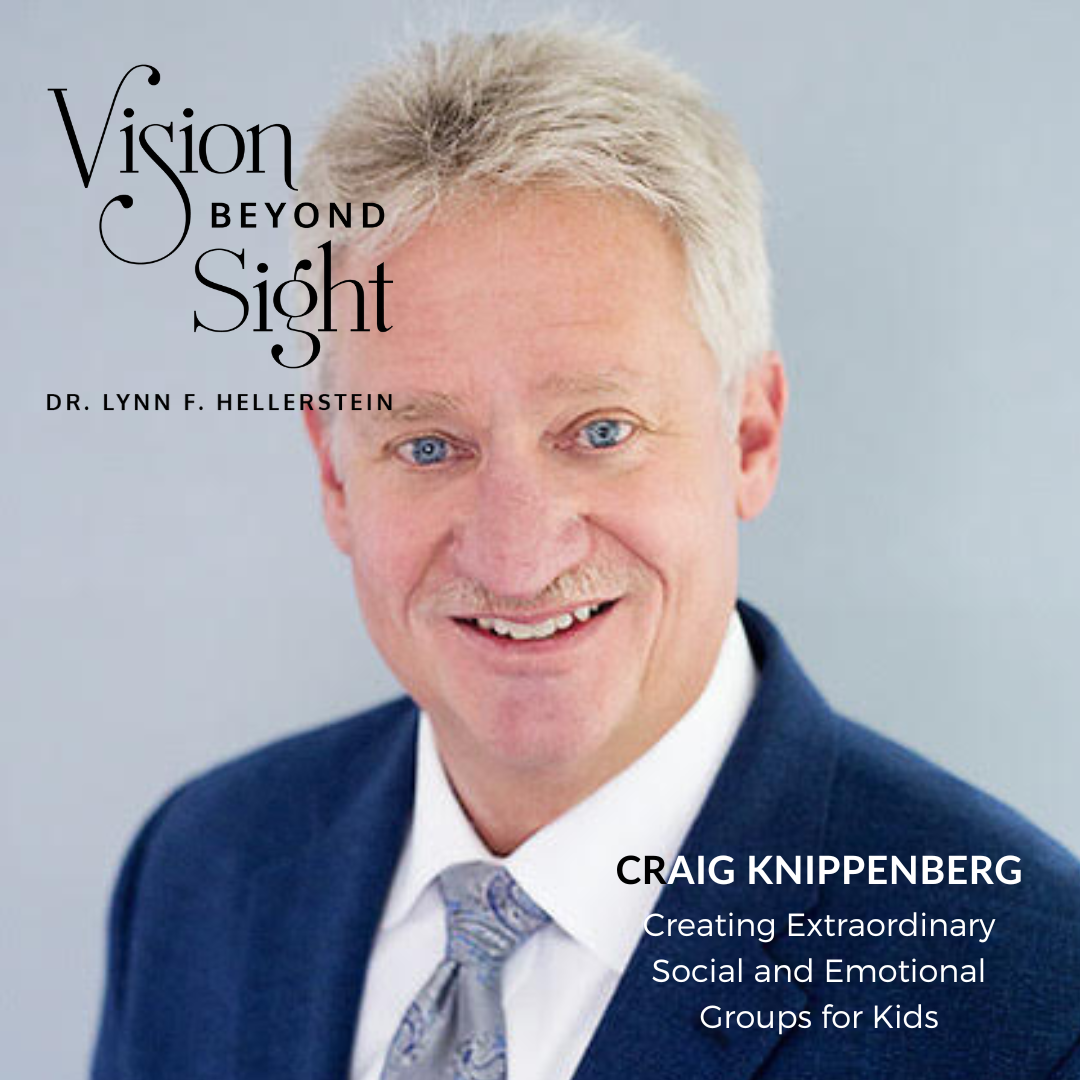 Dr. Lynn Hellerstein of Vision Beyond Sight speaks with Craig Knippenberg, a multi-awarded mental health consultant, author, podcast host, creator of CONNECT Social Skills Group Program, and founder of Colorado's largest private mental health practice in child and adolescent neurobehavioral disorders. He talks about his extraordinary work of creating social and emotional groups for kids.
Click here and tune in to the show now to explore:
The magic of social/emotional development groups (the CONNECT model)
His parenting book Wired and Connected and how it is different from others on the market
What Craig's podcast, Legit Parenting is about
His charity for mental health consumers
How to help ASD students with visualization
Craig A. Knippenberg, LCSW, M.Div., founded Colorado's largest, solely owned private mental health practice specializing in child and adolescent neurobehavioral disorders. He also earned notoriety for creating the CONNECT Social Skills Group Program 40 years ago, which spans socialization groups targeted at helping children navigate the social, emotional, and behavioral ups and downs of childhood and adolescence. CONNECT has helped thousands of children grow and mature.
He is the mental health consultant for St. Anne's Episcopal School in Denver. He is also the author of Wired and Connected: Brain-Based Solutions To Ensure Your Child's Social and Emotional Success (Illumify Media Global), which is based on 25 years of a detailed brain-based curriculum he developed while at St. Anne's. He is also the host of the popular parenting podcast, Legit Parenting: Strategies for Actual (Imperfect) Parents for Building Resilient Children and Families, available on Apple and Spotify).
He has also authored I was a Turtle, which details his emotional experiences from growing up with dyslexia, and how he discovered the joy of reading, and, Crying for Columbine, which details his experiences as a mental health first responder at the Columbine tragedy.
In 2008, Knippenberg received the Minoru Yasui Community Volunteer Award from the nonprofit Denver Foundation, recognizing his commitment to mental health consumers via the Prince of Peace Social Club. He also was a recipient of the Heroes in The Fight award from the National Alliance for the Mentally Ill in 2009 for his volunteer work through the Social Club. Since the 1990s, he served as president of the ADDAG, was a board member of TSA – Colorado and a Trustee for Denver Academy. He also served the board for Creative Adoptions.
Knippenberg and his son, launched AdventureDad.org, a website and blog dedicated to helping dads connect with their kids through adventure.
Connect with Craig Knippenberg:
Purchase the book Wired and Connected (discounted at $15 only!)
"If you think of Winnie the Pooh characters, Winnie the Pooh is neurotypical. He is just going along. Something happens, let's say he falls down a rock. He gets up and just says, 'Oh bother. But there might be honey in a tree.' And he's happy again. Off he goes, he's just happy. Other kids are sort of like Piglet. They fall over the rock, they get anxious and they're worried they're gonna get hurt and fall down again. They won't even go on the walk. They have to go back home and recover from their anxiety. We have some kids who are like Rabbit. He's kind of grouchy. Rabbit falls over the rock and he starts throwing the rocks, kicking the rocks, and yelling at the rocks. Some of your listeners' kids out there might be quick to anger, goes the old phrase. And there are some who are like Eeyore. 'Even the rocks don't want to be my friend. Nobody wants to be my friend.' They struggle with depression or melancholia. All humans have some form of temperament." – Craig Knippenberg
Click here to play this show now!
---
Dr. Lynn Hellerstein, Developmental Optometrist, co-owner of Hellerstein & Brenner Vision Center, P.C., award-winning author and international speaker, holds powerful and inspiring conversations with her guests in the areas of health, wellness, education, sports and psychology. They share their inspirational stories of healing and transformation through their vision expansion. Vision Beyond Sight Podcast will help you see with clarity, gain courage and confidence. Welcome to Vision Beyond Sight!
Dr. Lynn's books are available at Amazon.com and www.lynnhellerstein.com/shop.
Dr. Lynn is available for speaking engagements and consulting. For more information, visit www.lynnhellerstein.com.
To learn more about vision therapy or to find a doctor providing vision therapy in your area, visit: COVD.org.
To learn more about vision and the impact in concussion/brain injury, visit: Neuro-Optometric Rehabilitation Association.
Listen and subscribe wherever you get your podcasts!
New episodes every Wednesday at 9 am MT/10 am CT
Latest posts by Vision Beyond Sight
(see all)