Yes, your child can "learn to learn" better!
Welcome to a world where children of all ages and abilities "learn to learn" better, achieve more, and build confidence for a lifetime.
Children are naturally curious — think of all the things that a toddler and preschooler get into. What happens when the formal school years hit? Why do so many struggle in school, a place where their curiosity and abilities should take flight? For too many, the basic academic subjects — reading, writing, spelling and math — become frustrating. Your child may become a "behavioral" problem, stressed and anxious, and a master of avoiding tasks. Or in sports, your child's coordination may fall short, yet another blow to self-esteem.
No more.
Step one is addressing vision and vision perception issues, so often at the root of learning or performance problems. Dr. Hellerstein's full-scope optometric practice offers state-of-the-art diagnosis and treatment, while her books also uncover the hidden issues that many kids with 20/20 eyesight have.
But it's with Dr. Hellerstein's pioneering process, SEE IT. SAY IT. DO IT!®, that children and athletes of all ages can learn to activate their visual brain and create a world where they become truly effective. Hundreds of parents, teachers, and therapists report that Dr. Hellerstein's methods produce: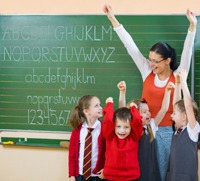 Success in school
Better sports performance
Joy for learning
Strategies to overcome barriers and meet goals
Confident, happier kids
For a sample of the results, see Case Studies
For every age and ability, the SEE IT. SAY IT. DO IT! process can improve skills and performance — transform kids and adults for a lifetime.
What do you want to improve?
Reading, handwriting, spelling, math, creative writing
Homework strategies
Motivation and attitude
Organization and goal achievement
Instructional methods
Who can benefit?
Children who struggle in school
Children with low confidence
Children with vision perception problems
Children with developmental challenges / special needs
Adults who want to improve a task they can visualize
Who can apply these solutions?
Parents
Educators
Vision and other healthcare professionals
Individuals and groups
Everybody who wants fun, effective tools for boosting motivation and performance
How Dr. Hellerstein can help