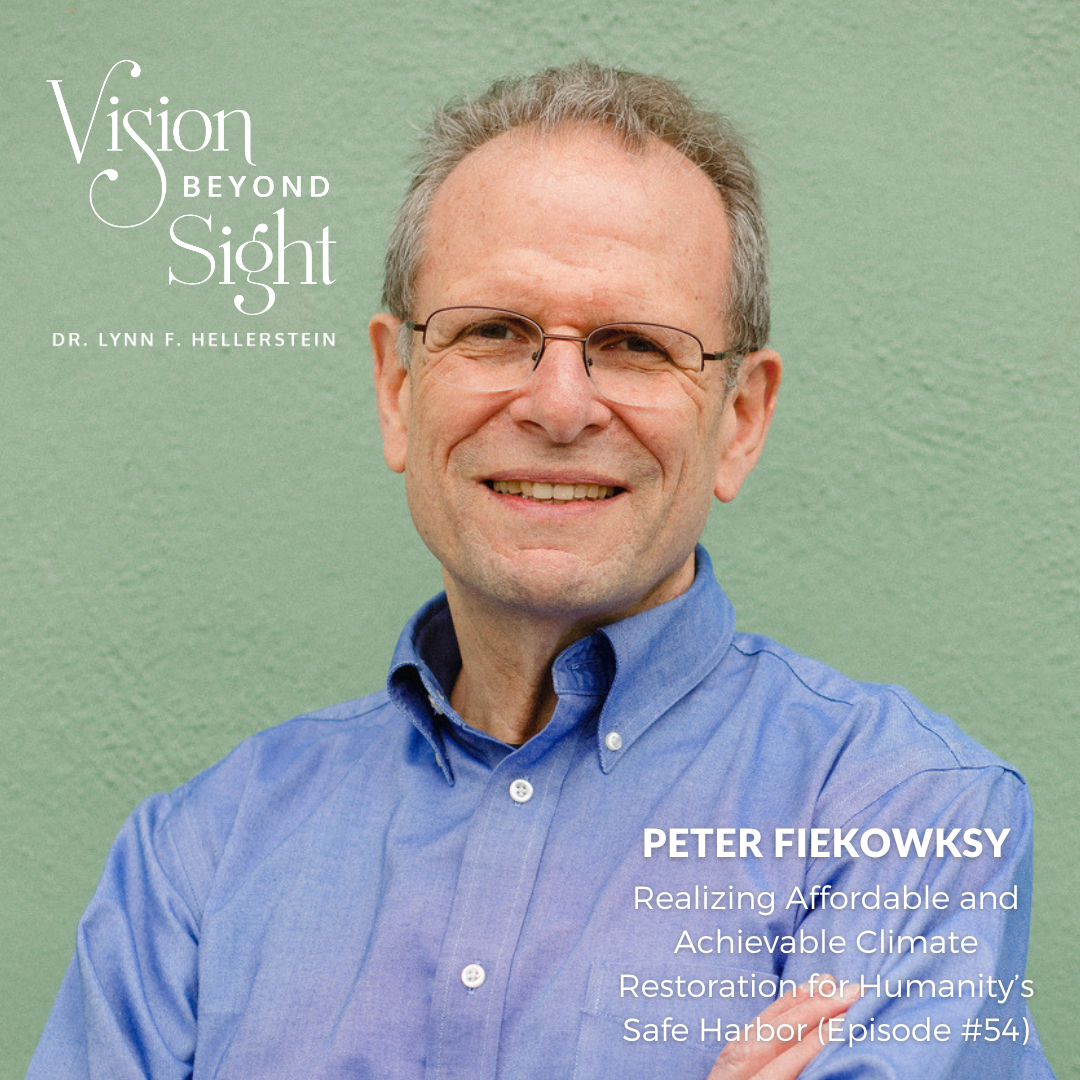 Dr. Lynn Hellerstein of Vision Beyond Sight speaks with Peter Fiekowsky, MIT-educated physicist and engineer, entrepreneur, philanthropist, and author. Peter talks about realizing climate restoration for humanity's survival, "safe-harbor" climate, the Big Four achievable and affordable solutions, and how to promote climate restoration.
Click here and tune in to the show now to explore:
Where are we at with climate change?
What is the "safe-harbor" climate, also called the "pre-industrial" climate?
Ocean iron fertilization and the effects of iron levels in the ocean
Barriers to achieving "safe-harbor" climate
The Big Four of climate restoration – ocean iron fertilization, turning CO2 into synthetic limestone, using seaweed to fertilize the ocean, and atmospheric methane oxidation
Affordable climate restoration
How to get people to promote climate restoration?
Who suffers most from climate issues?
Peter's book, Climate Restoration—The Only Future That Will Sustain the Human Race
"The scientists and technologists I know who I talked to about it, they say, we can't restore the climate because it's politically impossible. Then when I talked to political scientists or economists and ask them, they say well we can't restore the climate because it's physically impossible. Because they listened to the scientists who said it's impossible and they assumed that the scientists were speaking inside their profession." – Peter Fiekowsky
About Peter Fiekowsky:
Peter Fiekowsky is an MIT-educated physicist and engineer, entrepreneur, philanthropist, and author. He has worked at NASA and the Fairchild/Schlumberger Artificial Intelligence Lab in Palo Alto, Calif.; taught at MIT; and developed his own machine vision company, Automated Visual Inspection LLC (AVI).
Peter holds 27 patents and is on the board of Climate Capex, a fintech company to help complete the global transition to 100 percent clean energy by 2040 by tripling the rate of investment in solar projects.
A decade ago, when it became clear that global warming would endanger all our futures, Fiekowsky turned his energies to restoring a climate that will promote the flourishing of humanity and the Earth's current ecosystems. He launched the Foundation for Climate Restoration in 2017 to work with top scientists, innovators, policymakers, and others, to create the understanding and policy needed to further climate restoration, and served as its Board Chairman until 2020.
Fiekowsky continues to work closely with academic and entrepreneurial leaders who are developing viable, scalable, and permanent solutions that constitute the climate-restoration path.
Since methane contributes about 30 percent of global warming, and poses its own challenges, Peter has also been instrumental in the formation of Methane Action. And since ultimately a thriving world will depend on a sustainable population, he also underwrites Stable Population Alliance.
He advises many companies working in the climate restoration field, in particular synthetic limestone, clean energy financing, cold fusion, ocean restoration, kelp, and methane oxidation.
Fiekowsky lives with his wife, Sharon, in Los Altos, near his grown son and daughter in the heart of Silicon Valley.
Connect with Peter Fiekowsky:
Website | Facebook | Twitter | LinkedIn | YouTube
Check out Peter's book: Climate Restoration—The Only Future That Will Sustain the Human Race
"Being an engineer and an entrepreneur, we get skilled at designing the requirements. One of the requirements is it has to be financially viable. To do all of these Climate Restoration would cost probably about $2-3 billlion a year depending on how you want to do it. That's about 1/10,000 or 1/100,000 of the world's GDP. It's essentially nothing. So the limitation isn't financial. The limitation is cultural. It's really the way humanity thinks." – Peter Fiekowsky
---
Dr. Lynn Hellerstein, Developmental Optometrist, co-owner of Hellerstein & Brenner Vision Center, P.C., award-winning author and international speaker, holds powerful and inspiring conversations with her guests in the areas of health, wellness, education, sports and psychology. They share their inspirational stories of healing and transformation through their vision expansion. Vision Beyond Sight Podcast will help you see with clarity, gain courage and confidence. Welcome to Vision Beyond Sight!
Dr. Lynn's books are available at Amazon.com and www.lynnhellerstein.com/shop.
Dr. Lynn is available for speaking engagements and consulting. For more information, visit www.lynnhellerstein.com.
To learn more about vision therapy or to find a doctor providing vision therapy in your area, visit: COVD.org.
To learn more about vision and the impact in concussion/brain injury, visit: Neuro-Optometric Rehabilitation Association.
Latest posts by Vision Beyond Sight
(see all)