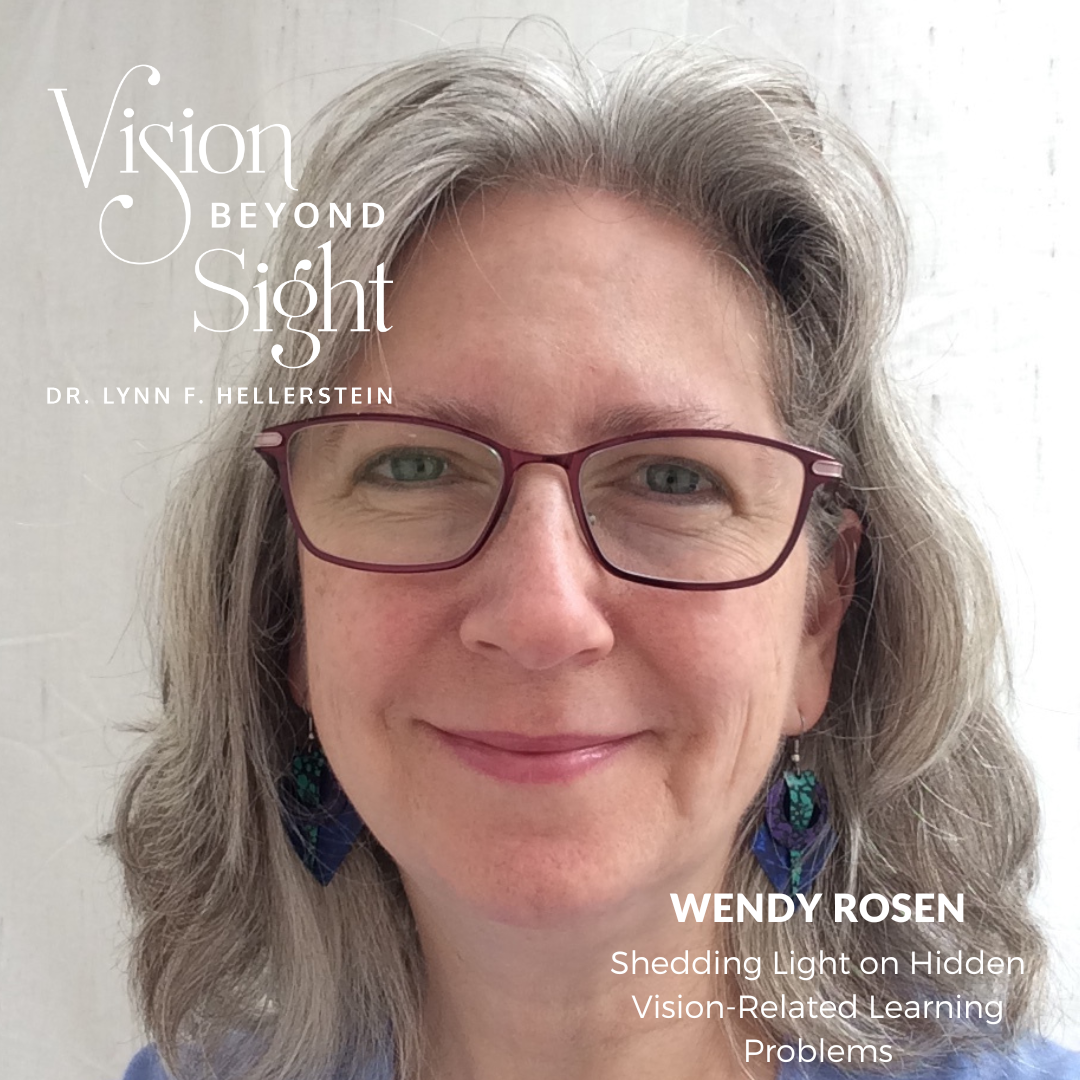 August is Children's Vision and Learning Month! Its goal is to help educate parents and educators about the critical link between vision and learning. Tune in to our special guests this month!
Dr. Lynn Hellerstein of Vision Beyond Sight speaks with Wendy Rosen, author, elementary and early childhood teacher, adjunct instructor and education consultant. She talks about her expertise in vision-related learning problems, a lesser-known type of disability that can affect a child's learning capacity, behavior, and health. One in four school-age children struggle with these hidden vision problems. We have been unknowingly immersed in a decades-long, silent epidemic that has resulted in multiple crises that schools are facing due to widespread lack of knowledge about this critical subject. Educating all school personnel, pediatricians and child development specialists about functional vision will breathe unprecedented new life into the education and well-being of our children, as it will shed light on why so many students are still struggling in school despite remedial help, IEPs, and medication.
Click here and tune in to the show now to explore:
The difference between vision and eyesight, and how a child can have 20/20 eyesight and still have a vision problem, which can be at the core of a learning disability
How many symptoms of vision-related learning problems can mimic other conditions
The potential for misdiagnosis due to the current model of vision examination
How vision-related learning problems are present in 3/4 of the juvenile delinquent population, prisoners, and illiterate adults, which consequently impacts individuals and society
How recognizing and treating hidden vision disorders will save schools and communities thousands of dollars
How we need a broad cultural understanding of the role that vision plays in learning and a mindset that supports its care, which must include a universal protocol for examining children's vision that would ensure that every child receives the correct diagnosis.
Wendy Rosen, M.Ed. is a certified elementary and early childhood teacher and holds a dual degree in art. Over the course of her diverse career as an educator, Wendy has taught preschool through high school students in schools and a variety of experiential educational frameworks. Her passion for all things nature motivated her to find opportunities beyond the classroom walls where she could immerse herself in the beautiful outdoors. Wendy has been fortunate to have the beach, the forest, lakes and streams, an agriculture museum, several farms, and day and overnight camps as her classrooms over the many years she has taught students in these beautiful places.
A proponent of innovation and creativity in the field of education, she has authored articles and developed numerous curriculum resources on a wide range of educational topics. Currently, Wendy works as an education consultant specializing in vision-related learning problems. She facilitates professional development workshops and lectures widely about this critical subject.
In 2020, Wendy joined the faculty at Pacific University as an adjunct instructor where she teaches a course about the connection between functional vision and learning. She is the author of The Hidden Link Between Vision and Learning: Why Millions of Learning-Disabled Children Are Misdiagnosed and Self-Smart: The Little Book with Big Ideas to Help Kids Thrive. Her third book, School ~ The Seedbed of Society: A Reflection on the Path of Humanity Through the Mind, Heart & Soul of a Teacher is forthcoming in 2022. Wendy is married and the proud mother of two amazing children. In her spare time she likes to read, garden, spend time in nature, and cook. Her happy place is in a kayak.
Connect with Wendy Rosen, M.Ed.:
Check out her book The Hidden Link Between Vision and Learning: Why Millions of Learning-Disabled Children Are Misdiagnosed
Website | Facebook | Twitter | LinkedIn
"It was through this psychologist who had this knowledge. She saw the big picture here and was able to see a pattern between my daughter's scores and other indicators. 'You know, there's something visual going on and that I would recommend that you have her evaluated by a behavioral optometrist.' My next question was, 'What's a behavioral optometrist? I've never heard of it.'" – Wendy Rosen
Click here to play this show now!
---
Dr. Lynn Hellerstein, Developmental Optometrist, co-owner of Hellerstein & Brenner Vision Center, P.C., award-winning author and international speaker, holds powerful and inspiring conversations with her guests in the areas of health, wellness, education, sports and psychology. They share their inspirational stories of healing and transformation through their vision expansion. Vision Beyond Sight Podcast will help you see with clarity, gain courage and confidence. Welcome to Vision Beyond Sight!
Dr. Lynn's books are available at Amazon.com and www.lynnhellerstein.com/shop.
Dr. Lynn is available for speaking engagements and consulting. For more information, visit www.lynnhellerstein.com.
To learn more about vision therapy or to find a doctor providing vision therapy in your area, visit: COVD.org.
To learn more about vision and the impact in concussion/brain injury, visit: Neuro-Optometric Rehabilitation Association.
Listen and subscribe wherever you get your podcasts!
New episodes every Wednesday at 9 am MT/10 am CT
Latest posts by Vision Beyond Sight
(see all)