Those little voices in my head were very clear and strong: "You're NOT a marathoner."
Motivational speaker and author Dr. Wayne Dyer shared, "Change the way you look at things and the things you look at change." When I first heard that quote, I thought that Wayne Dyer must be an eye doctor! I realized that he was referring to changing your inner vision that impacts your seeing the world differently. It was during my health healing time when I created the See It. Say It. Do It! process. I was greatly inspired by spiritual leaders including Dr. Wayne Dyer, Dr. Deb Sandella, Jack Canfield, Dr. Deepak Chopra, Tolle Eckhart, and many others. But the greatest inspiration came from the thousands of courageous patients that I had treated in my vision therapy practice.
The Marathon: Utilizing the See It. Say It. Do It! process, Becky, my youngest daughter, invited me to walk a marathon. She thought it would be a great idea for the two of us to do the Seattle Rock n' Roll Marathon in June 2009. Now, I'm always grateful for the opportunity to spend time with my adult kids. When she proposed we do it, I immediately said "yes" to her without even knowing much about a marathon.
Did I know how far a marathon is? … 26.2 miles!
Did I know how long it takes to walk a marathon? … 7.5 hours!
What did I just say yes to? … I've never even walked 10 miles in a day!
So I started the process of preparing for the marathon —all 26.2 miles of it. At the same time, I was writing my first book, See It. Say It. Do It!5 I quickly found a picture on the internet of successful marathon participants, holding their hands up with smiles on their faces as they crossed the finish line.
That picture became my See It. I made a "to-do" list that included new athletic shoes, visit to the podiatrist, workout schedule, etc. This became my Do It.
I had the vision of a successful marathon run, but my training was not going well. It was February in Colorado where I live and cold and icy. I resorted to using the treadmill at the gym. Did I mention how much I hate using the treadmill? After finally finding some great personal development CDs to listen to, my treadmill time started increasing to about 45 minutes/day.
But those little voices in my head were very clear and strong:
You're NOT a marathoner.
Your arthritic knee will flare up.
You're not in shape.
Why did you ever say "yes"?
What were you thinking?
With the frustration of lack of building my training time, compounded with those voices in my head, I was frustrated and ready to quit. I was in the midst of writing the See It. Say It. Do It! book, working on the "Say It" chapter, when I realized that I had done the "see it" and "do it" training pieces, but never the "say it." I needed to declare it.
I confess, I really never believed that I could walk the marathon. I tried stating an affirmation, "I am a marathoner." That just didn't inspire me. I was getting frustrated, ready to quit. One day, on a brisk walk, a thought just popped into my mind. I realized that I am truly a marathoner. A marathon isn't necessarily a 26.2 mile walk—it's so much more.
With my new perspective, my definition of a marathon took on an entirely new meaning. The medical ordeal I went through was a marathon; raising two children was a marathon; building a successful business and practice was a marathon; and writing a book and becoming a bestselling author was a marathon. How could a 26.2 mile walk with my daughter stop me?
My training attitude changed immediately. As the marathon coaches say, "The good news is that 50% of doing a marathon is mental. The bad news is that the other 50% is mental." Fast forward, Becky and I completed the marathon in 7.5 hours.
What's your marathon? Waking up and going to work every morning? Taking care of the kids? Committing to and learning a new skill? When I transformed my internal vision of what a marathon was, I could honestly state, "I'm a marathoner" and be inspired by that. Because it is true. I am a marathoner, as you are.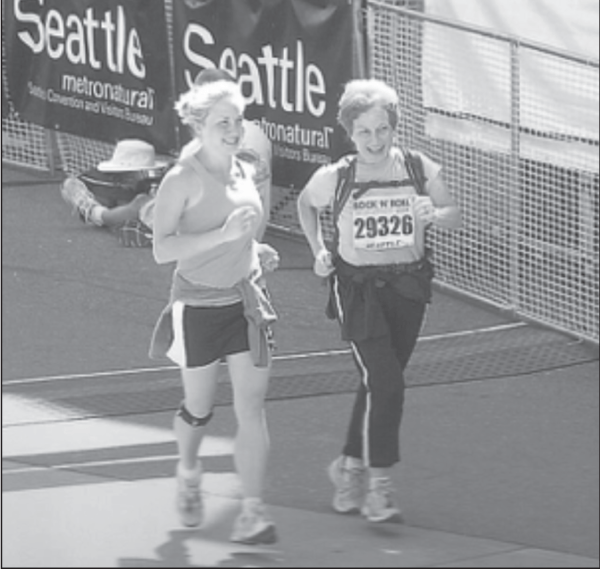 My marathon story became the highlighted story in the "Say It" chapter of my book. Just another example of how we limit our vision. By seeing the world differently and inspirationally declaring your new way of seeing, then the actions you take may go beyond what is expected.
Action plans are excellent organizational tools to follow through on for small or enormous projects. Without a plan, accountability, and empowerment, a project has no foundation. The action plan needs to include the vision (See It) and declaration (Say It). Otherwise, the action plan is just a "to-do" list that often is disregarded and not useful to most.
Below is a sample of an action plan that I created for my first marathon, completed at the age of 57.
Discover other stories using the power of visualization in my upcoming book. Expand Your Vision-How to Gain Clarity, Courage, and Confidence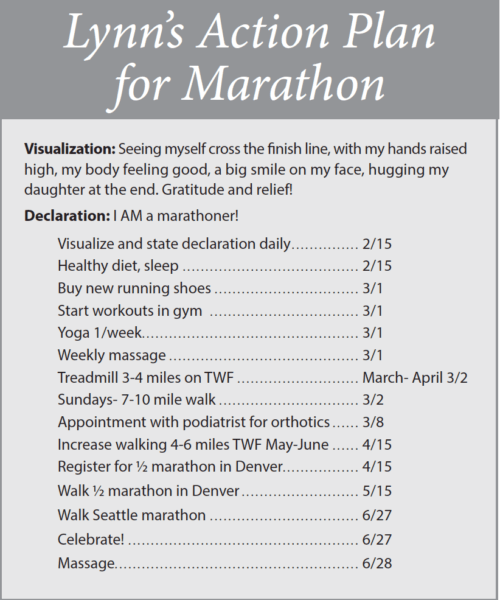 Latest posts by Lynn Hellerstein
(see all)